He has coached schoolboys for 18 years, but still manages to find himself on the front page of papers and leading bulletins. For years he has courted controversy, but doesn't see himself as a controversial coach. He has a hard-as-nails persona but those who play with him and for him talk of an empathetic, softer side. So who is the real Kevin Fallon? Here he is, in his own words
On the drive to be a coach...
I started coaching in 1974 at Gisborne City and we made it to the Air NZ Cup final, a pre-season tournament before losing 3-1 to Hamilton AFC at Newmarket Park. I was 24 years old - very young to be a coach and the reason was that same old story: those who can't play, coach. I had done my anterior cruciate ligament and had three operations. In those days they didn't know a lot about ACLs and that was it really.
Read more:
Star coach Kevin Fallon promises a fight over sacking
Show of support buoys Fallon
I got my senior coaching licence - Barrie Truman was a massive help - and went into coaching. It wasn't easy to run that Gisborne team with some strong personalities and a lot of guys who were a lot older than me. Guys like Ray Veall, who had been at Everton, and Ken Dugdale. At training one night Ken and I agreed to disagree and we were both sacked. That was some decision, losing two future national coaches in one night!
But coaching got in my blood early, basically because my knees didn't allow me to play the way I wanted.
On his obsession for the sport...
I have a catchphrase: forever a student. I'm always plotting, reading, scheming. I was studying plyometric exercises, applying Coerver principles and using video analysis 20 years ago. I never quite switch off. When I go to the toilet I'm selecting teams.
I went to Nelson United in 1975. We finished Central League Division I runners-up. In 1976, we were league champions and promoted for the first time in the club's history to the national league and won the 1977 Chatham Cup, which was unheard of for a team outside the four main centres to achieve.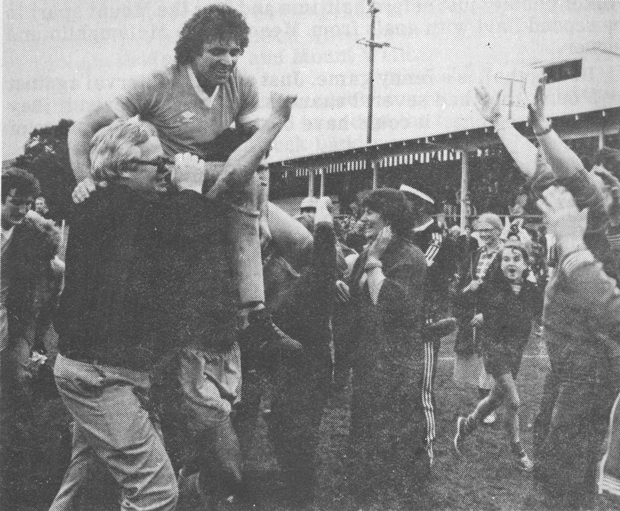 Kevin Fallon became a hero for Gisborne City supporters in 1979 when, with him as player-coach, the team won promotion to the National League.
We had some great young players like Kenny Cresswell, Keith "Buzzer" Mackay and Peter Simonsen. Money was tight and we didn't have sponsors for things like tracksuits, but I did have a sponsored one: one that had red pants and a white top and around a soccer ball was written, "Full on with Fallon".
That's the sort of players I was after; fully committed, like me.
But no, I never stop thinking about it.
On his reputation for toughness...
I was a pro footballer in 1964, first as an apprentice for Rotherham United, then Sligo Rovers in Ireland, then Southend United before coming to New Zealand.
As a player I disappointed myself. Things started to fall apart for me when bosses came and went and I realised that one might fancy you, the other one might not. I was going well with Rotherham under my first boss, playing in the reserves when I was 16, but I didn't get a look in with the next one so I eventually went to Ireland for three years to play for Sligo. I was then bought for a nominal fee by Southend in 1970 after the Irish Cup final. I started in the first team then had a nasty bout with gastroenteritis over the Christmas period while I was in London and I suspect the boss thought I was dragging the chain, but I was just too ill.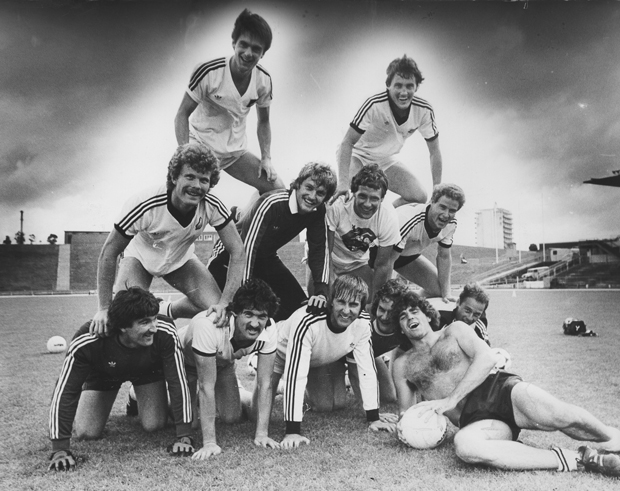 Fallon (lying at front) relaxes during a photo shoot with members of the 1982 All Whites squad, (front row, from left) Richard Wilson, Sam Malcolmson, Brian Turner, Glen Adam, Duncan Cole, (second row) Ricki Herbert, Frank Van Hattum, Steve Wooddin, Grant Turner, (back) Keith Mackay and Peter Simonsen. Photo / Gerald Shacklock
I went back to non-league with Ilkeston before taking the opportunity to go to New Zealand. These experiences hardened me.
When I got here I was playing great, I was topping the best and fairest and was earmarked for the national side by Truman. But injuries were a constant problem.
I didn't retire as a player until after the 1983 Chatham Cup final loss to Mt Wellington.
Tough? There's mental toughness and physical toughness. As an example of physical, when I was at Nelson United, Terry Parkin tackled me and split my patella, my kneecap, in two. I didn't realise it till later. I iced it that night and tried to get the swelling down so I could play the following day. I couldn't, obviously, but that's an example, I guess, of my commitment to football.
I've come through the University of Life. I worked as a reception attendant, read bouncer, at a Sheffield nightclub. I worked in freezing works, factories and haymaking. I worked behind a jackhammer on an Irish road gang in the north of England. Working nine-to-nine haymaking, that'll toughen you up.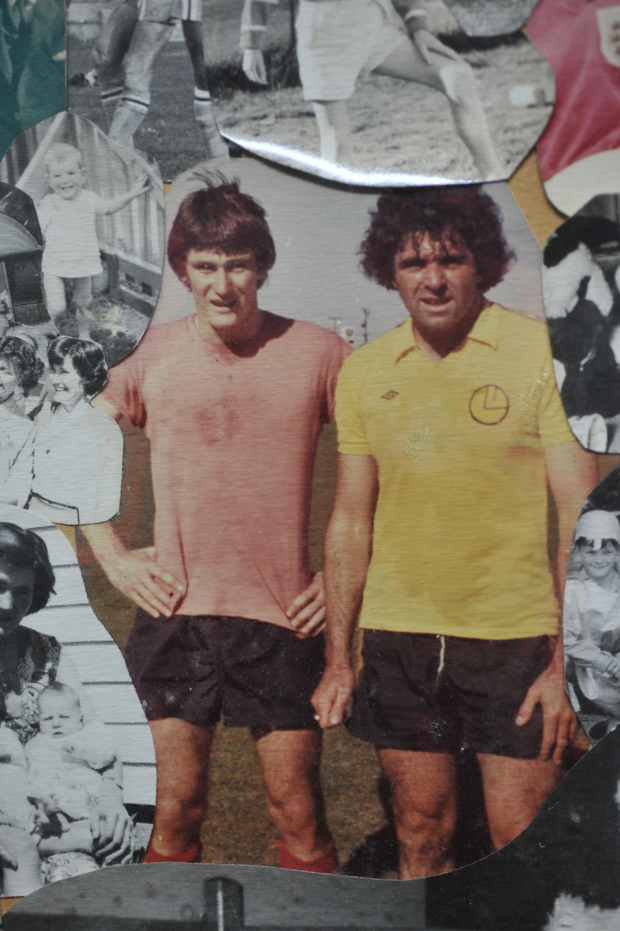 John Gillies, then 20, and Kevin Fallon, then 30, rest during a centreback-only Saturday afternoon skill session in 1979. Fallon had returned to onfield duty as Gisborne City mounted their challenge for promotion back to the National League. They clinched the Central League title in the last game of the season and Fallon was carried shoulder-high from the field at Childers Road Reserve. Photo / Supplied

On the change from coaching men to boys...
I've been in football for 50 years, coaching for 40 of them.
When you look at the complaints I've had in that time, it's not too bad but if people want to find a reason to bag you, they will.
Did I modify my coaching for schoolboys, for women, for men? Of course I did. But it doesn't matter who you're teaching football to, technique doesn't change. Tactics might, but not technique. It's only when you get older you truly appreciate the tactical side of the game. The knowledge you impart to kids is technically the same you give to men ... if you've got that knowledge inside you.
With youth, it's about building desire. I never wanted to be the coach who turned a kid off football.
Often I watch games and there could be a set piece and I look at the wall and the defence and if I see it's not right, I think, "There's not a real coach working here."
You've got to bring kids on, because one day that boy's going to have to live in a man's world.
On the reaction to his dismissal from MAGs...
I've had so many emails, phone calls, the T-shirts ... it's been very humbling. When you have been involved in incidents, like I have in the latter years, it consumes you; it wears you out. It becomes onerous, like an aching knee that will just not go away.

Kevin Fallon puts Mount Albert Grammar boys through a football training session. Photo / Michael Craig
The team wore black armbands with Fallon on them. I feel very honoured they would do that. Ask the kids and they'll tell you they want Fallon back.
There surely has to be some empathy when you dismiss a long-term, successful employee.
On the future...
The future is the future, that's what it is.
If I die on the football pitch, that'll do me. I want people to say, "Jesus Christ, I saw him yesterday and he looked great."
- as told to Dylan Cleaver