Following Labour's pledge yesterday to scrap registration fees for caravans if it's elected, we wonder if MP Jacinda Ardern will be trotting out the vintage campaign caravan named Sunday that she tooted about central Auckland in last election. It'd be a constant visual reminder of Labour's caravan-friendliness, and maybe the occasional disc-spinner could convert it to a DJ booth?
Anzac silence as fundraiser
Australians will be able to listen to a pre-recorded minute of silence on Anzac Day. The Minute of Silence is a pre-recorded 60 seconds of silence that can be bought for $2.26 via phone and text service, as a fundraiser. The silence was recorded by more than 80 serving and former Australian Defence Force members and their families. The president of the Returned and Services League WA branch, Graham Edwards, concedes it took him a while to get used to the idea when it was first raised. "I was a bit dubious, but the more I've looked at it, the more I've seen the enthusiasm with which this is being picked up nationally." Mr Edwards says with an ageing membership it is harder to get veterans out on the streets fundraising in the traditional way. "We saw where a veteran in his 90s had his poppy tin stolen and that unfortunately appears to be a sign of the times. These are the sorts of reasons we have to be more innovative." (Source: ABC.net)
Mother knows how to penetrate children's brains
A reader writes: "One of the pleasures of motherhood is hearing myself giving urgent, ridiculous instruction. I got a new one tonight, 'Do not attach wishbones to my clothing'. Others include, 'The dog is not a machine gun or a guitar' and 'Don't be silly, the toilet doesn't bark'. But my all-time favourite is, 'The cat is not a xylophone'." Any more, parents?
Nana the VIP
John writes: "My wife had gone with our daughter and her girls to the kiwi release on SH16 where John Key had named the kiwi George. My daughter asks the girls, 'Who was a very important person there?' and Caitlyn says 'Nana'."
Sloppy journalism? Oh, whatever.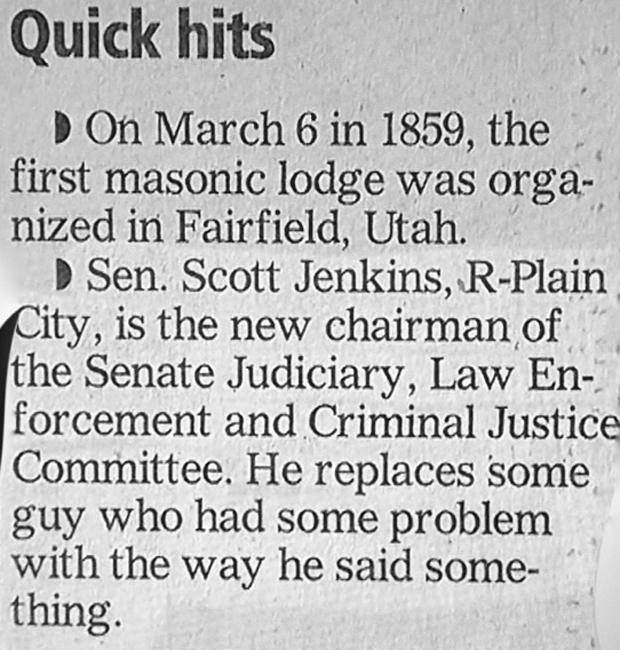 Comprehensive first aid kit
Lorna spotted this picture of this er, comprehensive first aid kit in the Brands Exclusive mailer. Wonder what makes the Amputated Parts bag different from other bags?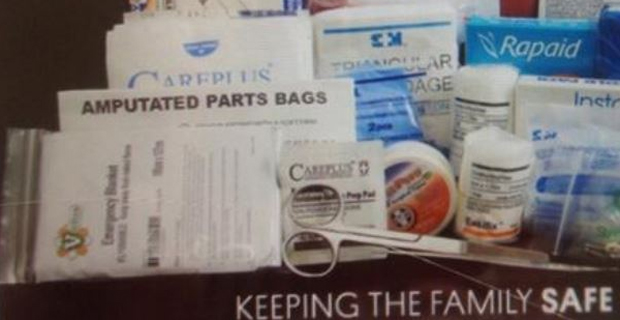 In case you missed it: Street artist Banksy still has the edge...
Video: These two bunnies escaped the evil clutches of Hell Pizza and their billboard extremism...
Quick Clip: This bird (a Hill Myna) speaks Japanese. The conversation translates as follows:
Bird: " 'Uhm Hello, this is the Ono family."
Bird: "What's wrong?"
Owner: "Abe-chan, you're a little too early. Once the phone's picked up, then properly say hello."
Bird: "Okay, understood."
Owner: "Do you really understand? I'm counting on you. Hello, this is the Ono family residence in Gifu."
Bird: "Okay, I understand!"
Owner: "Got it."
Video: Most demanding job ever...
NZ Herald app users click here for video...
Got a Sideswipe? Send your pictures, links and anecdotes to Ana at ana.samways@nzherald.co.nz