Eric Rush was better known as the long-time captain and stalwart of hugely successful New Zealand Sevens teams. He featured in nine tests as an All Black over 1992 to 1996, scoring five test tries. He played for the Chiefs in Super Rugby and turned out for Auckland and North Harbour.
Sevens carried me through to 2005 well after my last game for the All Blacks.
It wasn't only Jonah who came along; Jeff Wilson, Christian Cullen and Glen Osborne were always going to play tests ahead of me. They shifted me out to the wing because there were so many great loosies like Michael Jones and Zinny Brooke and then they thought I was too small. The first guy I marked on the wing was Samoa's Lolani Koko who was an absolute monster.
I got 29 games for the All Blacks that I never thought I'd get, including nine tests.
The sevens circuit started in 1996 and New Zealand asked me to help get it up and running and gave me a long contract. Sevens was a passion of mine and Gordon Tietjens — Titch — was right into it as well. It paid well enough and I'd also got into a bit of property speculation and once I finished playing there was always the speaking circuit.
Initially, I trained as a lawyer and qualified in 1988 before working for six or seven years with Bryan Williams and Kevin McDonald who gave me my first job, which was mostly conveyancing, before rugby went professional.
Everyone thinks we were right in there with the squabbles between NZR and the World Rugby Corporation and others, but we walked into a room in South Africa at the end of the 1995 World Cup and Richie Guy told us rugby was going to be professional the following year. We'd all get $30,000 a year and we were thinking that would be sweet.
We were earning virtually nothing back then — only tour expenses — so $30,000 was a lot of money. We were stoked. It was more than I got as a lawyer, which was a solid job and good training but never really smoked my wheels.
Then WRC said they would pay each of us US$700,000 and we are saying 'Hang on a minute.' Super League was also happening and every back at the World Cup was offered $300,000 to $400,000 to play in that, so Rupert Murdoch was the same guy offering 30K for one competition and $300,000 for the other. We wanted to know his priorities.
I was pretty happy playing amateur rugby where we could play for the right reasons. Guys now get really good money, but they've never known what it's like to play with your mates and trying to crack a rep team. Now they miss selection and are working at who they'll play for overseas. You can't blame them because we would be the same today, that's how it is. I don't begrudge them.
When I started playing rugby for a living, I thought that was the perfect world, doing something I loved and getting good money, but I knew it wasn't going to last so decided that whatever my next job was it had to be something I enjoyed.
You have to work too long not to enjoy it. I kept playing until I was 39 and people asked whether professional rugby changed my life and I said, 'No, but professional rugby changed my wife.' Overnight it changed from 'Hey, you have to knock this rugby on the head and get a job and grow up' to 'You haven't been for a run for two days; get out there and get fit because we have to get a house out of this before you finish.'
The 2002 Commonwealth Games were in Manchester and Titch was getting on my case about not going to the gym. I hated it — gym was the guy on the wing to me. I told him that I'd done well enough without it all my life, so if he didn't think I was good enough then don't pick me.
He used to confide in me all the time but treated me like one of the others building up to that tournament, which was his way of telling me if I didn't scrub up then I'd be axed.
I did the minimum amount of gym work but knew he had to pick me because he rang after the trials to ask me how I went, and I told him I was his best player. 'Stuff it. You were,' he said, and we were back under way again.
After we won the gold, Titch said we know the end is coming but agreed I should make that decision when I knew I wasn't cutting it any more. At that stage, I was still better than the others, but two years later I had three leg injuries in a row and when you are 39 the body is saying 'I can't do it any more.'
We decided that would be it, so I thought about coaching, but playing alright doesn't mean you can coach. I tried to get a sevens job at the nationals and there wasn't one until the Auckland job came up, which was perfect as they hadn't won the title for about 15 years.
They could all play, but the selections were rough. If the coach was from Ponsonby he picked all those players, as did a coach from Waitemata or Suburbs, while none of the rep players wanted to be involved. They were contracted but didn't bother with sevens, so I sent an e-mail to every club coach in Auckland asking for anyone who thought they were good enough.
We had 80 guys turn up at the first session and I flogged them. You weed them out quickly with fitness and that began with three hours of running, and half of them didn't come back. DJ Forbes was one of those guys in the first year who didn't make my team because he wasn't fit enough, but I gave him a plan and by the next year his whole body shape had changed. He also had a big ticker.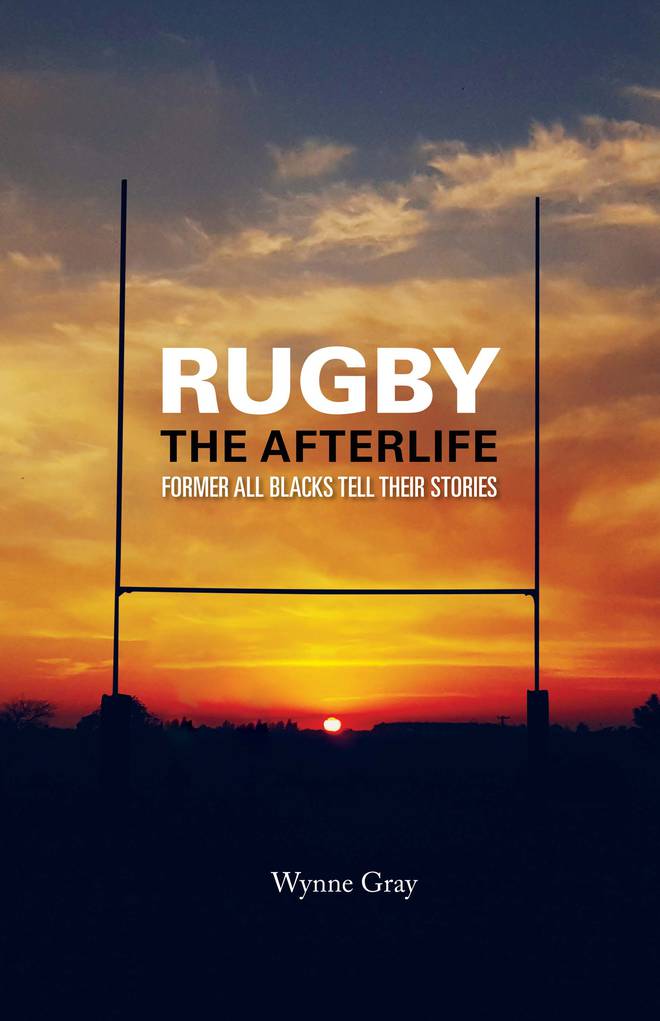 We won the competition four years in a row and I was able to stir up Titch, who never won the nationals, and ask him: 'What was so hard about that?' 'Come and talk to me about hard when you win three Commonwealth Games medals,' he said. He was special because there aren't many coaches who can stay at that level and be successful for such a long time.
I also coached my sons out at East Tamaki where the talent is unbelievable, but that is their biggest enemy because it's too easy, and I tell them they are all big bullies who love bowling little rivals. I warn them that one day that little white fella over there is going to catch you up physically and if he's worked his arse off and you haven't, guess who's going to get in all the teams. That's when it changes and all the McCaws, Carters, Conrad Smiths come through. Maybe that's the problem with the Blues now.
Half our team did not have a phone and it's a real bugger when it rains because you can only reach half of them. They don't have a watch either, but luckily most of them live within walking distance of the club so we'd have 25 to 30 guys there training every week.
The thing I enjoyed when I was growing up was travelling to Rotorua, Auckland, New Plymouth and Whangarei and I saw all these different places through rugby and thought it was a good deal. Kids now are like I used to be — they think Otara is New Zealand because that's all they have seen.
I get them and their parents together at the start of the year and explain that Auckland is not New Zealand and you can't see the real New Zealand until you get out and see other places. Wenderholm is their idea of up north. I tell them: 'Man, there's another three hours past there,' and they're wide-eyed.
I'd take my team out of Auckland and one year I wanted to take them to Taupo and then snowboarding at Ruapehu.
Before that I got invited by Robin Brooke to speak at a Foodstuffs conference and I took the mickey out of him and spoke about the kids I coached in Otara. The local Foodstuffs guy Vern Heydon, at Pak 'n Save Manukau, who is now retired, and Jason Witehira, who was at Botany New World and now Victoria Park, from the supermarkets either side of the club, said if you need a hand with those kids give us a yell because that's what we do in our community.
Two weeks later we were going to the snow. We had 22 players at East Tamaki and I asked for a few parents to help. Ninety-seven people put their names down for the trip when I had fundraised enough for one bus and to stay in the shearers' quarters at a farm near Taupo.
I had enough money for four days' food for 23 people and one bus. I went to Vern and said, 'You told me to come ask, so here I am.' He rang Jason at New World and between them they paid for both buses and gave us all the food for four days. It was a brilliant gesture.
I was so grateful and told them I couldn't pay them back, but Vern said, 'You're going to pay me back alright. You are going to work in my produce department for nothing for a week.'
'That's easy, no sweat,' I told him. I started at the supermarket at 5 am and finished at 3.30 in the afternoon and all I did was cut cabbages then a pallet of cauliflower and a pallet of lettuce, and then I'd start again. By the end of the week they were letting me split the celery and make up some orders in between sweeping floors and pushing trolleys. They were long days, but it wasn't so bad.
We got to Friday and Vern invited us all to a lunch he put on and then asked us to pay up. They all put $10 on the table and I had no cash on me and told the boss I didn't realise we needed to pay for lunch. He said, 'Nah, nah, nah, all these bastards said you wouldn't be here by Friday.'
After that meeting Vern sat me down and said, 'In this business we don't like guys who are millionaires or think they are clever, we don't want investors; we want people to come into the store and work hard. We gave you all the shitty jobs and you are an All Black from South Auckland where everyone knows you, but none of that worried you.'
He suggested I knuckle down, give it three months and that I'd know if I liked it by then. He said, 'I'll know if you are any good and I'll tell you, so after that time we'll have another talk.' That rang a bell and I worked at Manukau for three months, without pay.
Once that finished, Vern said you can apply to join the group, but Foodstuffs said I needed a job to get some experience, so I went back to Vern and he said, 'Funnily enough, I've got a job coming up.' The Pak 'n Save grocery manager was finishing off his New World training and I moved in to a vacancy as chilled foods manager, as part of the Foodstuffs, Pak 'n Save, New World, Four Square group that's Foodstuffs in New Zealand.
Vern didn't like losing money and told me to learn fast. On my second day, we sold out of chocolate yoghurt and I learned all about milk, butter, yoghurt, bacon, salami, luncheon and all that sort of stuff. After a year, I went back to Foodstuffs, who said I was in their sights but not just yet.
You can join the company as an external like me where you start mid-rung and finance your own way or from the ground up like Vern, whose first job was in Rotorua riding a bicycle delivering groceries, and Jason, who began trimming cabbages at New World in the same city.
My wife Raina was working, and we'd bought and done up a few houses in Otara, so I had a few bob. Lots of external guys have a nest egg and can afford it, but internals learn everything about the business from the bottom up.
I was based for three years at Manukau Pak 'n Save then a year at New World Botany doing every single job until, in 2010, after a whole lot of interviews, I became an approved owner-operator at Browns Bay New World. That was almost as good as making the All Blacks because I'd worked so hard for it. It was the same process, going through club rugby to your province then the professional ranks if you are good enough — you have to go through all the steps.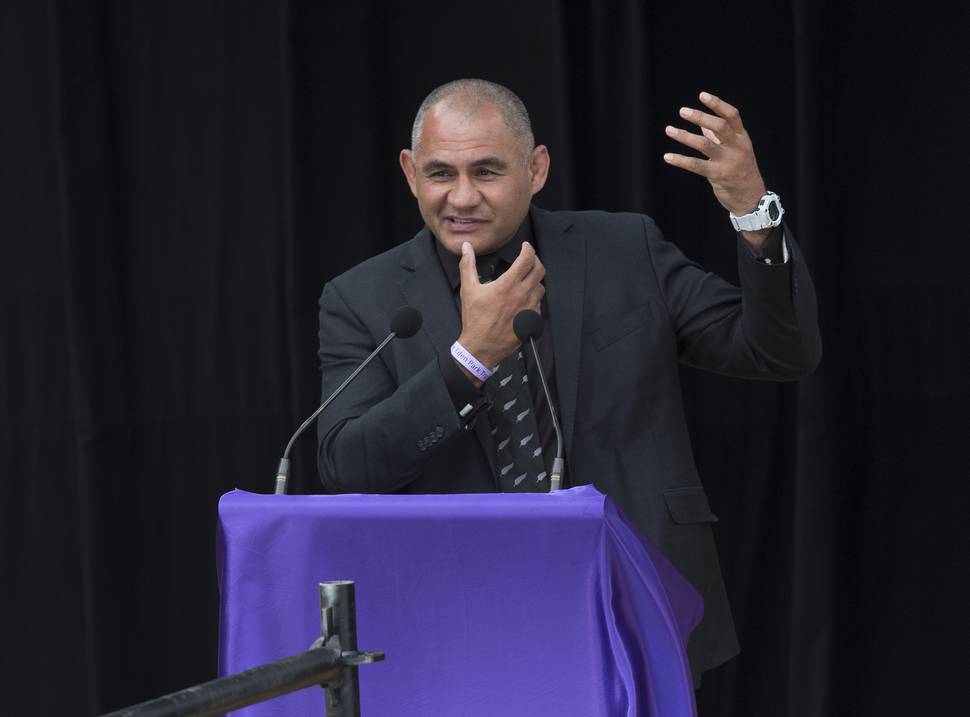 I sold my houses to get into Browns Bay New World, which was a small and old supermarket and hard work but rewarding. They were 18-hour days, which is no snack, and in the first two years I had about two weeks off and some of that was for my mum's funeral. I had 55 staff and was responsible for all of them. Whenever any of them moaned about their hours, I asked them if they wanted to swap jobs because I knew the answer. I had three years there before moving in 2013 to Kaikohe when the company asked if I'd like to move because I was from up that way.
I'd always been keen to go home, but with Mum and Dad gone I wasn't in quite such a hurry and we'd lived in Auckland for 30 years. However, from a commercial point of view it was better if I got stuck into it.
It was a nice shop in a tough town and very busy. The bad guys, the opposition Countdown, are in town too, but we kept each other honest, then last August I moved to run the Regent New World with a staff of close to 200 in Whangarei, where there is another New World, three Countdowns and a Pak 'n Save.
Some days you deal with a lady whose cat is the most important thing in her life, then there might be some Black Power guys giving us grief about the price of grog, or staff problems, but I like how there are separate businesses under the same roof; the butchery is separate from the chilled foods and groceries, and you have to get the team pulling in the same direction.
From Taupo north there are 48 New Worlds and we have a strong market share in New Zealand. I can ring any branch if I've got an issue, as it is a big family, all with similar issues.
When I came down to school in Auckland I met my wife Raina who became a rugby widow and was becoming a supermarket widow, so I gave her a job in the office. We have five kids, my daughter Natalie is 25, lives on the Gold Coast and has a son and twin boys who are 23 — Blair plays rugby in Newcastle but has done his knee, and Martyn, who is into jiu-jitsu.
I coach my two younger boys: Brady, who is at Westlake because of his mates, and Rob, who is on a scholarship at Saint Kentigern. I never pushed the two older boys because I was playing, but they all work hard at their games and enjoy it.
Watching rugby from the sidelines occupies a fair chunk of my time and I take in games on television.
One day I was speaking to Jason Witehira about my supermarket work and said, 'I wish I'd done this a bit earlier,' and he said, 'I wish I'd been an All Black.'
Extract from Rugby – The Afterlife by Wynne Gary, $39.95 RRP (Upstart Press)