Three people are in hospital after being hit by a slab of falling ice at Ruapehu on Saturday afternoon.
The injured were sitting in bright sunshine outside a cafe toilet block at Tūroa ski field when they were hit by a clump of ice that fell from the roof.
Two of the injured were flown to Waikato Hospital with suspected spinal injuries and another was treated for a broken leg at Whanganui Hospital.
Another three people also suffered minor injuries.
A spokeswoman for the Tūroaand Whakapapa skifields said a nearby ski patroller had immediately responded to the accident, followed by other patrollers who brought the guests down to the Tūroa urgent care clinic.
Tūroa general manager JP Chevalier said there had been heavy snow in recent weeks and snow accumulating on buildings had been identified as a potential hazard.
Warning signs and ropes had been put up by ski patrol staff as a precaution.
"It is rare for this type of incident to occur so the team spent yesterday afternoon reviewing all other building snowfall hazards to ensure appropriate measures are in place to keep the public safe around buildings while these snow conditions exist," he said.
Four of the injured are close relatives of NZ First MP Jenny Marcroft.
She told the Herald the group had been standing next to the toilet block, outside a rope cordon, taking off their gear and skis when the slab of ice fell.
"My niece was hit in the head and the back. She still had her boarding helmet on which was quite fortuitous," Marcroft said.
Her sister was struck and flung backward, with the ice smashing her leg below the knee, breaking both bones. She had been choppered to Whanganui Hospital and underwent surgery last night. Marcroft was waiting to hear on her condition this morning.
Her niece had been taken to the same hospital by ambulance.
Marcroft's nephew, who had a head laceration, was stitched up on the mountain while another niece had minor injuries.
The X-ray of her sister's injuries "makes my toes curl", Marcroft said. Her niece had called her immediately after the accident, describing "an absolute scene of bedlam".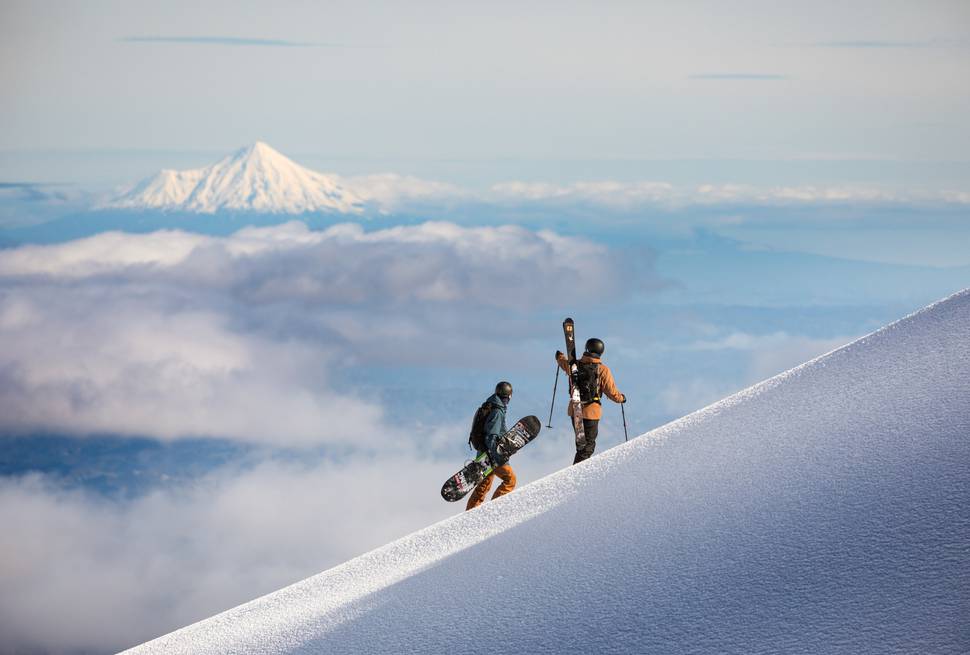 Marcroft, in a post on Twitter yesterday, thanked the "marvellous staff" at Whanganui Hospital for looking after her family.
A hospital spokeswoman said this morning three people had presented at the emergency department yesterday but only one - a woman in her 40s - had been admitted to hospital.
She was in a stable condition this morning.
The injuries came on a day that saw thousands of skiers and boarders hit the slopes in near perfect conditions.
Clear blue skies, no wind and weeks of snow drew crowds from all over the North Island hoping to enjoy what is turning out to be one of the best seasons in years.
Queues quickly formed at chairlifts with waiting times in excess of half an hour to get up the mountain on the Movenpick chairlift.
With the upper mountain inaccessible as the High Noon Express six-seater chair closed due to avalanche concerns, skiers experienced congestion on the lower slopes and long queues, especially at the Giant chair with waits of up to 45 minutes.
Many snow junkies descending on Turoa came from the Whakapapa side after the Bruce road was closed to cars at 8am when the car parks filled up.
The extra traffic on the Turoa side meant the car parks were full at 10am, leaving a 2km queue as many people were hoping to take advantage of the near-perfect conditions.

A video shows the long line of cars hoping to find a place to park as wardens were forced to implement a one-car-in-one-car-out policy.
Conditions are expected to be similar today with huge numbers arriving at both ski fields.
Excited skiers queue waiting for Turoa ski field to open. Bluebird weather attracted thousands to both Whakapapa and Turoa on Sunday. Video / Yasmin Robertson