The morning after the shortest day of the year might just be one of the coldest, as parts of the country dropped well below zero - cold enough to cancel trains in Wellington.
Yesterday was the Southern Hemisphere winter solstice, the day with the shortest period of sunlight and longest night of the year.
Parts of the South Island dropped to -6C overnight, and the central North Island shivered around 0C and the early negatives. Even Auckland dropped into the low single figures overnight and temperatures ranging from 4C to 5C.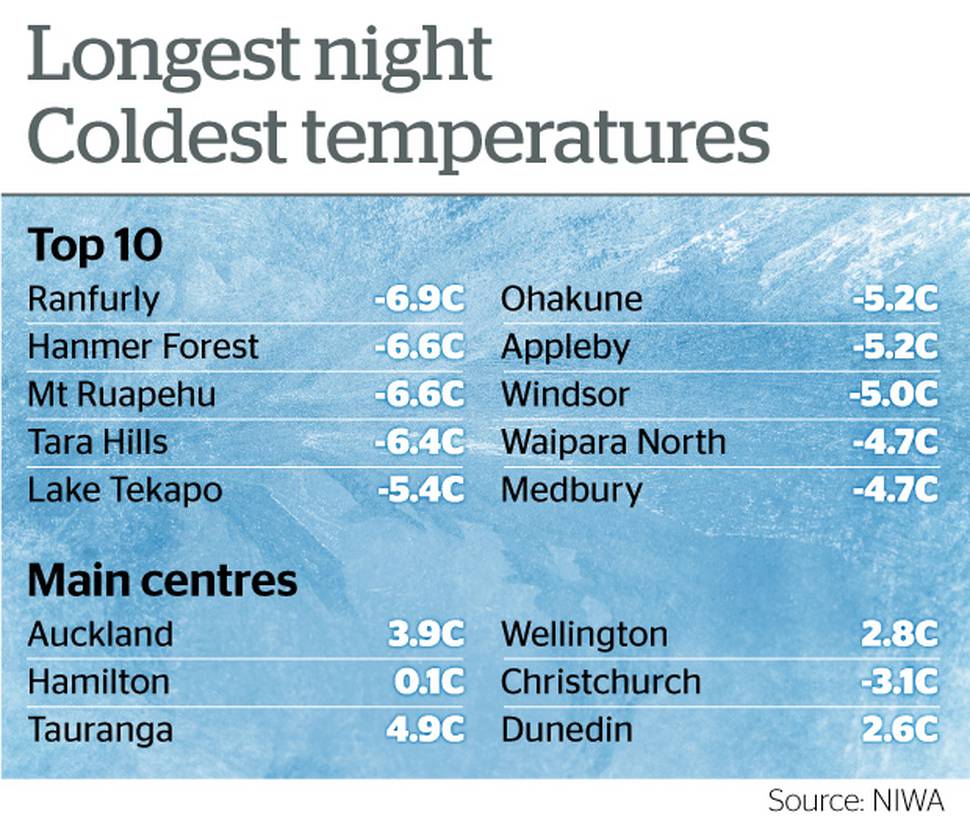 The coldest temperatures were recorded at Mt Cook Village and Lake Pukaki Airport in the central South Island which both hit -6C, MetService meteorologist Micky Malivuk said.
Christchurch was the coldest of the main centres at -4C.
And in Wellington, ice on the overhead lines is causing train delays and cancellations and temperatures plummeted to -3C in Upper Hutt at 6.20am, and -2C on the Kapiti Coast.
Metservice meteorologist Melissa Oosterwijk said the freezing temperatures are thanks to the clear skies.
She said cloud has been hanging over the region for most of the month keeping the warmer air in, but today the cloud has lifted allowing the ground to cool and dew to turn to frost
Yesterday's heavy rain in the Far North has eased this morning to light showers, and should fully clear later today, Malivuk said.
Parts of Northland and the Far North received a drenching over the past two days, some areas recording well above the monthly average in just 48 hours.
Whangārei recorded 176mm, well above the June average of 126mm.
The rest of the country was in for a relatively fine day today, as a ridge of high pressure extended across both main islands.
"There will be some cold temperatures and frosts in places at first, but most areas should warm up to blue skies and nice day," Malivuk said.
"Some other areas will be waking up to a bit of low cloud and fog, but that should burn off this morning for a fine day too."
Cool temperatures were also forecast for tomorrow, preceding a front scheduled to arrive in the South Island during the morning.
Showers were forecast from the front across the West Coast, spreading up the North Island during the afternoon, bringing showers to most western areas.
On Sunday another front was expected to move east onto the west of the South Island.
Heavy rain was forecast about Fiordland and Westland.
Following closely behind the front would be a cold air mass, with embedded troughs, bringing frequent showers to southern and western areas.
Snow was expected to low levels in Southland and parts of Otago.
Today's weather
Fine apart from a few showers before dawn. Southerly breezes. 14C high, 5C overnight.
​ Fine, but some cloud from afternoon. Southerly breezes. 13C high, 5C overnight.
Fine with morning frosts. Southerly breezes. 12C high, 0C overnight.
​
Fine. Southerly breezes. 14C high, 3C overnight.
New Plymouth Fine. Evening cloud. Southeasterlies dying out afternoon. 12C high, 4C overnight.

Napier Cloudy periods. A few showers, clearing by afternoon. Southerlies dying out by afternoon. 12C high, 0C overnight.

Wellington Mainly fine with early frosts, then cloud increasing in the evening. Light winds. 10C high, 6C overnight.

Nelson A fine day with early frosts and light winds. 11C high, 2C overnight.
Christchurch A fine day with early frosts and light winds. 8C high, -3C overnight.

Dunedin Areas of low cloud or fog, clearing to fine in the afternoon. Light winds. 9C high, 3C overnight.