Two teens have handed themselves in after a smash-and-grab at a Hamilton cafe made them a few dollars richer but left the owners feeling devastated.
The Sugar Bowl on Grandview was burgled overnight, but the robbers only made off with a grand total of about $3, according to one of the owners.
All seven large windows at the front of the shop had been smashed in the robbery.
A police spokesperson said this morning two men handed themselves in at Hamilton Station.
"The 17 and 18-year-old men have been charged with burglary and are due to appear in Hamilton District Court on Friday," she said.
"One more offender is still outstanding but police are following strong lines of inquiry to locate him."
Earlier today, Megan Williams told the Herald it was a nasty shock receiving a call from her alarm company shortly after 2am this morning alerting her to the break-in.
"The alarm company phoned us and said the police were on their way. We went straight down there after that call," she said.
"We didn't cry, but we were pretty upset."
Williams had opened up the Sugar Bowl just five days ago.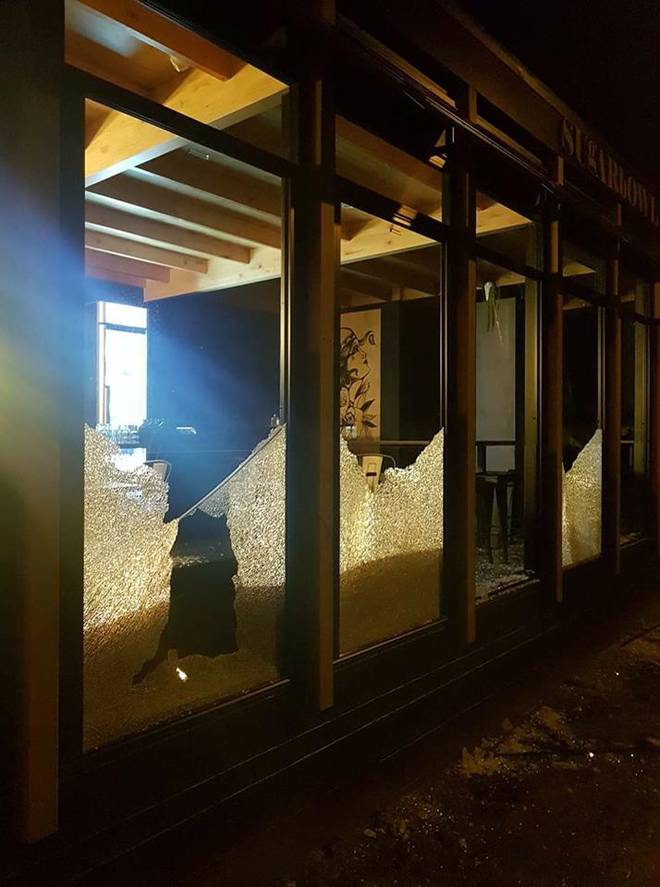 She and her husband also owned a Sugar Bowl cafe in central Hamilton. She had hoped the latest cafe would give the Nawton suburb "a bit of a lift".
"It's an area which is historically known as the hood," she said.
Williams said the till had been left open on the bench of the cafe. It could clearly be seen there was very little in there, she said, as they emptied the contents daily.
"I think they took about $3 worth of 20-cent coins," she said.
Aside from the cash, CCTV footage showed the burglars also attempted to run off with the Eftpos machine.
Williams had handed the footage over to police for evidence and would also share it on the cafe's Facebook page.
"There is some pretty clear footage of their faces, so someone in the community will surely recognise them."
Additionally, Williams said there were "masses of fingerprints".
"It looks like the guys were young and dumb."
Williams and her husband had spent the early hours of this morning cleaning up the glass left behind by the offenders and reviewing footage.
They were expecting glaziers to arrive later this morning to re-fit the cafe with new windows.
Despite the blow, the cafe was still open to serve Hamiltonians their morning cuppa.
"It's business as usual," Williams said.