Widow Tanvi Bhavsar is considered a "bad omen" in India after her husband drowned at Waimarama Beach.
Shunning the "torturous" cultural persecution, she's now fighting to retain her dream of living in New Zealand after the January tragedy, when she and her husband, Hemin Limbachiya, 26, were caught in a rip and swept out to sea.
Limbachiya died but Bhavsar was pulled to safety.
Now, three months after the tragedy, she has returned to Hawke's Bay to fight for a future in New Zealand.
"I know that if I stay in New Zealand there's a constant memory of Hemin everywhere and I like it this way," she said.
"I want to remember him in a good way and I don't want to quit the future we'd planned here. I don't want to quit our dreams. I don't want to give up."
The couple married in Wellington a year ago but had recently returned from their cultural wedding in India when Limbachiya died.
They were halfway through the process of applying for permanent residency but Immigration New Zealand (INZ) has since declined the application because Limbachiya was the principal applicant.
Bhavsar, 27, returned to Hawke's Bay on April 20 on a three-month visitor visa to petition for her future in New Zealand, a future she believes could support her passion for art and teaching.
She studied creative arts in India and completed a one-year course at Auckland's Media Design School before the couple moved to Hawke's Bay.
"My background is art and I do painting. I came here for my career because here I had a good platform to perform my art, better than in India. I also like the culture. I can freely be myself."
Her cultural brother Prashin Kumar said she faced "torturous" cultural prosecution when she returned to India after the drowning.
"It is an unfortunate scenario with widows in India, especially in her case, where she is portrayed as the reason for her husband's death.
"That's a constant thing she will have to worry about. She will always be a bad omen. She will always be inauspicious in the eyes of that society."
Bhavsar said she was afraid to speak about her experiences out of fear for her family, who live in India, but said the experience had tarred her.
Bhavsar lodged an appeal with the Immigration and Protection Tribunal (IPT) but Kumar said it was likely the tribunal had no jurisdiction to consider the appeal because she was not the principal applicant in the residency application.
He said they lodged it anyway in an effort to reach a point where they could request ministerial intervention, which can only be done when all other options are exhausted.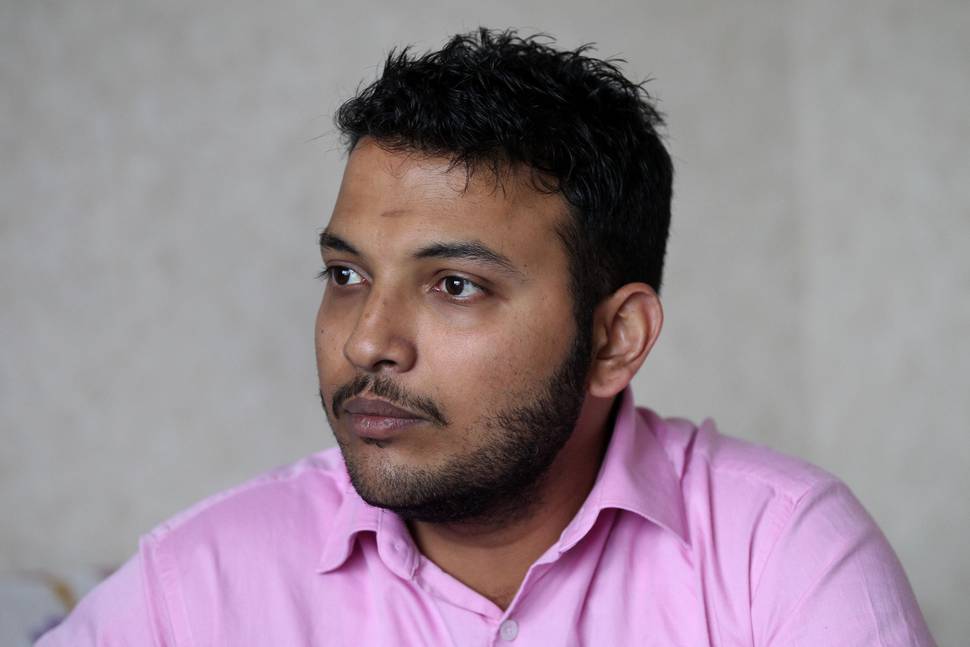 Bhavsar said she would never fully recover from her husband's death if she could not have the opportunity to achieve the life the couple dreamed of.
"I see my career here, not in India. Hemin and I both decided to stay in New Zealand and spend the rest of our lives here because we're very much attached to New Zealand and this culture, and we have our family here."
She remembered her husband as shy and kind, with a love for travel, and said she threw herself into painting after his death in an effort to cope with the loss.
"In the first month it was very tragic and I was blind, [thinking] 'what was I going to do alone?' Everything I had imagined was with Hemin and now I see myself alone.
"I was blind but time passed and I accepted the reality of it. I discovered that I have to go alone and New Zealand, my colleagues and everyone here has supported me a lot."
Kumar said it was certain she would never recover from Limbachiya's death if she couldn't attain a life in New Zealand.
"Here [in New Zealand] she has an opportunity to continue on the dreams which they both saw together and use her skills.
"There [in India] she can't continue her dreams or use her skills because there is constant harassment from the extended community."
Earlier, Napier Labour MP Stuart Nash said it was a tragic case.
"I understand the case is still some way off a direct appeal to the Associate Immigration Minister.
"It is important to take time to look closely at the circumstances and legal processes still available."