Two tornadoes have torn through National Park Village and the Taranaki town of Rahotu, tearing up trees and lifting roofs.
The second twister struck National Park, near Mt Ruapehu, about 9.15am and knocked down trees and scattered debris in its path.
Earlier today a tornado tore through the Taranaki town of Opunake, taking down trees and power lines.
A police spokeswoman said police were assisting the fire service in Rahotu, just north of Opunake, where the tornado also damaged roofs when it ripped through the area shortly before 7.30am.
Civil Defence was setting up an evacuation centre at the Rahotu hall, a spokeswoman said.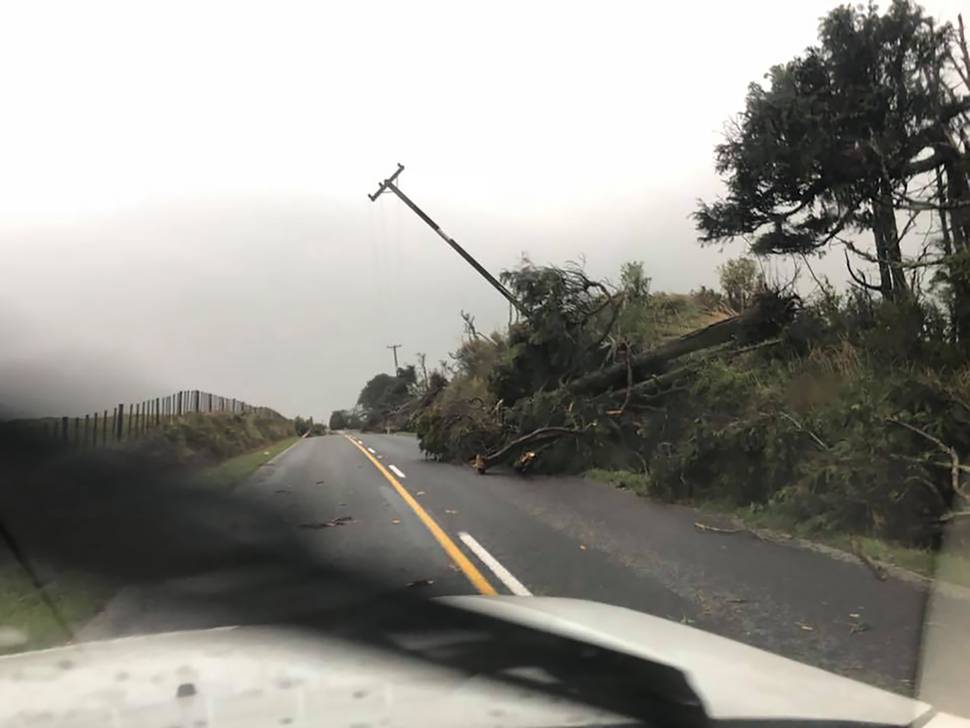 Police warned locals to avoid unnecessary travel, tie down outdoor furniture and keep an eye on NZTA and MetService websites for updates.
MetService says 4500 lightning strikes lit up the Taranaki sky within an hour this morning as the storms knocked out power to more than 12,000 customers in the district.
Severe wind gusts up to 110km/h have been forecast to continue in the area into this afternoon as the front moves north and east to hit most of the country.
Rain was already lashing Taranaki, Wellington and Taupo as of 8.30am, according to the MetService radar.
Meanwhile, snow is falling in the South Island and gusty winds, heavy rain and thunderstorms are hitting the North Island - and the worst is yet to come.
MetService meteorologist Andy Downs said it had been snowing on most of the main alpine passes in the South Island, including Arthurs Pass, Porters Pass and Lewis Pass.
There were also reports it had started snowing in Fairlie, in the Mackenzie District.
"We expect the heaviest snowfall will be inland Canterbury above 400m through to Kaikoura."
The NZ Transport Agency said chains were essential on State Highway 73 in Canterbury because of snow and the road was closed to towing vehicles.
A strong wind warning is also in place for SH6 on the West Coast from Ross to Haast.
Overnight, thunderstorms were reported from Wellington up the Kapiti Coast, Manawatu and Auckland.
Parts of the lower North Island experienced rain falling at 15-20mm hour. A funnel cloud was reported over Palmerston North.

Downs said the bad weather was coming from the west.
"Taranaki could see thunderstorms first from 7-8am, before it moves across the whole west of the North Island, from Auckland to Northland.
"There is potential for damaging wind gusts and heavy rain."
Along with the thunderstorms is a risk of small tornadoes, Downs said.
"However, these will be very localised. People will be more likely to see strong winds and heavy rain."
Another round of strong winds associated with the deep low will move onto central New Zealand later in the day.
"The strong winds coming before the low with thunderstorms are short and squally. The winds that come with the low will be more sustained."
Heavy rain watches are in place for central New Zealand.
"It is going to be pretty wet," Downs said.
Snow is also likely about the Central Plateau and the higher roads of the North Island later today.
The South Island is in for a "bitterly cold day".
Maximum temperatures for many places are forecast in the single digits.
Queenstown is due snow showers this morning and a maximum temperature of 8C, and Dunedin and Christchurch will be hit with sleety showers and highs of 9C.
"It will be a bit of a shock, going from temperatures well above the average even just last week, to well below," Downs said.
A heavy snow warning is in place for the Canterbury high country to 2pm today and 6pm in the Kaikoura ranges.
Snow is forecast down to 400m above sea level in Canterbury, with pockets of snow as low as 300m. Over 40cm of snow may fall in areas 700m above sea level.
In the Kaikoura ranges snow is forecast to 400m, and more than 40cm may accumulate above 600m.
Road snowfall warnings have been issued for the alpine passes in the South Island, and also for the motorway north of Dunedin to Waitati.
For Lewis Pass, Arthurs Pass and Porters Pass, snow is forecast above 400m, mostly at higher levels.
For the Lindis Pass and Haast Pass as well as the Crown Range and Milford Rds, snow is forecast down to 300m.
The Dunedin to Waitati Highway can also expect a dusting of snow, with a few centimetres forecast about the highest parts of the road.
Farmers are being warned to shelter stock and motorists are urged to take great care on southern roads.
Strong wind warnings have been issued for most country's western areas.
From 7am to 3pm today Buller and Westland may get severe southerly gales up to 140km/h in exposed places.
Taranaki, Kapiti Coast, Horowhenua and the Marlborough Sounds can expect gusts of up to 120km/h from 4pm to 11pm today.
Similarly strong winds are also forecast for Waikato, Auckland and the Coromandel Peninsula from 7pm tomorrow to 1am Wednesday.
Tomorrow the system is forecast to ease, but there will still be a cold, showery flow over much of the country.
"There will still be snow too in inland South Island and central North Island, but the amounts will be reducing," Downs said.
On Thursday will be a brief respite in the North Island, but another front is due to arrive in the South Island.
"We are in for a pretty unsettled week."
Today's weather
Showers, heavy with squally thunderstorms during morning. Northwesterly turning strong southwest. 23C high, 10C overnight.
Auckland Showers, heavy with squally thunderstorms during morning. Strong westerlies, gale from evening. 21C high, 9C overnight.
Hamilton Rain, heavy and thundery, turning to showers afternoon. Strong westerlies, gale for a time. 19C high, 5C overnight.
Tauranga Showers, heavy with squally thunderstorms during late morning and early afternoon. Gusty northwesterly. 21C high, 6C overnight.
New Plymouth Rain, heavy with squally thunderstorms during morning and afternoon. Westerlies turning strong southerly, gale from afternoon. 20C high, 5C overnight.
Napier Showers developing in the afternoon. Northwesterlies turn strong southerly afternoon. 23C high, 5C overnight.
Wellington​ Rain, heavy at times, turning to showers evening. Cold and gale force southerlies. 10C high, 6C overnight.
Nelson​ Rain, heavy at times, easing afternoon and clearing evening. Strong gusty southeasterlies. 14C high, 4C overnight.
Christchurch​ Rain turning to sleety showers afternoon. Strong southwesterlies. 9C high, 3C overnight.
Dunedin​ ​Sleety showers with possible hail, and strong southwesterlies. 9C high, 5C overnight.