Auckland Zoo staff have been left heartbroken over the loss of a brave-spirited giraffe that had been born just three days earlier.
Despite round-the-clock efforts to save the sick calf – and a brave fight he put up himself - the newborn had to be euthanised last night.
After a normal pregnancy, the calf's 16-year-old mother Rukiya gave birth to the normal-sized calf at 2.30am on Monday, without complication.
However, the calf was too weak to stand – something that immediately struck his carers as unusual.
"A giraffe calf is normally up and on its feet within half an hour – something it needs to do in order to be able to reach up and suckle from its mother, which it continues doing for up to six months of age," Auckland Zoo senior vet Dr An Pas said.
Throughout the calf's first day the zoo's veterinary team and specialist giraffe keepers fed him regularly via a tube to enable him to receive the colostrum and milk needed to provide him with essential sustenance and immunity.
They also gave him physio sessions, and as a preventative measure, the vet team administered antibiotics.
But his illness worsened significantly yesterday afternoon with his low-grade fever escalating to a high fever, and blood test results revealing extensive breakdown of muscle and organ failure.
Given this, last night the zoo team had to make the tough but kindest call to euthanise him.
"He had spirit and was a fighter, and did manage to stand for short periods and suckle a little bit a few times over the next two days," Pas said.
"Rukiya, an amazing mother, was doing everything she could to help him, but in the end, this calf was unable to sustain standing for long enough to suckle with Rukiya.
"It's such a tough situation as when a calf is weak like this to start with, it's vulnerable to infection and once an infection sets in, as it did, its body uses all its power to deal with and fight the infection, so it's not getting enough energy and food so it starts to break down muscle."
The loss of the calf was especially tough for the zoo's team of Pridelands keepers who care for the Zoo's giraffe family, and spent the last few nights working in shifts to monitor the calf and mum Rukiya.
"It's heart-breaking when something like this happens, and always a difficult decision no matter what the species, but it was clear this was a battle that was not going to be won," Pridelands keeper David Crimp said.
"We feel really proud and honoured that, with our amazing vet colleagues, we were able to do everything we could to give this calf a fighting chance."
The father of this calf was elderly male, 19-year-old Zabulu, who died last April.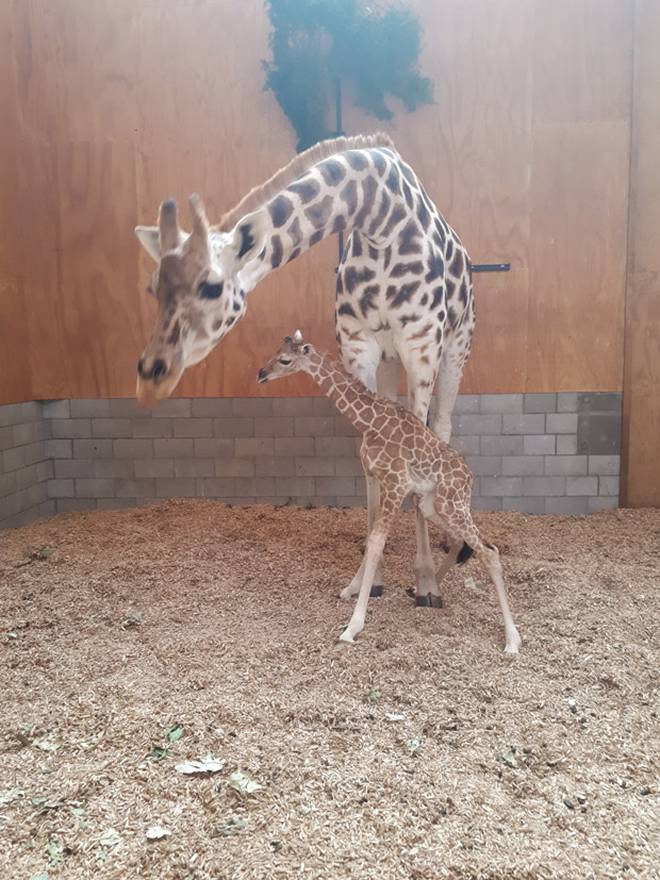 Auckland Zoo was currently home to three giraffe; adult females Rukiya and Kiraka, and 15-month-old female, Kabili, the offspring of Kiraka.
Sometime in the future, the zoo will welcome a male giraffe as part of the Australasian regional breeding programme for this species.
GIRAFFE FACTS
• Auckland Zoo's giraffe herd is part of an Australasian regional breeding programme
• Auckland Zoo is currently home to three giraffes: adult females Rukiya and Kiraka, and 15-month-old female Kabili – the offspring of Kiraka
• A new-born giraffe calf is 1.6m tall; it needs to be this tall to reach its mother's milk
• Calves can usually stand up as quickly as 30 minutes – one hour after they are born. This is vital in the wild, as vulnerable new-born animals are the first target of predators
• Threats to giraffe include poaching for skin and meat, and above all, habitat loss
• Since 1998, habitat loss and poaching have resulted in giraffe populations plummeting from 140,000 to just 80,000 individuals today
• Auckland Zoo Conservation Fund supports research and conservation work of the Namibia-based Giraffe Conservation Foundation (GCF). It is the only NGO in the world that concentrates solely on the conservation and management of giraffe in the wild throughout Africa