Reports of packed trains, delays and people riding motorbikes on footpaths are coming in as the first day of "March Madness" begins.
Today marks the first day of the busiest time of the year on Auckland's roads, public transport and cycleways, with the chaos expected to exacerbated by planned industrial action by Auckland train services.
Auckland Transport announced on Saturday that, from today until March 16, train services will run on a 20-minute frequency during peak time on weekdays due to industrial action by the Rail and Maritime Transport Union (RMTU).
This is a change from the usual 10-minute frequency.
Auckland rail workers have voted to stop working overtime in protest of AT moving to cut staffing numbers on commuter trains. They have also threatened a full-day strike if concerns aren't heard.
As the new schedule kicked off this morning, one commuter reported being delayed by nearly an hour.
There were no parks near the train station in Swanson, and she missed two trains.
"Despite the number of carriages — which was more than usual — the train was jam packed by the third stop.
"There are lots of school kids on the train who will be late."
A Herald reader coming in from Manurewa on the 7.38am train said she was lucky to get on.
"About 10 people on each carriage didn't get on. Then we had to drive past people waiting all of the way through to Britomart."
New Lynn commuter Hajra had to miss her train, and said she would have caught the bus if she knew it was so packed.
"I've never seen it this busy, and I can't stand because I have a problem with my knees," she said.
"I don't think I'm ever going to take trains anymore, I'm so tired of this."
Train services were not the only transport option affected, with another commuter reporting seeing at least four motorcycles/scooters driving down the footpath on Lake Rd and Esmonde Rd to avoid heavy traffic.
NZ Transport Agency said traffic was heavy citybound on the Northern, Southern and Northwestern motorways.
AT media adviser James Ireland said they were experiencing minor delays with the trains, but nothing more than 10 minutes.
"The trains are busy, Monday is always busy and there are more people on the trains coming into 'March Madness', with the university students returning.
"There is also an altered timetable. But given all of that it has gone relatively smoothly.
"We apologise if people are delayed in getting to work or school, we are dealing with it the best we can."
AT advised that customers should expect delays on the rail network on the Southern, Western and Eastern lines due to fewer services running during peak travel times.
Commuters on affected services can expect delays for the next 19 days, sparking a warning from AT for commuters to make alternative travel arrangements to avoid delays.
While train services face disruptions, ferry and bus services are operating as normal.
To help deal with the busy time of the year, an extra 4600 seats each day have also been added to bus services.
RMTU's industrial action comes as AT looks to cut train managers from its rail services and replace them with a team of transport officers, despite serious health and safety concerns from the union.
Other proposed network changes include transferring the responsibility for train door opening and closing from train managers to train drivers.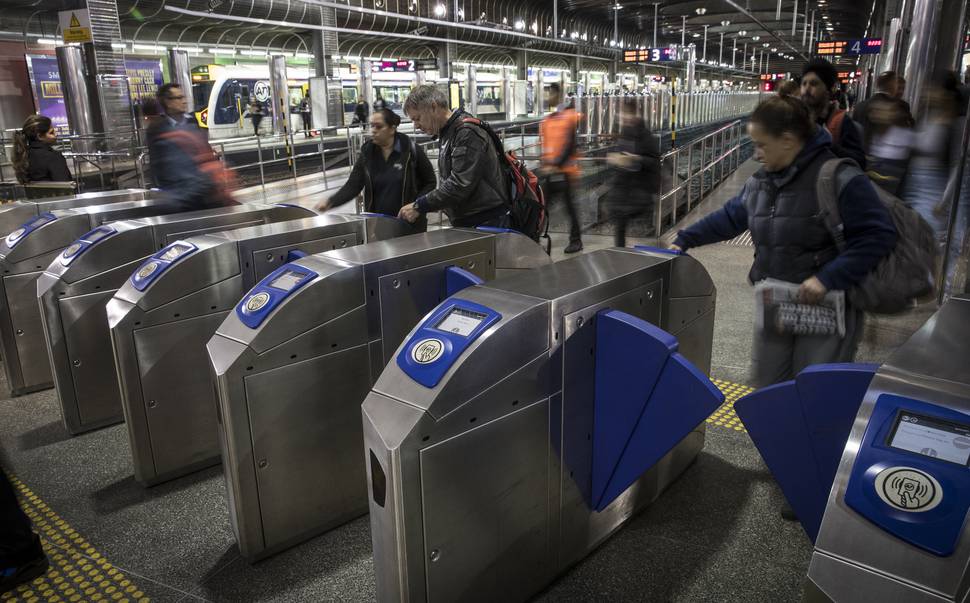 RMTU organiser John Kerr said changes would jeopardise passenger safety.
"They want to make locomotive engineers – the people driving the trains – also responsible for passenger assistance and security.
"Rail workers know this just isn't safe, and they won't accept the risk to our passengers."
The union met with AT and Transdev last week, and is due to talk again on Wednesday.
Kerr said if progress wasn't made, RMTU members were willing to take full-day strikes.
"I guess we will get an idea then whether or not they're more amenable to what we are asking for, which is to keep the train managers and the associated staff on the train platforms," he said.
"If we get enough progress then we have the option of lifting the overtime ban, which is obviously our preferred approach, but if we don't get enough progress then the members representatives and delegates have a couple of options; one is to maintain the ban, the other is to call for full-day stoppages."
Kerr said AT's reduced timetable in response to the overtime ban illustrates how understaffed the service is.
"We knew the system or the network was dependent on drivers and crews working overtime because they have not recruited or trained enough people, but we didn't know to what extent it was.
"It was a surprise when they immediately put the reduced timetable in place. That is a commentary in itself and a bit of an indictment of AT and Transdev that they have not managed to fully staff the network, because clearly with a fully staffed network an overtime ban wouldn't have this sort of impact."
Yesterday, Transdev managing director Michel Ladrak apologised to Aucklanders for the disruption to their normal peak services and said it was working with AT and RMTU to end the industrial action as swiftly as possible.
"It is regrettable the RMTU has chosen the 'March Madness' period for its industrial action as it has targeted commuters and the many thousands of tertiary students returning from summer break," he said.
Ladrak said train services operated at 90 per cent this morning, with most delays a result of a faulty train in Manukau.
"I would have expected trains to be fuller, particularly when you get closer to Britomart, but we put in extra capacity - so where we normally use three-car trains, we used six-car trains.
"Do I like it? – no I don't, because it is much better for the customer experience for us to offer them the full service.
"It will not be comfortable for our customers, but it will probably do the job."
Ladrak disagreed that the service was understaffed and routinely relied on workers putting in overtime.
"We are staffed for slightly above average demand but when there are special events, slightly higher sick leave, or you need to train larger groups than normal, then you always rely a little bit on overtime," he said.
He hoped the three parties would come to an agreement on Wednesday.
"Hopefully on Wednesday we can come to an agreement that will lift this overtime ban because nobody is helped by this. It is a blunt instrument that affects the commuters and hurts their own staff.
"Essentially I think it is important to realise, that in the end we are adding 70 more people to the network. They will be deployed on trains where we expect issues, and there will always be someone after 7pm.
"Transport officers can deal with anti-social behavior and give people a more secure journey, whereas today we have train managers who don't have the power and are only trained to avoid conflict.
"So the message that these changes will be unsafe is factually not true. It is very safe, because we have to adhere to the regulations of the NZ rail regulator."