There's a small reference to New Zealand on the front page of Monday's Manila Times, underneath a giant photograph of Canadian Prime Minister Justin Trudeau.

It shows him allowing the young cultural dancers at the airport to touch of his out-stretched arm.

The New Zealand story is about a couple of non-political celebrities from the Philippines, an actress and a restaurateur, having gone down to Queenstown for a private wedding.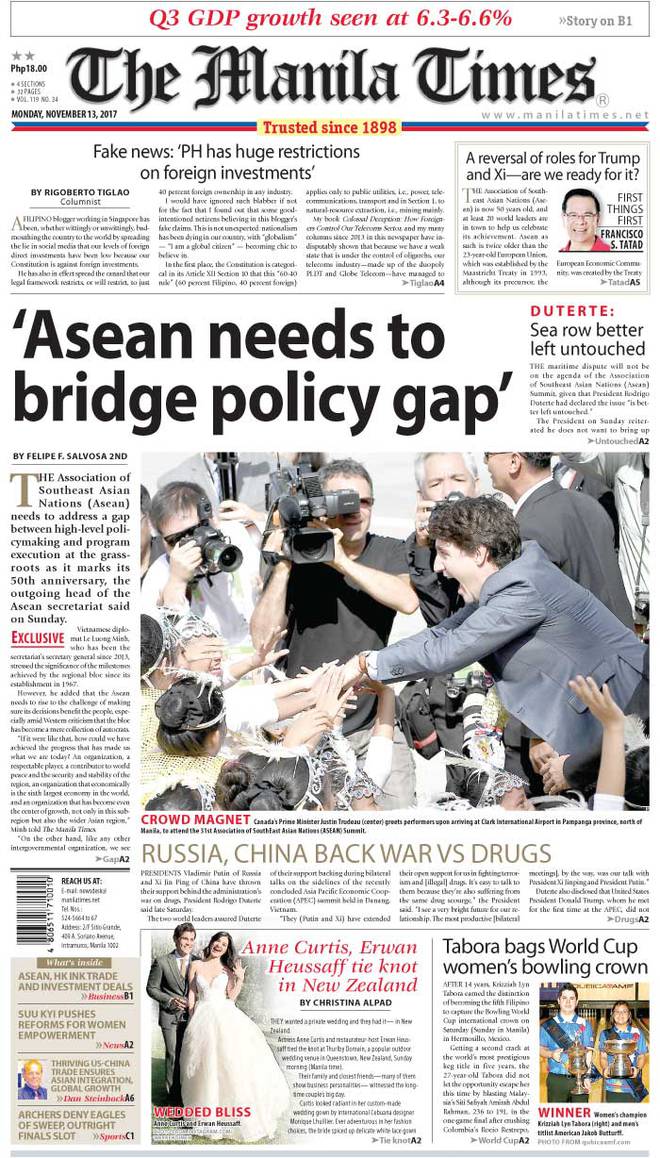 Jacinda Ardern fares better on the front page of the Manila Bulletin where she is one of several leaders pictured arriving as a guest of the 50th Asean Summit.

She has spent the past day rocketing along empty motorways snaking over Manila's slums and sky scrapers to get to dinner and forums to snatch a conversation here or engage in a discussion there.

As well her own security detail, she has six bodyguards, one of whom has acted as a food taster an non-official events - such as when she ordered potato chips at a hotel bar.

Last night at the gala dinner she spent several hours talking to the President of South Korea, Moon Jae-in, like herself a newly elected leader.
She also met Justin Trudeau, although being of such a similar political persuasion, it was like a meeting of old friends.

While Trudeau is getting star billing in Manila, Canada is not actually member of the East Asia Summit and is here in Manila trying to break into the club.

The Manila event is an opportunity to focus attention on one of the most unusual countries in Southeast Asia, with one of the most idiosyncratic leaders, Asean host Rodrigo Duterte.

He sang to leaders at the gala dinner on the first night. He was late to his own opening the next morning, forcing various motorcades to have to circle the convention centre lest they arrive before him.

To his critics he is foul-mouthed populist who presides over human rights abuses - cracking down drug trafficking and crime in the Philippines by encouraging the killing of criminals without the right of a fair trial.

To his supporters he is a plain-speaking populist who takes pride in cracking down on drug trafficking and crime in the Philippines by eliminating criminals without having to waste time on the inconvenience of a fair trial.
The Asean summit is also a chance to rekindle the Philippines relationship with the United States.
Duterte is the sort of guy who holds a grudge against anyone who points out his human rights abuses, as Barack Obama did.

So despite the Philippines winning international arbitration against China last year over its territorial dispute in the South China Sea(lodged by his predecessor), Duterte has not played the advantage.

He actually threw himself into the arms of China, such was his antipathy to Obama, and moved to effectively freeze the old alliance with the US.

Trump has not publicly criticised the human rights abuses - and the use of US drones to help the Philippines combat ISIS-linked insurgents in the southern island of Mindinao has also helped.

The alliance is starting to warm again. Trump and Duterte are getting on famously at Asean even if Trump did grimace his way through the Asean handshake on Monday (where leaders cross arms to hold hands).