Pesi Tuivai was supposed to have given her first sermon as an ordained lay preacher in a few weeks.
Instead, the mother-of-four's family is facing the terrible task of preparing for her funeral after she was killed yesterday in one of the worst road smashes this year. Her 10-month old daughter, who was previously reported to be a boy, is fighting for her life in hospital.
Free Wesleyan Church of Tonga minister Tevita Langi today revealed Tuivai was returning to Palmerston North after travelling to Auckland to be officially sanctioned to speak from the pulpit.
Today, her 10-month-old baby girl is clinging to life in a hospital hundreds of kilometres from home and her heartbroken family and struggling to cope with their loss.
Langi said his close-knit congregation was devastated by the crash, which injured eight members of an extended family, and killed three others.
Heartbroken relatives, including two of the dead woman's sons, gathered at Langi's home last night to pray. Others in the Polynesian congregation gathered in Palmerston North to mourn the loss of the cherished parishioner and pray for those in hospital.
Langi described Tuivai as a warm-hearted woman who doted on her children.
"She was a kind, loving mother.
"Every time you met her she would have a big smile on her face."
She had relished the chance to become a preacher, easily passing a series of examinations before the weekend's ordination in Auckland where church members gathered for their quarterly meeting.
"She was about to preach a couple of weeks from now," he said.
Tuivai's husband, coping with the tragic loss of his wife, was in Auckland at the bedside of his badly injured girl.
"I spoke to him last night. He's devastated."
Langi said everyone inside the crashed car were related to each other.
He learned of the dreadful crash within minutes after the driver called and told him to rally the congregation to prayer immediately.
"She was really upset but she called me to tell me they had been in an accident and asking for prayers."
The community was supporting grieving family members.
The crash also killed a 5-year-old boy, a 56-year-old woman and 60-year-old man, travelling with a fourth person in a five-seater northbound van.
Tuivai's 10-month-old girlis fighting for life after the crash and was late last night flown to Auckland's Starship Hospital in a critical condition.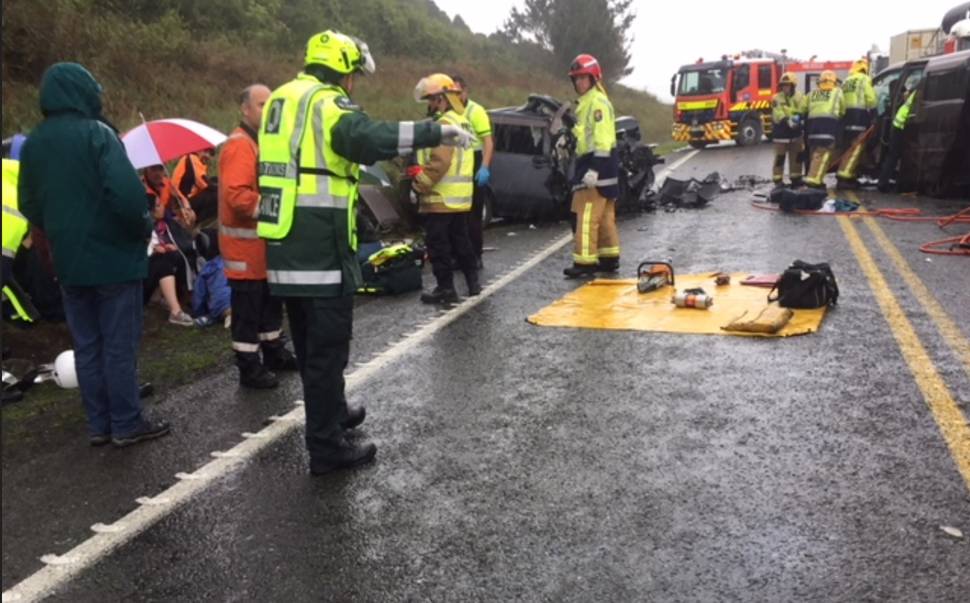 Seven other people from the smash remain in hospital this morning, including a 42-year-old man in Intensive Care Unit at Waikato Hospital and a 66-year-old woman and 17-year-old girl in Rotorua Hospital, all in a critical condition.
A duty manager at Rotorua Hospital said two girls, aged 2 and 3 years, were being treated for minor injuries.
A 32-year-old woman was stable in a ward at Hamilton Hospital with chest and abdominal injuries.
A fifth woman, 42, was taken to Rotorua Hospital but not admitted.
The crash, which happened at the intersection of State Highway 1 and Tutukau Rd about 3.15pm, is being described as one of the worst in 20 years.
Police said the horrific crash was "absolutely devastating" and were now piecing together why the vehicles collided head-on.
"Police extend their sympathies to the loved ones of all of those involved," said Acting Bay of Plenty road policing manager Sergeant Nicky Cooney.