A 19-year-old woman is left for dead in Dome Valley. Susan Strongman for The Wireless reports.
Warning: This story from The Wireless contains descriptions of extreme violence and images that may disturb.
Kathleen Tolman eased her car onto the narrow gravel road that led away from her property. It was 6.45am, and pitch black outside. The temperature had dropped to 12C overnight. Mist crept down forested slopes into Dome Valley, north of Auckland. Tolman passed her partner Stephen Piggott as he headed out with the dog for their morning walk.
It was a pretty road that wound downhill from their home, through farmland and bush and scrub, to State Highway 1. But people often parked up there to wash down McDonald's burgers with pre-mixed bourbon and cola, before ditching their cardboard and cans in piles on the roadside and skidding off, back to the main road. These people's litter made Tolman cross, and that morning, through mist and drizzle and windscreen wipers, she was furious to see a particularly large pile, dimly illuminated in the car headlights. She flicked them to high beam. Something moved. A leg.
She was scared. "I got a sharp pain in my chest," Tolman said. "I stopped the car dead in the road."
The pile of rubbish was a body. A human body, clad in grey-green overalls, with a yellow reflective strip at the waist that glowed in the headlights. Tolman turned the car around and drove back to the house to call Piggott and the police. When the pair returned to the scene, they got out of the car and walked towards the body.
"We saw awful things," Tolman said.
Blood from a gash in the person's head had pooled on the gravel road. The right arm was twisted unnaturally. Clear cable ties had been used to bind wrists and ankles. Dark makeup was running down a pale, bruised face. Though the hair was cropped close to the skull, Kathleen could see it was a girl.
Ten months later, in an air-conditioned room at the High Court in Auckland, Crown prosecutor Henry Steele described the discovery of 19-year-old Aimee Macintosh* on Waiwhiu Conical Peak Rd.
"Her head was bloodied and her face bruised. The grass around her had been flattened. Flattened by her desperate movements over the course of the preceding 10 hours, through the night, on the side of a dirt road, half way through the Dome Valley, her skull having been smashed with a hammer."
The trial into the kidnapping, assault and attempted murder of the young woman began on February 27, 2017. In the dock stood a ragtag group of five, accused of a toxic medley of brutal acts fuelled by hate, jealousy and methamphetamine.
Macintosh had twice been abducted and savagely assaulted. On the first occasion, in April 2016, she was dumped in the Bombay Hills with nothing but the clothes she was wearing.
On the second, a few weeks later, she was beaten, sexually violated and held in a West Auckland basement for 22 hours. On Mother's Day, she was loaded into the back of a shiny black ute, driven to Waiwhiu Conical Peak Rd, and bashed in the head by Wayne Blackett, a man she'd never met. Her two former friends - Nikki Jones and Julie-Ann Torrance - watched and laughed.
Eleven lawyers, five defendants, 12 jurors, more than 60 witnesses, countless journalists, police, photographers, security guards and members of the public followed the three-and-a-half-week trial, overseen by Justice Christian Whata.
Macintosh had survived. In the trial to come, she was the prosecution's star witness.
A young, happy girl
Macintosh is the daughter of a petite, auburn-haired mum, and a burly dad with a shaved head and impressive goatee.
When she was a child, her family moved from the Bay of Plenty to New South Wales, where she lived for just under 10 years. Photos show a young, happy girl smiling proudly in a leather jacket, standing beside her dad's shiny chrome Harley. In others, she pokes her tongue out, or takes selfies with Snapchat filters enlarging her eyes like a Japanese cartoon character.
She appears in the local paper on Australia's Remembrance Day with fellow Air Force Cadets selling red poppies. The group of teens pose for the photographer in their uniform of crisp blue shirts, dark trousers and wide brimmed hats. In a more recent picture, she reclines across the arms of a chair, her hands tucked behind her head, grinning at the sky. A large tattoo on her left leg features a cross, a rose, and the words "mum" and "dad".
At the end of 2015, Macintosh returned to New Zealand. She headed to Tauranga, got a job at McDonald's, and moved in with her old friend Nikki Jones, 29, and Nikki's two children. The pair considered themselves sisters - Nikki had been taken in as a runaway teen by Macintosh's mother in 2002. Since then, Jones had lived a transient life and dabbled in drug use and prostitution.
By January 2016, things had turned sour, and Macintosh had been kicked out of Jones' home - accused of sleeping with her ex-partner. Macintosh moved to Auckland, crashing with various friends and acquaintances, and began selling sex and sometimes meth off Karangahape Rd to fuel her own addiction.
Macintosh had a specific spot on the corner of Hopetoun and Hereford Sts. In March she was raped. She went home to her mum's in the Bay of Plenty for a few weeks, but was back at work not long after. And so, on the night of April 22, 2016, she was working on her usual corner with her friend Savannah when her phone chimed. It was a text message. She didn't know it at the time, but it was also a trap, set by the woman who was once her childhood friend.
A childhood of neglect
Nikki Jones was born in Auckland in July 1987, to a drug-addict mother and an absentee father. Her sister was born just over a year earlier. The first years of the Jones girls' lives were marred by hunger, neglect, and exposure to drug use and violence. Within a month of Nikki Jones' birth, a lifetime of moving from foster home to foster home began. She ran away from most of them, and became known as a "chronic absconder". In 2000, aged 13, she and her sister were found living on the streets in Whangamata.
In February 2002, Macintosh's mother Maxine* found Jones hanging around a backpackers' hostel in Tauranga, looking for work. She took her in and enrolled her at a local school. Jones settled in at the family home, where she helped with cleaning and looking after 3-year-old Aimee. Settled for a time, Jones dreamed about boys and horses and travelling to America.
"I like horses and big cats, especially black panthers," her teenage diary reads. "I like sex and also money. I have had a pretty fucked life, but I can cope with a lot of shit. I can be a f***en nice person, but if you you piss me off I can be your worst enemy."
But by November, she was long gone. After being missing for days, she was found in Te Puke with needle marks on her arm. By this time, Jones' mother had washed her hands of her daughter - but not without first expressing concern that she would wind up in prison or dead.
After years of trying, and failing, to straighten Jones out, those who knew her were at their wits' end. As one of the few young people who had not benefitted in some way from her assistance, one woman said of Jones: "I believe she will not change her ways and we are wasting amounts of time trying to help someone who does not want to be helped."
Jones gave birth to her first child, a boy, in 2008. In 2011 she and her partner Darryl* - a man much older than her - had a baby girl. But their relationship was not smooth sailing, and life was punctuated with drug use and domestic violence. By mid-2013, the pair were living in Tauranga, separately, and custody of the children was shared. Their relationship remained tumultuous, the domestic violence continued, and on occasion, Jones would take the children and disappear.
After completing a foundation course at a Tauranga polytechnic in 2015, Jones planned to study nursing. About November that year, Macintosh moved in with her and the kids. The pair made frequent trips together to visit friends in Auckland, where they smoked meth and sold sex on K Rd. But within two months of moving in together, Jones and Macintosh's relationship was over.
Jones told a friend that Macintosh had tried to ruin her life. Her children had been removed by Child Youth and Family, and Jones accused Macintosh of sleeping with Darryl. "She was angry and hurt," Jones' friend Maria Rollo said. "She said that one day she was going to get her back. She was gonna make her pay. I think she loathed her - she hated her for what she'd done to her."
It wasn't just Rollo to whom Jones spoke about her desire for revenge. On January 10, she texted Macintosh's mother: "If I see her, I'm going to kill her. Your daughter is history."
A plan to punish
On a balmy night in April, Jones was with her friend Julie-Ann Torrance, 42. Torrance had been a friend of Jones' mother, who died several years earlier. On her deathbed, Jones' mother had asked Torrance to watch over her troubled youngest daughter. Jones called Torrance "mamma".
That night, the pair were at their friend Cinnamon Atkins' flat.
Atkins - a tall, transgender woman, referred to at trial by her birth name Cameron Hakeke, causing great confusion among lawyers - knew Macintosh well. They smoked meth, sold sex and had lived together for a time at her apartment, up a steep outdoor staircase above West Auckland shops.
Torrance knew Macintosh too, and believed she had stolen jewellery from her dead daughter's grave. Atkins, Jones and Torrance had formulated a plan to punish Macintosh. Atkins would lure her into the house under the guise of a drug deal.
"Hey sis I'm looking can u do q for 150 or 2 gt bk."
Savannah read the text message to Macintosh's phone aloud. It was about 11pm.
Someone called Cinnamon in Green Bay wanted to buy a quarter of a gram of meth. With another friend, Danielle, they hopped into Macintosh's grey Mitsubishi Legnum and headed to West Auckland.
"Aimee was driving," Danielle told the court. "She was nice - like, a bit too nice."
What she meant by that, she said, was "ummm. Friendly." Perhaps naive was the word she had been looking for.
They stopped in Te Atatu, bought meth and smoked it in a park, Danielle recalled, before heading to the home of "some tranny". at 62a Godley Rd.
Atkins texted Macintosh saying the front door was unlocked, then went out to see a client. But inside her flat, full of jealousy and rage over an alleged affair and the removal of her children, Jones hid behind the front door. Torrance waited at the top of the stairs. "Is she alone?" Jones texted Atkins at 11.30pm. "Tell her to cum up alone."
Macintosh pulled her car into the driveway and told Danielle and Savannah to wait. She left them her phone and ran up the stairs that led into the house. "When I got upstairs Julie was standing there," Macintosh said. "Oh, hi," she said, surprised to see her.
"Is that all you can say? Oh, hi?" Julie-Ann responded. Jones jumped out from behind the door and tackled Macintosh to the ground. Caught off guard, she grabbed onto a drying rack as she tumbled, sending Atkins' laundry flying.
The two women savagely attacked Macintosh - kicking, punching, and tasering her under her arms and near her vagina. They made threats, involving dirty needles and killing family members. A hot glass meth pipe was rolled down her thigh, leaving a painful blister above the knee.
After using Macintosh's car to take Danielle and Savannah back to the city, Jones returned with a knife from the glovebox. Holding it to Macintosh's throat, she made her sign over the ownership of her vehicle to Torrance. When Atkins returned home she found Macintosh on the floor, folding laundry that had been strewn across the room, while Torrance sat watching her. She looked like she'd been crying.
Using a pair of scissors, the three women took turns at hacking off Macintosh's long hair. Jones and Torrance then shoved Macintosh into the Legnum and drove south. About 1.30am, somewhere in the Bombay Hills, Jones took a photo of the bruised and broken 19-year-old sitting in the car. Then they left her - on the side of the road, with nothing.
"I was told if I went back to Auckland, I would get more of the same."
Macintosh hitched a ride in a tanker down SH1 to her mum's home in the Bay of Plenty.
At 8.30am, on April 23, Maxine heard a knock at the door. She let her crying daughter inside. Her face was bruised, her knee was blistered, her hair was hacked to shoulder length, and she had nothing but the clothes she was wearing.
Against her mother's advice, Macintosh did not report her attackers to the police, and within a few days she was back in Auckland working on her usual corner, at the intersection of Hereford and Hopetoun Sts, just off K Rd. That's where she stood on the evening of May 7, a Saturday, and unusually warm for the time of year.
***
Leesa Harris was pissed off. It was May 7, her 28th birthday, a Saturday afternoon. The skinny, blonde ponytailed woman lived in a green-roofed house down a long driveway at 4104 Great North Rd, Kelston. She shared the home with her partner Paul, her best friend Michelle Blom, and Blom's two young children.
Downstairs, in the basement, a bed had been set up and Blom's friend Nikki Jones would often sleep there - as she was that weekend.
On Saturday, Harris planned "a girly event": a nail party for the afternoon, in which a woman came over and did manicures (or, as Henry Steele described it later in court, "like a Tupperware party, but nails"). But many of the people Harris invited did not turn up, and she'd fought with Paul the night before.
Guests came and went - Blom's mum, her friend Jaclyn Keates and Keates' flatmate David Williams. Later, Torrance and Jones arrived together. They all sat on the deck drinking wine and cans of Billy Maverick bourbon and cola. They smoked cigarettes. They teased Williams for hitting on Blom (in court he admitted to grabbing her bottom "once or twice, but then I got told off.")
By about 9pm, everyone - including Harris - had gone home, or to bed, except Torrance, Jones, Blom and Keates. The women smoked meth, put on dresses and headed into the city in Jones' Toyota Corolla.
On the way in, they met Wayne Blackett, a friend of Torrance's. Blackett was short and stocky with thinning, oily, slicked-back hair.
The four women hopped into his shiny black ute, which was parked on West End Rd overlooking the tidal mud of Coxs Bay, and smoked more meth. Then they headed to McDonald's on Great North Rd, near the intersection of K Rd and Ponsonby Rd. While they ate burgers and fries,Torrance and Jones chatted. There was a woman they wanted to "get".
"I can't remember the exact words," Keates said. "[They were] just talking bad about her, that they just wanted to get her and stuff, and that if they ever saw her around, they would get her."
After finishing their McDonald's, Jones drove Torrance, Blom and Keates a few hundred metres to Hereford St, and parked the car.
"We were talking about prostitution - sleeping with someone for money. Jones got out - looking to sell sex," Keates said.
When Jones spotted Macintosh she couldn't believe her luck. She grabbed a fistful of her hair, and dragged her back towards the car on Hereford St.
"You'll never guess what the cat dragged in," she shouted to her friends as she pushed Macintosh into the back seat. Torrance began to drive west, while Keates and Jones punched and yelled at Macintosh.
When asked in court why she attacked a young woman she'd never met, Keates didn't know. "It was in the heat of the moment. Everyone was doing it."
To Macintosh's left sat Nikki Jones. To her right was Michelle Blom, whom Macintosh had met once or twice before at a house on Great North Rd. A woman Macintosh didn't recognise, sitting in the front passenger seat, had twisted around and was punching her in the face, while Torrance drove.
At some point, the car stopped and Macintosh was shoved into the boot. In the dark confined space, Macintosh raised a hand to her nose, and felt the wet of blood. She rubbed her fingers clean along the wall of the boot. She hoped police would find the blood, and use it as evidence against her killers. "I thought I was going to die."
Sad, broken and helpless
The car arrived at 4104 Great North Rd. Blom goes upstairs. Torrance takes Macintosh into the basement, where Keates and Jones join them.
"This is where the fun really starts," Henry Steele tells the court, "because that's what this is to them - fun."
"Don't make a sound," Torrance hisses in Macintosh's ear.
In the basement, she is pushed onto the cold concrete floor.
Keates stomps on her hand, breaking her fingers. Hair falls in clumps into the ground as steel scissors snip it to the scalp.
Jones picks up a cricket bat and swings full force, hitting Macintosh's shoulder, knocking her to the floor. She is ordered up, to strip, and she does what she is told. Jones, Torrance and Keates take turns pelting her across her naked back with wickets.
Keeled over in pain, Macintosh falls to the floor again. A hard object is inserted into her anus - far enough, Macintosh says, for it to cause excruciating pain. When it is removed, it is forced into her mouth.
Naked, and crouched in the corner of a dark room weeping, Macintosh looks sad, broken, and helpless, Keates tells the court. "It was all of us against her."
At 11.20pm,Torrance sent a text message to Blackett: "Omg got a situation. BIG situation. Mr Miagi moment! And a boot that won't shut properly... bn a treasure of a night."
But by midnight, she was no longer upbeat: "4104 great north rd moving sign on fence gotta get me outa here pls hurry." By 12.20am, Blackett was on his way. He passed Keates as she walked out of the basement.
Keates sat on an outside staircase at the side of the garage and smoked a cigarette.
From there, she took a shower at her mum's house next door, called a friend asking to be picked up, and texted Blom: "Just had shower, lol, thanks for the gud party, xx, much love and kisses, xx."
Blom replied saying there was a puppy downstairs that needed babysitting. "Aurah rrr that aint no dog lol", Keates returned, "fukn gutter rat".
She went to McDonald's, then home to bed. The woman she'd described as a gutter rat, whom she'd not met before that night, remained naked in the basement, her ankles, knees and wrists bound with clear plastic zip ties.
At 5.30am, from her bedroom upstairs, Blom texted Jones: "Oi it's loud as fuck from down there."
It was Sunday, May 8. Mother's Day. Torrance's son Blair and his partner Chantelle Fletcher invited her to their West Auckland home for breakfast. She turned up about lunchtime, drunk and high on meth, and didn't eat. She told Chantelle what she and the others had done to Macintosh the night before.
"It was like she'd won Lotto, it was like she'd won a prize for her to be able to do this to someone," Chantelle told the court.
While Macintosh lay naked on the concrete floor, she listened to the sounds of people coming and going from the basement and the house above.
The room was pitch black - the only things she saw were occasional faces, illuminated by the glow of cell phones. Later, she heard Blom's children playing upstairs. Jones took her to the toilet twice, and gave her toast to eat.
"It was only two pieces, but I was grateful for it," she said. She asked if she was going to die. Jones said she didn't know.
Later, in an adjacent room, she heard a conversation.
"We don't want to get caught," a woman said.
"Don't worry, we'll do it properly, youse won't get caught," a male replied, "they won't even find the body." The male voice was one Macintosh didn't recognise. It belonged to someone she'd never met. Wayne Blackett - the man with the shiny black ute.
When Macintosh heard this she was terrified.
Someone came to her and cut cable ties from her ankles and knees. She was dressed in a pair of grey-green overalls with a yellow reflective band at the waist, mismatched ankle socks and her own black jacket.
Jones placed a black balaclava backwards over her head. "We're going for a drive," she said. "You're coming too, but you've got to be f***ing quiet."
She was pulled to her feet, escorted to the ute and loaded into the tray. A hard cover was placed over the top, and the vehicle headed north. After travelling about 40 minutes, it came to a stop. Macintosh heard two doors open and close.
It was 8.32pm. Torrance, Blackett and Jones were hungry. They'd driven north on SH1 for half an hour, turned off before hitting the toll road, and taken the scenic route through Orewa.
Jones and Torrance left Macintosh in the back of the ute, and went into a BP service station. CCTV footage showed them - Torrance in an orange top, Jones wearing black and white - buying two pies and a deep fried cordon bleu.
Lying in the tray of the ute, Macintosh had managed to wriggle the cable ties off her wrists, and remove the balaclava. It was pitch black. She heard the women return, and quickly put the balaclava back over her face. Two doors opened and closed, and the vehicle started moving again.
After 35 minutes Blackett turned right, off SH1, onto a narrow gravel road flanked by native scrub. The ute crossed a wooden bridge, and continued about 40m up the hill, until it skidded to a halt on a lay-by. The trio hopped out. Macintosh heard feet crunching on gravel.
"F***, they're gonna kill me," she thought. The back of the ute opened, and a set of hands grabbed her and dragged her from the vehicle.
Close to her ear, Torrance whispered: "This is the part where you're gonna die, and I'm going to enjoy every minute of it."
On the roadside, Macintosh was pushed to her knees. She could hear her former friends nearby, snickering.
In the moonless night, Jones held a torch on the woman. Blackett gripped her chin with one hand and the top of her head with the other and attempted to snap her neck. Unsuccessful, he wrapped his fingers around her throat and squeezed.
Macintosh felt like she would pass out, but the pressure released. "I tried to get up, but then..." A blow to the back of the head knocked her out cold.
Torrance had handed Blackett a hammer. He swung, and half a kilo of cold, solid steel smashed Macintosh's skull. He swung again and again. Ten times, hitting her in the side, the top, the front and the back of her head. The women could hear Macintosh' skull cracking.
Jones dropped the torch. "Pigs!" someone shouted. The trio jumped into the ute and it skidded around, back towards SH1. They pulled over just past the wooden bridge and tossed the bloodied hammer into the the creek below.
'We're here to help'
Tolman approached the woman. She was lying on her right side, with her left knee bent. On her left foot was a grey and white ankle sock. A purple sock was on the other. On the ground near her face was a black, bloodied balaclava.
"We're here to help," Tolman said, but there was no response.
The girl raised a hand to her nose, as if she had an itch. Her breathing was shallow and her eyes were closed. Her head - rested on the gravel road in a pool of blood - looked like it was cracked. Her body was on the grass and mud of the verge.
It was damp under foot and it had begun to drizzle - Tolman got a tarpaulin from her car and placed it over the girl to keep her dry.
Constable Mark Wakefield noted in his diary that he arrived at Waiwhiu Conical Peak Rd at 7.11am on Monday, May 9, 2016. He took a folded fleece blanket from the back of his highway patrol vehicle and carefully placed it under the woman's head. By 8.20am, she was in a helicopter heading to Auckland City Hospital in a critical condition.
There, Detective Deborah Brewer took photos of her face, and a distinctive tattoo on her lower left leg - a cross, a rose, and the words 'mum' and 'dad'. Images of the tattoo were released to media by 9.30am - in the hope that someone would be able to identify the young woman. Brewer also photographed strange parallel lines of bruising across the woman's lower back, bruising of the neck, and of the wrists and ankles.
A CT scan showed seven skull fractures, swelling and bleeding of the brain. The impact of the blows to her head had pushed bone fragments up to 2cm inwards. A gaping laceration about 4cm long ran down the right side of her head, and the scan showed damage to the artery that drained blood from her brain.
Forensic pathologist Simon Stables said when he'd seen similar injuries in the past, they had been the cause of death.
That night, just after the start of the 6pm TV news, Macintosh's mum texted Nikki Jones.
"You hurt my daughter? Again?" She rushed to Auckland, where police asked if she knew who might do this to her girl. Maxine recalled the text message she'd got from Jones in January: "If I see her, I'm going to kill her. Your daughter is history."
***
After dumping Macintosh in the Dome Valley, CCTV footage obtained by police shows Wayne stopped the shiny black ute at BP Silverdale about 10.40pm, then continued south. Eventually, he turned the vehicle into a long driveway at 4104 Great North Rd, and parked on the lawn alongside a Mitsubishi Legnum and a Toyota Corolla.
Torrance was asleep across the back seat of the ute, where she remained. Jones got into her car and left for Tauranga. Blackett went back to the basement to lie down.
Blair Torrance was also asleep, on the couch at his West Auckland home, when his phone rang. He looked at the time - it was about 2am.
It was his mum's friend Nikki Jones calling. He answered. Jones told him she had been pursued down the Southern Motorway by an unknown vehicle, and driven off the road.
She'd been trying to get hold of his mum. Blair Torrance got up, woke his partner, and the pair headed to 4104 Great North Rd to get Torrance.
They found her asleep inside a shiny black ute. In the basement of the house they found its owner, Blackett, who called police to tell them about the crash. At 2.27am, Torrance texted Jones saying Blackett was on the phone reporting the crash to police. "Dnt man, DNA," Jones replied.
In two vehicles, Blackett, Torrance, Blair and his partner drove south to Pinnacle Hill Rd, off SH2, where they found Jones' car wedged between a lamp post and a fence. Jones was bleeding from the head and said she was tired.
Police took her and Blackett to the station to file a report, while the others headed back to the city. Torrance slept on a mattress at Blair's house for the rest of the day. Later, Jones and Blackett returned in the ute to 4104 Great North Rd.
That evening, Leesa Harris was at home with Michelle Blom and the kids when Jones and Blackett came upstairs to watch the news.
A young woman had been found bound, and badly beaten, on the side of the road in Dome Valley, north of Auckland. She was rushed to Auckland hospital, where she remained in a critical condition.
Police wanted help identifying her, and had released a photo of a tattoo on her leg. It was of a cross, with a rose and the words 'mum' and 'dad'.
Blackett and Jones watched the news with interest - not usual in the household - and spoke among themselves. "She was really strong," one of them whispered.
The next day, at Blair's house, Jones, Blackettand Torrance stood in the driveway and argued. Blair and his partner could hear them through an open window. "You should have listened to me, you don't f***ing listen," Torrance was shouting. "I told you you should have watched her take her last breath."
Later, while Blackett paced outside, smoking and muttering to himself, a hysterical Jones told Blair and his partner what had happened. "I did it for mamma," she said.
Police make arrests
Wayne Blackett was in a state. He had smoked a lot of meth, and got little sleep over the last few days. The 38-year-old father of two daughters knew what he had done to the young woman in the Dome Valley.
On Wednesday, he asked Blair Torrance to drop him at his friend's house, off Dominion Rd. The friend had seen him on Monday, and said he seemed upbeat and relaxed. Blackett had asked her if she'd seen the news; if she'd heard about the girl who had been found in Dome Valley.
But by Wednesday, he was distressed, the friend said. "He told me he was seeing demons." She asked if he was the Dome Valley kidnapper.
"He said he was there but didn't do anything," she told the court. "His cousin had called about a security photo, and the police had been calling every 10 minutes."
She took him to McDonald's in Balmoral, then dropped him at Auckland Central Police Station. When she got home, she realised Blackett had left a black fabric bag in her car. In it were some pens, a notebook, a small knife, and a photo of his daughters.
On Thursday morning, Jones called Blair Torrance's partner asking to be picked up from "the mansion" - a ramshackle, rat-infested boarding house in Grey Lynn. They spoke about her turning herself in to police. She said she would after having a sleep. Scared of what might happen to them if they became involved with the kidnapping, Blair and his partner fled to Hamilton, where they dropped Jones at a friend's house.
Jones slept all day and night, until she was woken up on Friday by a knock at the door. It was Detective Sergeant Megan Goldie, the officer in charge of the investigation into the attempted murder of Aimee Macintosh - code named Operation Morning. "Have you got Julie-Ann Torrance?" she asked the detective.
They didn't have her yet. Torrance was arrested the following day - May 14. Police found her in Waikumete Cemetery, at the grave of her daughter Mikaela, who'd taken her own life just six months earlier, aged 17.
Bloodstains in the boot
Three days after Macintosh was found, police searched 4104 Great North Rd. Inside a chest freezer, they found a bundled-up fitted sheet containing a pair of red lace knickers, a pale purple dress, a pair of black high-heel shoes, black chunks of hair, scissors, a child's bubble wand, clear plastic cable ties, two cricket wickets wrapped in black building paper, and Two-Minute Noodles.
In the basement, they found more cable ties, hair, building paper, cans of Woodstock bourbon and cola and Macintosh's handbag. Inside Jones' salvaged Toyota Corolla, they found linear stains from where someone had wiped a bloodied hand along the interior of the boot.
At Dome Valley, police found more of the same. Blood on the gravel at the side of the road had formed a pool containing white flecks of brain and bone material. Blood had soaked into the soil of the grassy verge. Forensic scientists counted 11 holes in a black, blood soaked balaclava found at the scene. At the bottom of Waiwhiu Conical Peak Rd, Goldie scrambled down the steep bank of a stream, to where a hammer lay in the water.
Police arrested Blom and Atkins on May 18. Keates was arrested on June 16. She pleaded guilty to charges of kidnapping and assault and was sentenced to three years and two months in prison. Her prison term was discounted for giving evidence at trial against Jones, Torrance, Blackett and Blom.
Birthday in jail
In court, Julie-Ann Torrance wears a fluorescent pink T-shirt. From her position in the dock, she turns around to wink at someone in the public gallery behind her. To her right is the woman who calls her mamma - Nikki Jones.
The short, chubby, pallid woman wears her hair in a long chestnut ponytail. To Torrance's left is Cinnamon Atkins, 34: tall, and striking with bleached hair and arms folded across her chest.
At opposite ends of the dock are Michelle Blom and Wayne Blackett, 39. Blom, a slim, pretty mother of two, celebrated her 30th birthday awaiting trial at Wiri prison.
Blackett spends much of his time in court expressionless, his chin resting on a fisted left hand. He pleads guilty to charges of kidnapping and attempted murder on day one. Later, charges of assault and sexual violation against him are dropped because of insufficient evidence.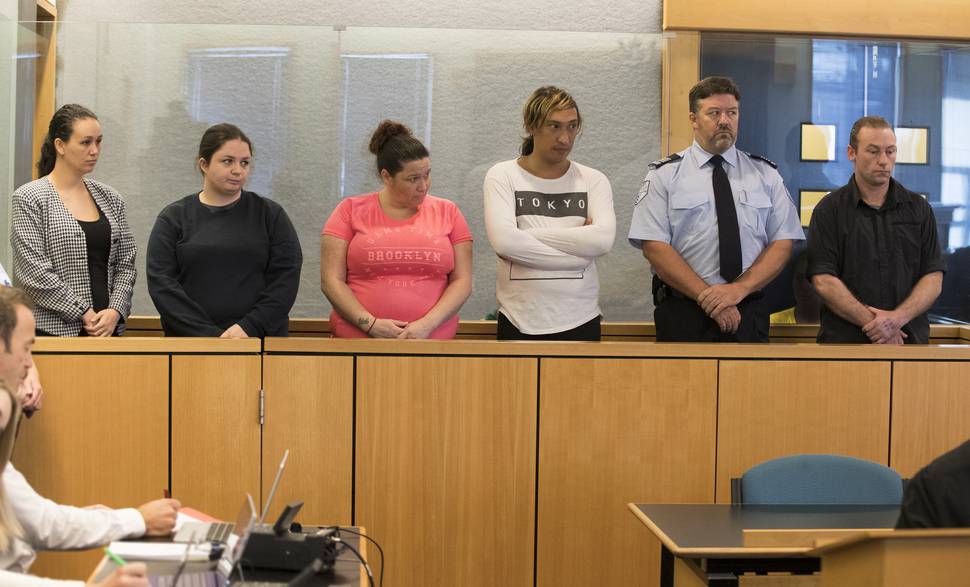 On MacIntosh's first day giving evidence, via videolink from a separate room at the High Court, she wears a bright red blazer over a long black dress. Her brown hair has started to grow back and a pounamu hangs around her neck. She is now 20. She looks older, though she sounds younger. Her big eyes are surrounded with dark eyeliner and her long nails are painted blue.
During breaks outside the courthouse she smokes cigarettes, while her dad vapes. On the witness stand she speaks clearly and politely. She has a raspy cough. She takes sips of water when it gets bad.
When a juror sneezes, she smiles. "Bless you," she says.
When Jones' lawyer suggests she has lied about being threatened with a knife, she laughs.
Auckland's Crown solicitor Brian Dickey sometimes appears distracted when questioning witnesses, turning to scan the courtroom while they reply.
But he gives Macintosh his full attention. After the attack, she survived four hours of brain surgery and spent five days in a coma. After two weeks of recovery in Auckland City Hospital, she was transferred to a brain injury rehabilitation unit. There, Macintosh spent two months learning to walk, talk and write again. She is still recovering.
"According to other people I've been improving really fast," she says. She is resilient. But as the prosecutor talks her through an exhibit booklet containing photographs of her injuries, tears roll down her cheeks. It's the only time the courtroom sees her cry.
Three weeks later, the jury of six men and six women, take half a day to deliberate. On March 20, they reach their verdicts.
Nikki Jones is found guilty of threatening to kill, assault with a Taser, attempted murder and injuring with intent. She has already admitted kidnapping Macintosh twice, assaulting her twice with a pair of scissors, robbing her and assaulting her with a cricket wicket. She is found not guilty of sexual violation.
She is sentenced to 13 years and one month in prison, with a minimum imprisonment of six years and six and a half months. She clutches at her stomach and wipes tears from her eyes as the verdict is delivered.
In his sentencing, Justice Whata calls Jones impulsive, volatile, unpredictable and manipulative. Her actions, he says, display a "callous disregard for the victim".
At sentencing, Jones' sister sits in the public gallery. She was also present for much of the trial. She is polite and well presented. She has children and a career. She expressed embarrassment about her sister's actions. "I just hope she doesn't get away with this," she says, early on.
Julie-Ann Torrance is found guilty of assault with scissors, sexual violation, and attempted murder. She has already admitted to kidnapping Macintosh twice, robbery, assault with a cricket wicket and injuring with intent.
She is sentenced to 16 years and seven months in prison with a minimum term of eight years and three and a half months. "Of all the offenders, I believe you are the most culpable," Justice Whata tells her.
Wayne Blackett is sentenced to 12 years and seven months in prison for attempted murder and kidnapping. He will spend a minimum of six years and three and a half months in prison.
Though Blackett was not involved in all of the offending, he was involved in the worst of it, Justice Whata says. "The reality is that Mr Blackett was there to execute the victim."
Cinnamon Atkins is found guilty of kidnapping, and assault with a pair of scissors. The jury finds her not guilty of assault with a taser and robbery. As the verdict is handed down, she sobs. She is sentenced to two years and five months in prison.
Michelle Blom is found guilty of kidnapping Macintosh on May 7, 2016. She is found not guilty of sexual violation, assault with a cricket wicket, assault with scissors and injuring Macintosh by stomping on her hand and breaking her finger. The young mum will spend two years and nine months in prison for her role in the abduction of the young woman.
'I will never be the same'
"What happened to me has changed my life irreversibly," Macintosh's victim impact statement reads.
"It eats me up inside that I will never be the same as before. I will never be just another normal 20-year-old. I show my emotions in the wrong ways - I laugh when something is sad and I cry when something is funny. My head is being held together by metal pins. There are permanent holes in my skull."
After the attack, Macintosh was confined to a wheelchair. She then moved on to a walking frame, and can now walk unaided. The right side of her body is still weak from a period of paralysis, and her motor skills are not what they used to be. She was once good at pool, she says, and enjoyed the game. She can no longer play it.
Macintosh speaks of the emotional trauma of having her hair - which she describes as her "pride and joy" - being cut off.
"I feel different about myself. I find it hard to trust people. I used to be an extrovert, now it is hard to come out of my shell."
She remains in the Bay of Plenty in the care of her mother.
*Names have been changed