Water is pouring down a suburban street drain and buildings are being washed as the threat to add partly treated water into the city's supply looms large.
For the second day running Aucklanders have failed to save the necessary amount of water to avert a boil water notice.
Despite a promising start since Friday's announcement, efforts to save water have not met the critical 400 million litres a day target over the past 48 hours.
Officials are concerned if this continues they will be forced to introduce partially treated water into the network after silt from last week's storm forced the Ardmore Water Treatment Plant to work at half capacity.
But residents who are making an effort to cut back the necessary 20 litres a day are fuming as leaks go unchecked on city streets and commercial cleaners still wash city skyscrapers as if a crisis doesn't exist.
A video of a leak outside a house in Riverlea Ave, Pakuranga, has one Aucklander seeing red.
Vanda Jones said she rang Watercare yesterday concerned that precious water was being wasted.
A day later no action had been taken and the leak had worsened overnight with litres bubbling out in a continuous stream over the footpath.
"It's been 24 hours and nothing has been done," said the water-conscious Aucklander.
"We've driven past this every day and we're all making an effort to save water.
"One of my colleagues even collected rain water to boil her spuds in yesterday.
"We all feel like we're doing our bit and we want Watercare to do their bit."
This afternoon, a Watercare spokeswoman said the leak was now a top priority, after it was initially noted as a lower priority job.
"It was classified as a priority three when it should have been a priority one, in which case a repair crew would have responded within an hour.''
The spokeswoman acknowledged they had received a significant number of calls following heavy rains and flash flooding in the Auckland region over the weekend.
"To put this into context, on Monday the faults team received 534 calls - almost double the usual amount for a Monday.''
Meanwhile, a multi-storey building in central Auckland is now in its second day of being washed according to people watching it from their office blocks.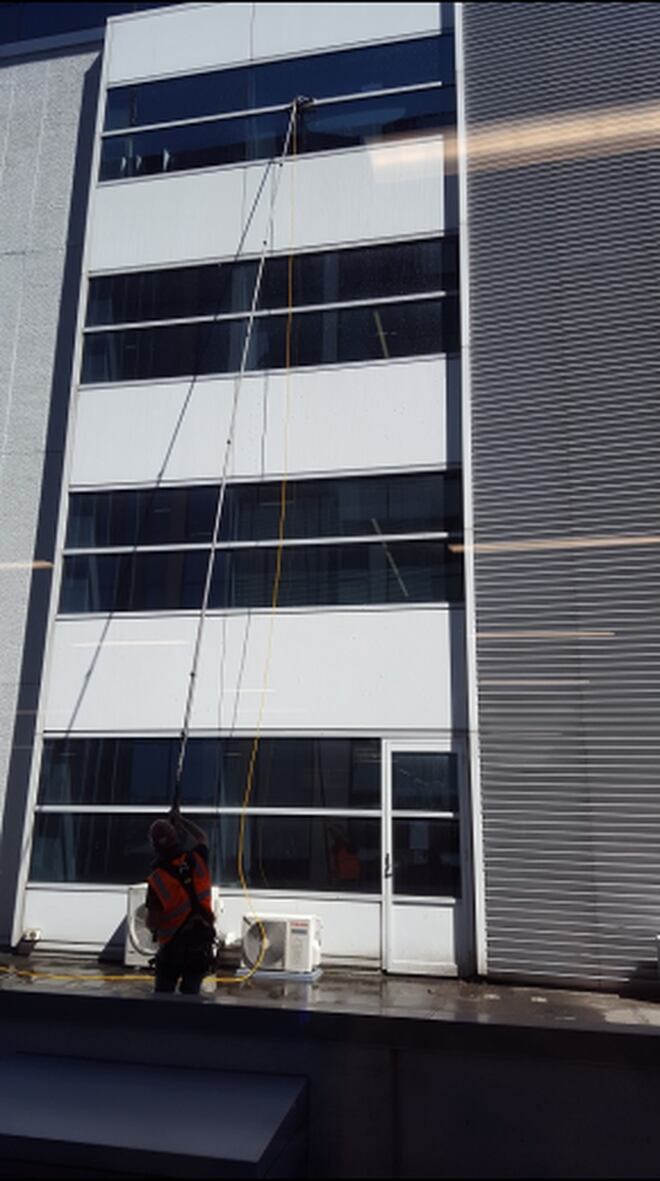 At the same time other companies are beginning to clamp down on water use. Mobil became the latest service station chain to temporarily close car washes across the region to save water. Rivals Z energy and Caltex stations closed their car washes yesterday.
Mobil today instructed its 30 Auckland stations to close the washes immediately in direct response to the Watercare request.
"While we were pleased to observe a drop off in demand for our car washes in recent days, as our customers responded to the voluntary request to cut consumption, we believe further conservation efforts are required," said Mobil Oil New Zealand country manager Andrew McNaught.
"Mobil car wash machines will remain closed until further notice. We apologise to any customers who may feel inconvenienced by this necessary measure, and will reissue car wash tickets that expire during the temporary closure."