A West Auckland man raced to get his children and dogs upstairs as a torrent of "scary" flood water poured through their front door.
Lee Marshall's home on Huia Rd, Titirangi became entirely flooded when the deluge bucketed down around Auckland on Sunday. Up to 50mm of rain fell in one hour.
Marshall and his wife opened every window, door and ranchslider to push the water out as it ruined everything it touched - including their three-week-old rugs.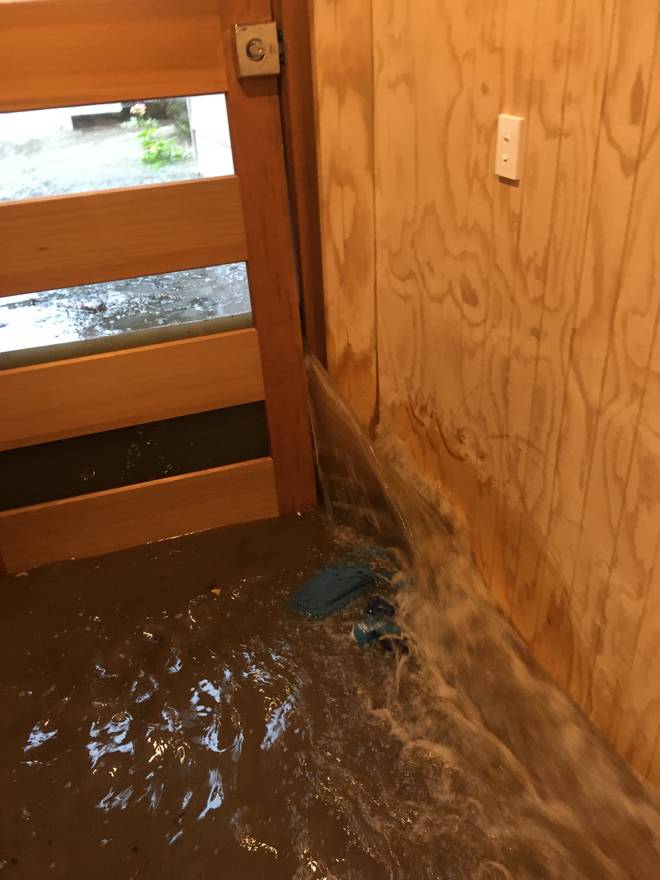 Marshall said the stormwater drain near his house became blocked and the water washed down his driveway and backed up the front door.
As he noticed it start to spurt through the crack in the closed door he rushed his 4-year-old son upstairs and told him to look after his 1-year-old sister and the family dogs. Then he raced around the ground floor putting the TV up high and getting kid's toys off the ground.
"Our entire ground floor was all ankle deep.
"I told my little boy that it was an emergency and he needed to look after the little girl. He did exactly that, the little champion.
"They were pretty relaxed actually."
Marshall couldn't get through to emergency services for 20 minutes. The Fire Service responded to 582 emergency 111 calls on Sunday. At its peak they picked up one call every 24 seconds.
When a fire crew did come they sucked out as much water as they could. But the young family were still left with a big clean up job.
"The ground floor was completely wrecked, it was covered in debris, silt and soil."
Marshall is now elbow-deep in the clean up. He's got the heat pumps running, the couches drying on their sides and has borrowed a friend's dehumidifier.
"I'll be going all night to get the dirt off the floor."