Eleven cordons are still up and 150 firefighters are on the ground of two devastating fires which raged Christchurch two weeks ago.
One of the cordons is at the badly-hit Dyers Pass Rd, which was being reviewed by a team today.
Almost all posts and guard rails have melted or been burnt and will need repairing or replacing.
One power pole is damaged and some trees need removing. A geotechnical assessment of scattered rocks above the road is also needed.
A spokeswoman for the Christchurch City Council said: "We plan to complete this work as rapidly as possible, as reopening this key route is a high priority. We are getting a lot of queries about when Dyers Pass Rd will open to the public and recognise the significance of this road."
There are 11 cordons in total. An interactive map with full information on hotspots and cordons can be found here.
Cordons at Worsleys Road, Kennedys Bush Rd, Hoon Hay Valley Rd and Dyers Pass Rd have been relaxed for residents only.
There is still no access for members of the public.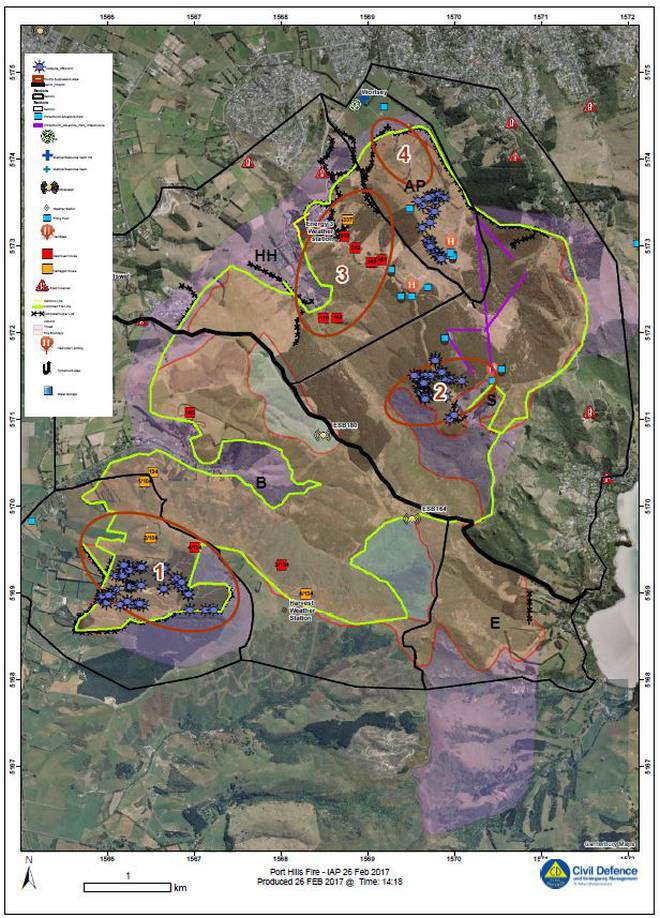 Cordons are also being maintained at the entrance to Halswell Quarry.
"We are reminding people to resist the temptation to come and have a look around the area, this includes mountain bikers and runners," said the spokeswoman.
"The area remains an operational fire zone with cordons still in place. Fire behaviour modelling indicates the chance of another outbreak is low but if it did happen, significant damage could still occur"
Twenty fire crews and about 150 firefighters are still on the ground.
"A current priority for fire authorities is detailed mapping of unburnt vegetation within the perimeter of the fire," the spokeswoman said.
"This will help fire crews to strengthen fire breaks around these areas and reduce the risk of new outbreaks."
Overnight fire crews will continue to monitor and patrol the fire.
Weather permitting, drones will be flying overnight to undertake thermal imaging that will support ground crews damping down hot spots.
Tomorrow, firefighters plan to focus on eliminating hotspots in priority locations including the Early Valley Rd area and the Summit Rd. A large number of hotspots remain.
Residents are still being asked to conserve water as much as possible over the next week while water levels in the reservoirs are restored.
The spokeswoman said that while today's rain was helpful, there has been heavy demand on the water supply network from the firefighting response and some damage to water pipes in the area.
About 450 houses were evacuated and nine destroyed after the fires which started on February 13.
Helicopter pilot and former SAS war hero Steve Askin died a day after the fires started while helping with efforts to put them out.
He was farewelled in Christchurch on Monday.