The 5.2 quake that struck the South Island this morning was another typical jolt that could be expected in a major aftershock sequence that has already produced more than 12,400 shakes since November's 7.8 event.
Scientists have also ruled out any suggestion the 9.19am quake, which struck 15km north-west of Culverden at a depth of 9km, was linked to the mass whale stranding at Farewell Spit.
GNS Science seismologist Dr Anna Kaiser said the location of the quake - not far from the epicentre of the November 14 Kaikoura Earthquake - wasn't surprising.
"Often, directly after a quake, aftershocks occur very tightly around the rupture area and sometimes we get those occurring over a wider area as time goes on, and as stresses settle down and everything is re-adjusting."
Just like the 5.1 quake that hit 10km north-east of Kaikoura on February 2, today's quake fell well within the bounds of aftershock probabilities.
The most recent, issued by GeoNet, show there is a 25 percent chance of one or more magnitude 6.0-6.9 earthquakes occurring within the next month - a decrease from 54 percent from the previous forecast last month.
The probability of a quake measuring over magnitude 7 was just three per cent this month - and 12 per cent this year.
That compared with an 89 per cent chance of one or more quakes above 5.0 this month - a prediction already borne out with Wednesday's quake - and between seven and 29 such-sized events this year.
Read more: The science of aftershocks
Probabilities had fallen over time, although the sequence could well carry on for years.
Since November 14, more than 450 aftershocks had measured between 4.0 and 4.9, 53 ranged between 5.0 and 5.9, and four were greater than magnitude 6.0.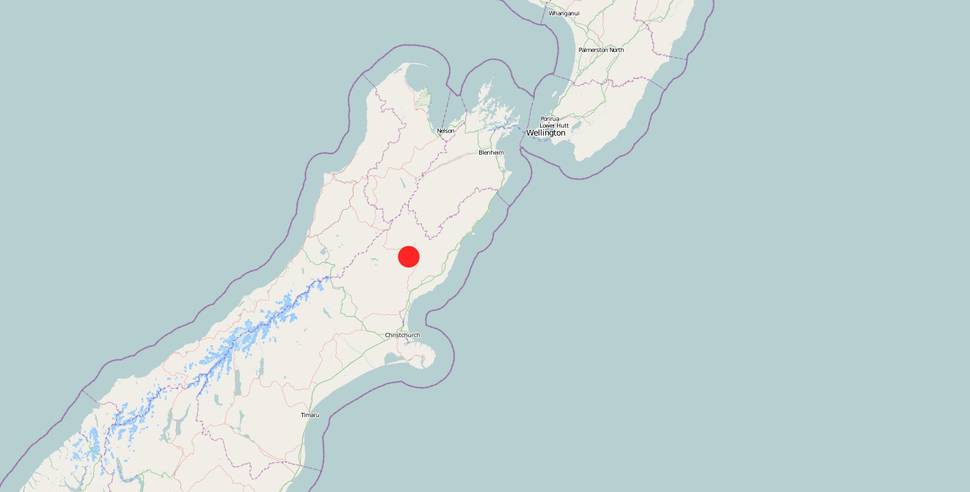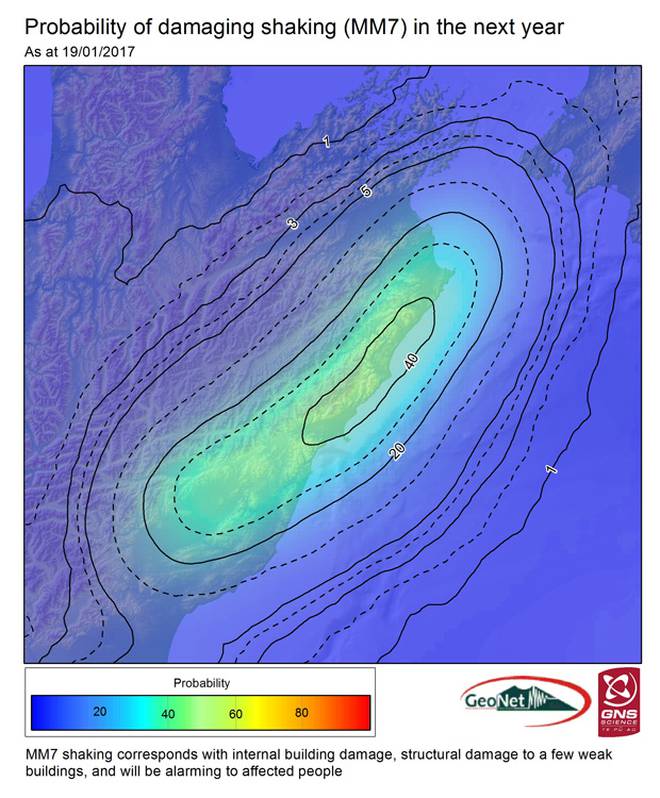 The MMI scale was different to earthquake magnitude and described the intensity and impacts of the shaking, which depended on the magnitude of the earthquake, how far away the earthquake was and the type of ground a person was standing upon.
At MM7 intensity shaking levels, it was difficult to stand, furniture and appliances move, contents are damaged, there was minor building damage and liquefaction could occur in susceptible sediments.
Maps showed the probability of MM7 shaking within the aftershock region, which included a three per cent probability for Wellington in the next year.
While this probability was considerably lower in Wellington than in the areas around Kaikoura, it was possible for shaking similar to what occurred during the mainshock to happen again in Wellington.
Christchurch's aftershock probabilities, meanwhile, were not greatly affected by the magnitude 7.8 Kaikoura earthquake.