A family was left in tears after a 91-year-old woman was attacked in her home.
Eileen Harwood, 91, suffered a head injury when two men assaulted her in a home invasion at her Mt Wellington property yesterday.
The great-grandmother had returned to her home in the Mountain Rd area about 3.30pm after a shopping trip with her daughter, Sue Tutt.
They were carrying their groceries into their homes which are next door to each other when two men appeared at Harwood's property. One of the men told Tutt the pair were lost and asked for directions.
Tutt said they slowly advanced up the steps to the doorway.
"I thought 'this isn't good'."
They pushed past Tutt. Harwood walked out and asked the men "what the hell are you doing?"
That was when her mum was assaulted, Tutt said.
"He shoved her. She fell on her back. She was out, unconscious. Then they just took hold of her shopping bag and took off.
"When I saw her go down on the ground she didn't even put her arms out to help herself ... she didn't move.
"I couldn't stop shaking."
Harwood knocked the back of her head on the ground.
Her daughter ran to her aid as the offenders grabbed the victim's bag.
Both men then fled.
Harwood's shopping bag contained sweets, a mirror, comb, eftpos card and around $50 cash.
Tutt called 111 and tried to wake her mum up by tapping her on the face but she was unresponsive.
Harwood was taken to hospital and released this morning. When the Herald visited the family's home she was fast asleep.
Tutt said her mum is usually "feisty and independent" and lived a full life with three children, seven grandchildren and six great-grandchildren.
Today Harwood was sore and exhausted. Tutt expected that the emotional trauma will begin to hit her mum now she's home.
But it's how bad the assault could have been that Tutt is worried about.
"They're just lowlifes. They're just cowardly.
"For $50 why would you go and hurt an old lady?"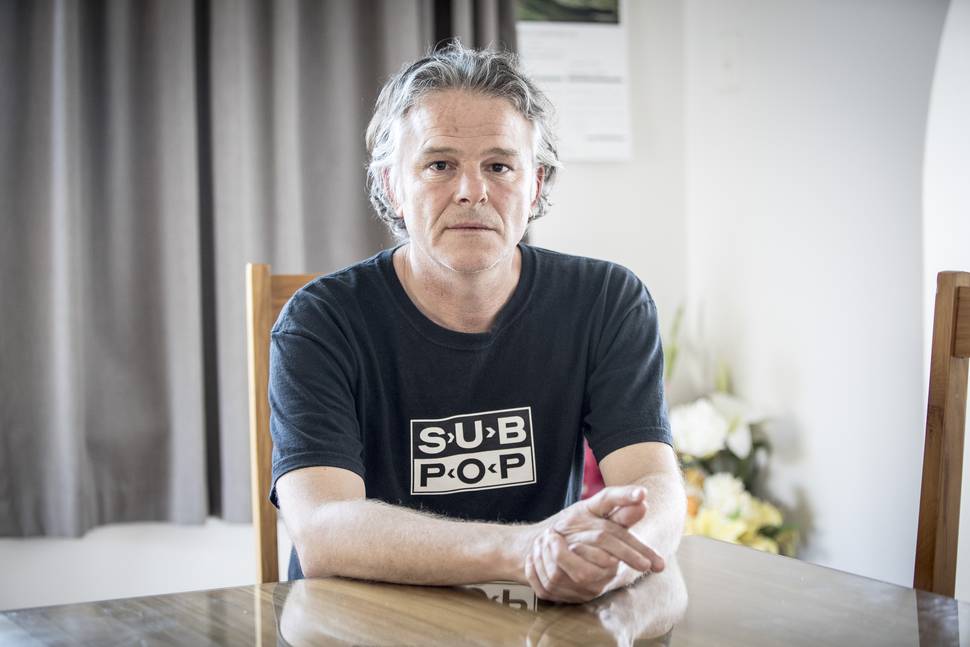 Harwood's grandson, Kevin Tutt, 49, said the family will be able to relax once the offenders are caught.
"I hope these buggers get caught and I hope they get made an example of and I hope the example ripples off to all these other sh** heads who are doing the same sort of thing.
"Jail is not good enough anymore. I think going back to public humiliation, stocks, anything to make an example of this behaviour."
Kevin said the family are considering putting up security cameras
Police are vowing to do everything they can to hunt down the offenders behind the "deplorable attack on a vulnerable person", Detective Senior Sergeant Glenn Baldwin said.
Police "flooded the area", but the pair were not found.
"Our elderly have the right to feel safe in their own homes without the fear of something like this happening," he said.
"Fortunately this lady is not seriously injured, but we know from experience that the long-term effects for a victim in a crime like this are ongoing and traumatic."
He said attacks like this were not common, but could be frightening.
"Falling to the ground for an elderly person is quite a dramatic thing. That is not a transitory or trifling thing to happen to an elderly person," he said,
Baldwin called on the offenders to hand themselves in.
"I want to say to the people who committed the crime: 'Come to us before we come to you. Do the right thing'."
Asked whether the attack was likely planned, Baldwin said police would be exploring "a number of options and possibilities".
CCTV footage will also be reviewed as part of their inquiries.
"To anyone out there who even suspects that they might know who these people are, do the right thing. Tell us what you know," Baldwin said.
"This could be any of our grandparents."
The two men are believed to have been driving a metallic blue sedan, possibly lowered and of a similar shape to a Nissan Skyline. lt has a loud exhaust.
The family supplied the photo of Harwood.
David Strachan, 74, has lived on Mountain Rd for 20 years. He said the street has always been a bit dodgy and when he first arrived there was a tinny house. Strachan said the men who targeted a little old lady were lowlifes.
"On the weekends you'd walk around and there'd be broken glass from cars that had been broken into.
"But I've never heard of anything like this before."
The two men are believed to have been driving a metallic blue sedan, possibly lowered and of a similar shape to a Nissan Skyline. lt has a loud exhaust.
Anyone with information is asked to contact the Auckland Central Crime Squad on (09) 302 6557. Private messages can also be sent to the Auckland City District Police Facebook page.
Information can also be given anonymously to the organisation Crimestoppers on 0800 555 111.
Description of alleged offenders:
Main alleged offender
• Aged 25 to 30
• Fair-skinned Maori or Pacific Islander
• Average build
• No facial hair
• Approximately 180-183cm tall
Second alleged offender
• Aged around 15 to late teens
• Fair-skinned Maori or Pacific Islander
• Wearing a tan-coloured hooded sweatshirt