Steve Braunias pictures himself living in one of the photographs in his new book - a photo essay about sad, beautiful shops in small towns.
It's still the dream. The prize, the happy ending - for years and years and years I've thought that when I pack in my chosen trade of journalism, or more likely when it packs me in, I'll wander off and open a second-hand bookstore.
God I'd love that. The captain of an old, creaking ship, the manager of an old, dusty shop.
A little while ago a second-hand bookstore on Ponsonby Rd came up for sale. The asking price was $99,000, including stock - 23,000 books. I thought: Hmm. And then: Nah.
I know that shop. It's okay but I hate the fact it has a front lawn, as well as steps and a porch. Plus it's an old villa, and I hate villas. And, you know, Ponsonby. So basically everything was wrong with it.
The shop I dream about is in a block of shops in a small town. Maybe there's an awning and some rooms above, definitely a kitchen out the back, behind a curtain, with a sink and an electric jug and a pantry with biscuits in it.
There's milk in the fridge, and more biscuits. I'm very absent-minded; I'll probably also open up the fridge one day and find a stack of books. Graham Greene, eggs, and ham.
There are books in the window, picture books mainly, and a cardboard box on a low table out front with $1 paperbacks. They're actually really good paperbacks, excellent reads, much of it fast, fun junk, things like First Blood by David Morrell - it's the book that got filmed as the first Rambo film. It's one of the best action thrillers I've ever read, taut and credible, with very little dialogue and a lot of violence. Yours for $1.
The front is for the customers. It's what customers and townspeople think of when they think about my shop which doesn't exist but right now I'm kind of convinced that it does - there goes the goods train rattling past, there's the sound of the midday hooter, there are the long shadows on the empty main street.
A cat just walked across it. Anyway, the front is for the customers; the back of the shop, though, that's what I love most about it.
I mean the little yard behind all shops in small towns and old suburbs. The back entrance, which typically has weeds growing everywhere, and maybe a big metal bin to burn things. There's very often a chair by the back door, and a clothesline with a teatowel drying on it.
It's private. It's shabby and secret, a zone of desperate melancholy and surprising beauty. God I love the backyards of shops.
It's the subject of my latest book. In an email to Wellington photographer Peter Black, on December 29, 2014, I wrote, "I am interested in the possibility of us collaborating on a book project about the backs of shops, those dusty yards with bins and pallets and weeds, abandoned places, sad and desolate, strangely fetching, a poetry of sorts. Are these places of interest to you, senor?"
They were very much of interest. I thought they might; I'd been a fan of his work for 30 years, in particular his images of empty New Zealand, of alleyways and parking lots and pavements. Street scenes, with zebra crossings and apartment balaconies. Outskirts of town, with wire fencing and trail yards. And throughout, from his black and white photos in the 80s, to his later preocuppation with colour photography: shops.
He sent a few photos, and said that he liked "the mood of them". I replied, "I like the mood too - it's totally the kinds of mood I want to waft through the pages like them waves of heat you see above roads in summer ... Basically I see this as a cool art project, less a big fat windy he-man sonnet of This Place than a haiku, a few spare lines, if you get my drift."
He got my drift. In fact, he was way ahead of me.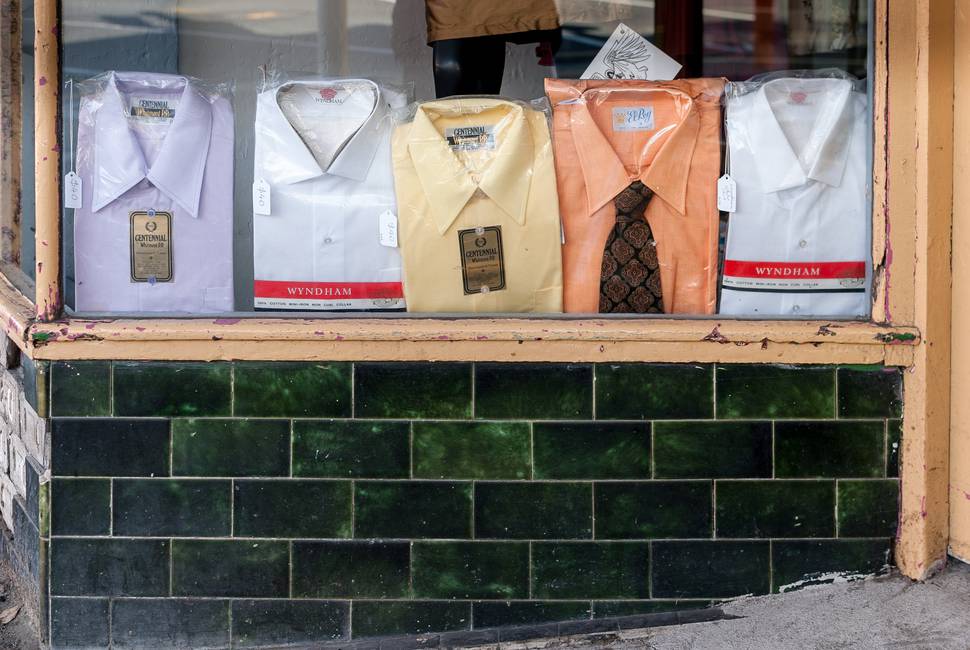 He sent more photos throughout 2015, and this year, of the backs of shops in shadow and in broad, unforgiving daylight, made beautiful by accidental colour schemes, made to look as they are, which was sad and bleak and hopeful - they looked like New Zealand, stripped bare, in forensic detail.
In the end we chose 44 of his colour photographs and I wrote a 5000-word personal essay which occasionally addressed the subject of shops, and together our work is published as The Shops. Yours for $40.
I'm not sure why, but it seems a practice or formality among authors that they keep two copies of their books. It's just sort of the done thing.
I'll keep two copies aside of The Shops - but place one in the window of the second-hand bookstore that I'll own one day in a block of shops on the main street of a town with long shadows and a menswear store.
It won't be for sale. Now and then I'll take it out of the window, and sit with it out the back, in my private zone of dust and weeds, and look at the pictures of the life I came to live.
• The Shops (Luncheon Sausage Books, $40) by Steve Braunias and Peter Black goes on sale today.