For heavy transport driver Archie Simons of Hastings there was no option but to ride out a terror out-of-control moment and hope for the best.
Hope he would walk away - which remarkably he did.
"One minute I'm driving along and next minute I'm slammed into a building," he said while resting up yesterday afternoon, in the wake of the early morning crash at Bay View which even left police shaking their heads in amazement that all he got was a deep gash to his arm.
"Four stitches ... that's it," Mr Simons said.
"Just a cut - bit of meat showing," he added with a laugh.
The crash happened about 5.30am and rather than come out of the blue it came out of the dark.
A metre-wide limestone boulder had come loose and tumbled down the hillside, ending up in the centre of the north-bound lane on the northern edge of the township where the open highway begins.
Mr Simons said in his seven years of driving for PTS Logistics he had encountered a couple of minor incidents "but nothing like this - this was a first - just a freak thing".
He was on his way from Napier to Gisborne with a load of six new cars aboard the transporter and after going through a slight left-hand bend and on to a straight stretch, saw a large boulder immediately in front of him.
"There was a car coming towards me on the right and there was the bank on the left so I chose the rock," Mr Simons said.
He had hoped the unit would make its way over it but instead the rock jammed under the front and took out the steering.
"I had none [steering] at all - I just had to skid it out."
"All he could do was put the brakes on," PTS Logistics national transport manager Scott Miers said at the scene yesterday.
"He is a very lucky man to walk away from this."
The unit skidded under brakes and without steering for about 60m over grass and gravel and slammed into the front of the Wishart Estate storage building.
Mr Simons said it all happened so quickly and destructively he had no time to think about what could happen to him.
"I was just trying to control it - I can't really remember much more about it."
He said a passing motorist stopped and helped him out of the cab which was crushed inwards and downwards from the heavy impact with a steel-framed verandah, and he was stunned to look at what was left of his truck.
"I just couldn't believe I had been in there."
The stunned occupants of the oncoming car were also amazed he was not more seriously hurt.
They were also grateful for his quick decision-making.
"He could have been killed - he was lucky to walk away from this," Mr Miers said.
Police at the scene agreed Mr Simons was lucky to have only received minor injuries, and said the crash could have been worse given the vehicle coming the other way at the time.
He was taken to Hawke's Bay Hospital and had his arm stitched, and four hours later he was back with his truck - or what was left of it.
Mr Simons said the incident had not put him off long-distance heavy transport driving.
He travels the Napier-to-Auckland route and clocks up about 4000km a week.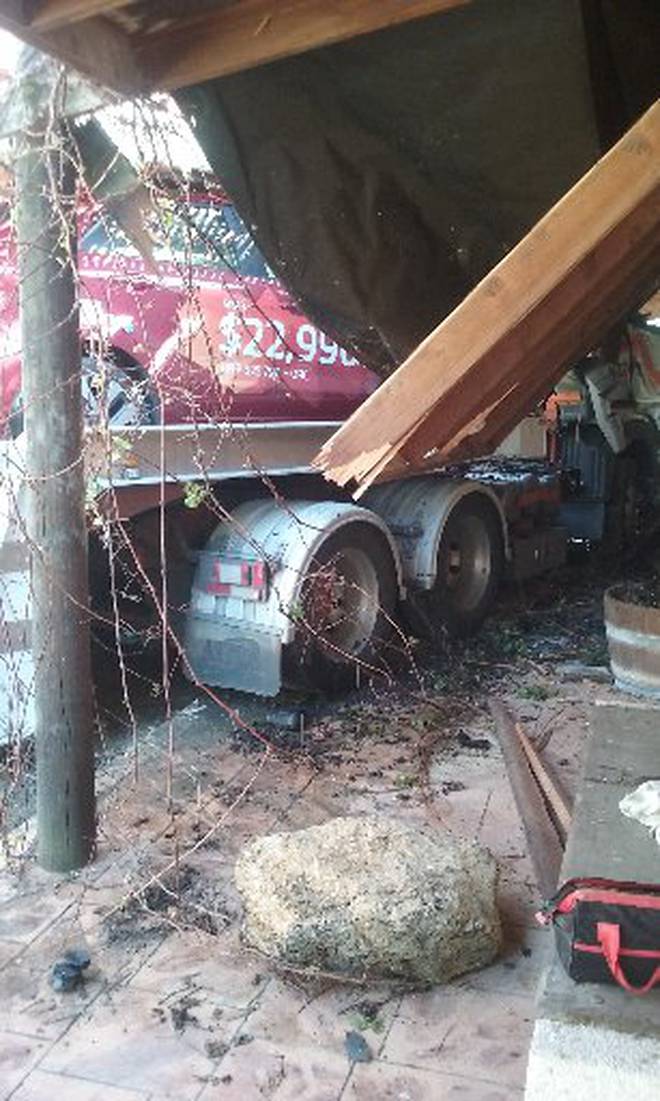 "I'm off for a week," he said, which he wasn't all that comfortable with.
"I don't like sitting around.
"I want to go back now."
But Mr Miers said Archie would have to take the rest time.
"I'm going to buy him a Lotto ticket and take him out for a beer later," he said.
Although Mr Simons said he would likely pass on the Lotto.
"One of the nurses reckoned I used up all my luck."
While the truck unit was a write-off all six cars being carried were undamaged and a second unit was brought in to get them on their way again.
The main Wishart Estate building escaped damage, with a custodian saying only the verandah section had been damaged.