A Havelock North family was devastated to discover their cat had been shot multiple times.
Selwyn Rd residents Susan Haldane and Tom van Dam took their Burmese cat Chino to the vets after they returned home recently to find him acting strangely.
While they knew something was wrong, it was not until Chino's chest was shaved and he was X-rayed that they realised he had been shot with a slug gun - with four pellets buried in his body.
You don't just take pot shots at cats if they're on your property, it's just wrong.

SHARE THIS QUOTE:
Shooting Chino was a "criminal act", Ms Haldane said.
She said she was shocked and disgusted by what had happened, particularly as it could have been committed by someone in the neighbourhood.
The family knew Chino liked to roam their neighbourhood and that his "territory" was not very large, leading them to believe someone who lived nearby was "taking pot shots at our cat".
"We were told it was one of the preferred streets in Hawke's Bay but we have our doubts now," Mr Van Dam said, adding the person who shot Chino was "obviously annoyed" to find him on their property.
"We know he roams the neighbourhood and fights," he said.
"But you don't just take pot shots at cats if they're on your property, it's just wrong.
"If they're doing it to our cat they're probably doing it to others."
After Chino's stomach was shaved at the vet, "slug holes" were visible in his chest.
While it was obvious he had been shot on Friday, Mr Van Dam said they were unsure if it had been a one-off event as the X-ray showed the slugs faced different directions.
This was also the first X-ray the family had of Chino - they adopted him two years ago from a Taupo cattery where he had been abandoned years earlier - and did not want to assume all four slugs came from the same incident.
The pellets had been identified by Mr Van Dam as standard .177 calibre slugs, which he said was unhelpfully the most common type.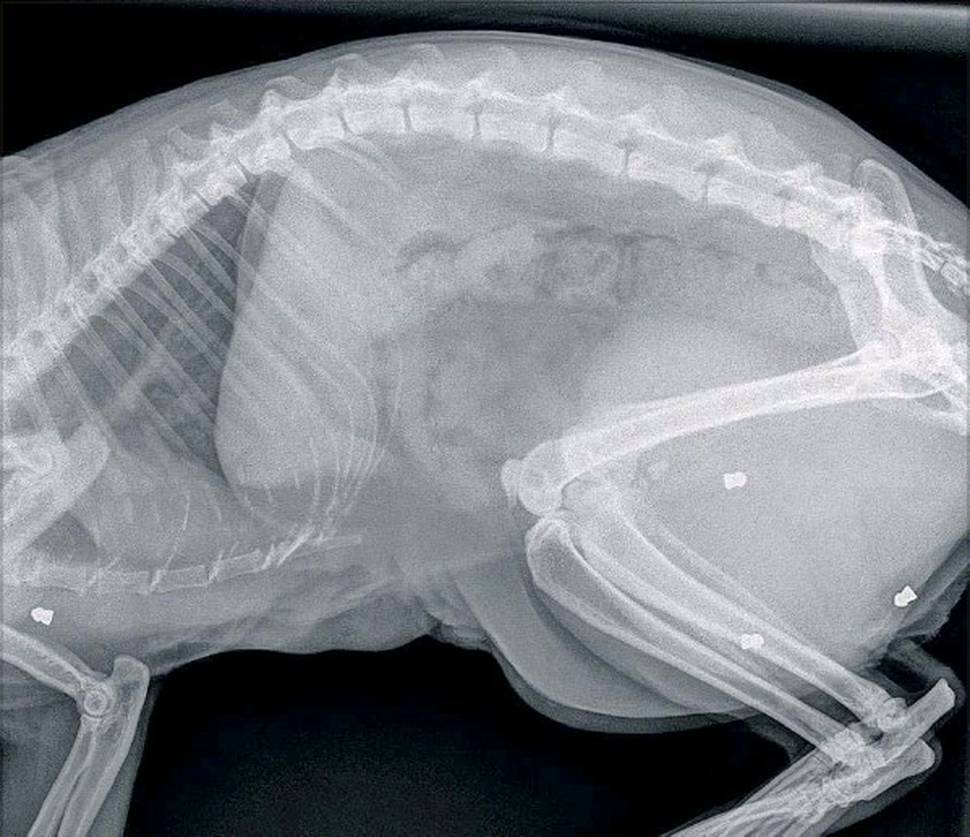 The four pointed slugs were still in the cat's body, as Ms Haldane said they were not in any life-threatening position.
Her partner said thankfully they were stuck in Chino's muscle tissue, and had not gone into his organs.
Apart from a shaved stomach, Mr Van Dam said Chino was now back to his old self.
"He's a fantastic cat, he will climb up on you and snuggle right into you," he said. "He's recovered remarkably well."
The family had reported the issue to police, and said it would be nice if the person responsible came forward, although they felt this would be unlikely.