Paul Charman laments Auckland Council's long standing habit of signing away waterfront reserve land 'to those with a good cause'.
You know you're getting old when you can object to the construction of a new playground.
I mean the big - to me - gaudy half-million-dollar one taking shape on Gould Reserve at Takapuna Beach.
Perhaps playgrounds should be regarded as sacred, above criticism, considering the joy they bring pre-schoolers and young children.
Yes, I could grasp that point of view if it was put to me, especially considering the many Saturdays I've pushed kids on swings over the years.
Playgrounds?
Little kids love them with a passion.
But signing away so much precious public space to build one of this scale on the remarkable Takapuna Beach foreshore just seems wrong-headed.
Why did the wealthy instigators not choose an economically or socially marginalised suburb of Auckland's North Shore on which to build their gift to the community?
Little children are brought to Takapuna Beach from throughout Auckland and I love seeing their wide eyes as they tear around the place.
To me, when they come here, they already have a magical experience of sand, sea and views of wonderful Rangitoto.
What need for additional frenetic entertainment in the shape of a "world class playground".
Different ideas of fun
When my wife and I take little kids to Takapuna Beach it's usually via an expedition to the "deep dark and dangerous jungle", namely the flax groves in Barry's Point Reserve.
Here we cut down some old dead flax staves and make outrigger canoes; just flax-wood lashed together with flax leaves and with a newspaper sail.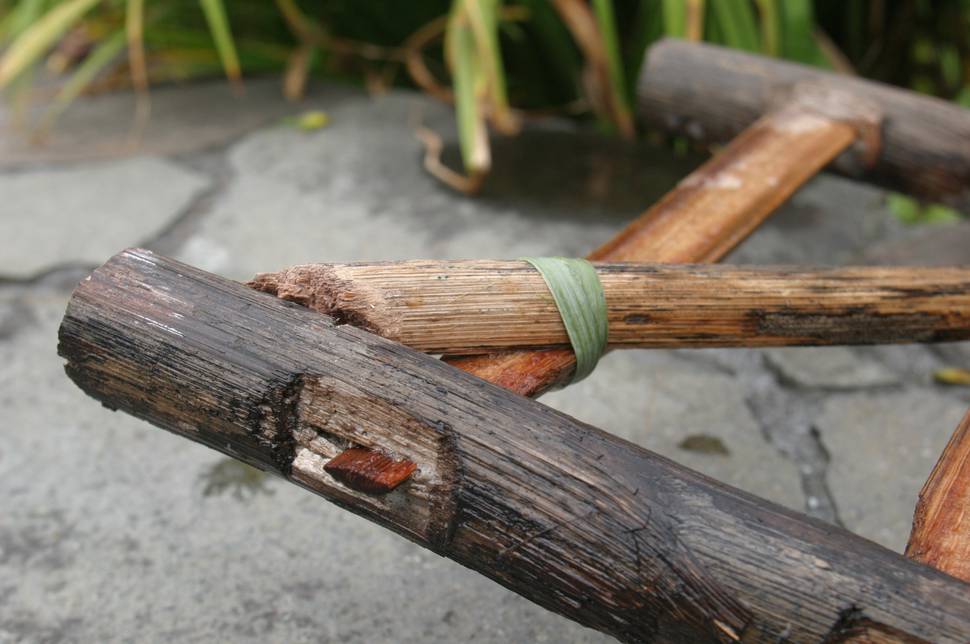 These we launch at Takapuna Beach, or on nearby Lake Pupuke, sending them wherever the wind wills . . .
Our little boats are biodegradable, easy to make, and - if combined with a little flax person on board - also the basis one or two fanciful stories . . .
That's just our kind of fun I suppose, an old Kiwi toy-making trick learned from my dad - who grew up on a farm at Northcote.
But my point is that we achieve it without taking anything away from somebody else's fun: namely, not by whittling away some of Takapuna's precious Beachfront to create a "fun-park area".
The new playground's brightly coloured slide tower, the highest I've ever seen, looks like something from a fast food restaurant.
But can I seriously be objecting to a playground at Takapuna Beach, well, no - I'm not really - it's just a matter of scale.
A new playground which merged into the environment, instead of dominating it, would have been fine with me.
You see I'm old school, almost 60 years of age, and capable of remembering public spaces far more generous in size, spaces which have ironically enough shrunk in size just as the population of the North Shore is about to rocket.
A big push is underway to bring medium rise apartments to Takapuna; I just hope there'll enough beach and reserve to enjoy in years to come after thousands of newcomers arrive here.
I'm clearly out of step with public opinion though, at least judging by gushy headlines in our local papers welcoming the new whiz-bang playground.
Good causes
But perhaps some others are inwardly reeling at the rate public space is being used-up for "good causes".
Our North Shore roads are now jammed cheek-by-jowl with fancy new 4X4s, owned I suspect by newly cashed-up Auckland home owners.
These create a near-perpetual traffic jam where I live.
But try going for a walk to clear your head away from this traffic - you could be out of luck there, because the footpaths, for instance the ones beside Taharoto Road, are disappearing.
Once the domain of pedestrians, mums with prams, small kids on bikes or tricycles, plus some genius inventions for the disabled; today they must also accommodate cyclists of all ages, plus the pilots of automated skateboards, Segways and scooters.
Okay, then what about a walk in the park?
Sorry, you will find fewer empty public spaces there too, because sports clubs are allowed to construct buildings across all the best water-side reserves.
Take a look at Narrow Neck Beach. Or one of the main entrances to Lake Pupuke - Northcote Road (Quarry Lake).
At these two locations a sailing club and a canoe club respectively dominate what remains of the public reserve . . .
Guard what is left
Listen, I don't have a vendetta against recreational clubs, or playgrounds either for that matter.
I just wish to make the point that passive recreation types (like me) also need places to walk, stroll and reflect.
And those who enjoy open spaces aren't all crabby and old; we include teens, young adults, parents and small children . . .
We are often the same demographic the new "super playground" is being constructed to serve at Takapuna Beach.
So my message for Auckland councillors under pressure to surrender what's left of our precious public reserves to facilitate somebody's good cause, is this:
For every 10 people who want to build on pieces of prime waterfront reserve land for their own specific purpose - there are another ten thousand people who would dearly love to walk, picnic or play ball there with nothing between them and the seaside but their own thoughts.