A Galatea woman has described the moments she looked out to see her house surrounded by water.
Ange Page described waking up early and seeing "lots of water rushing towards the house".
READ MORE: Cyclone Winston may reach Category 5
"It pretty much came quite rapidly. Lots of logs."
Miss Page, a teacher at Galatea School, said water started to come into the house and was quickly up to the windowsills.
Warning: Strong language.
Her first thoughts turned to how to get out safely -- and where, given the house was surrounded by water.
Miss Page said the water was rushing past and vehicles were being pushed around the property, along with chiller shipping containers.
"It was pretty scary, just the volume and how fast it was moving. We were surrounded by water and logs."
She said her partner, Bevan Smith, called his sister, who rang 111 for help.
Miss Page said the fire brigade arrived but was unable to get in.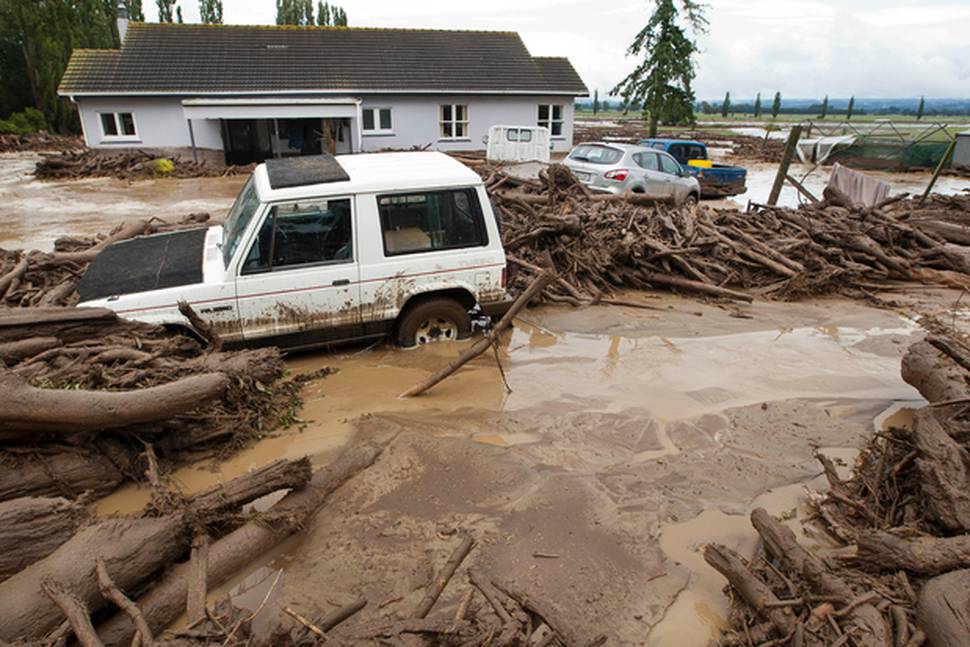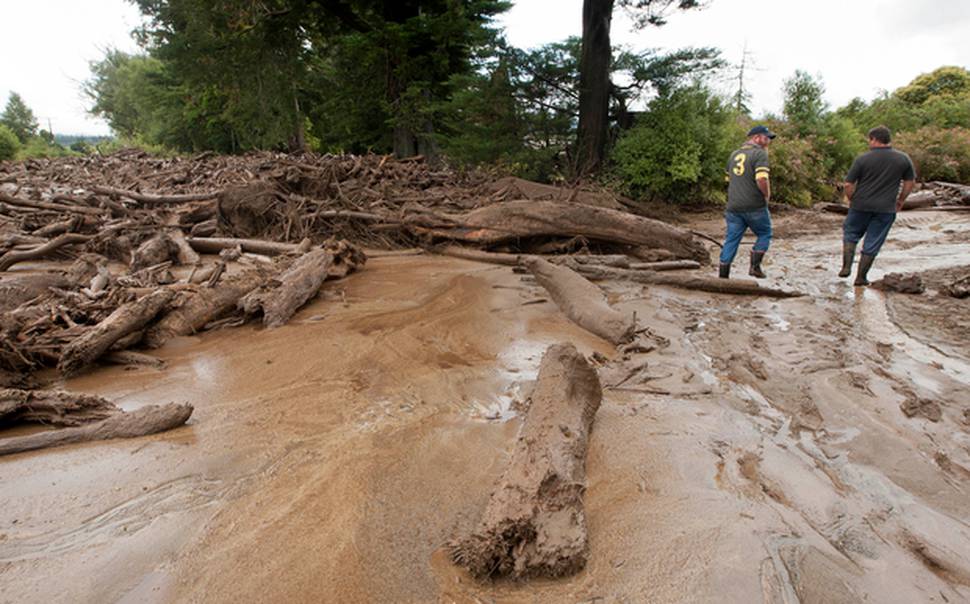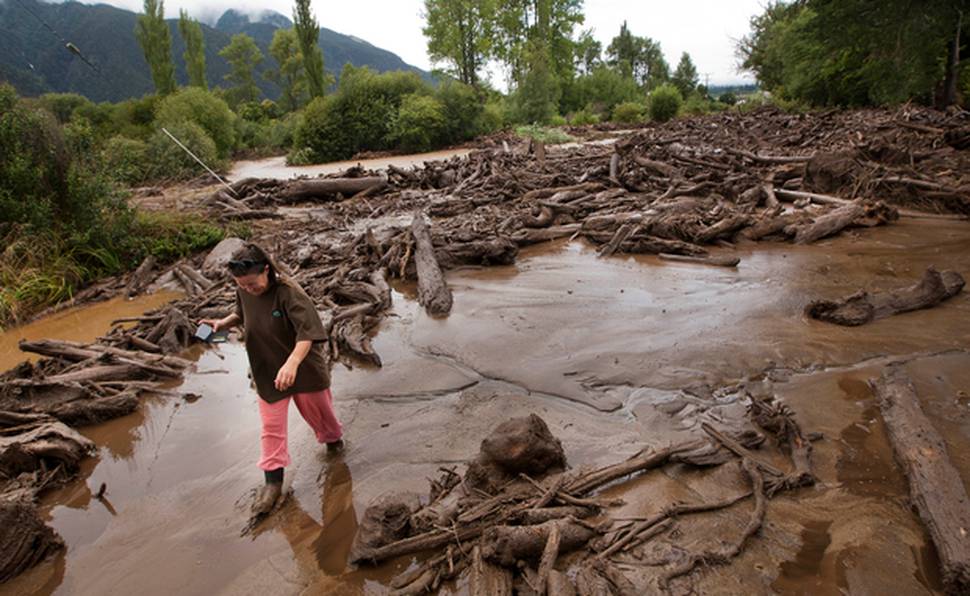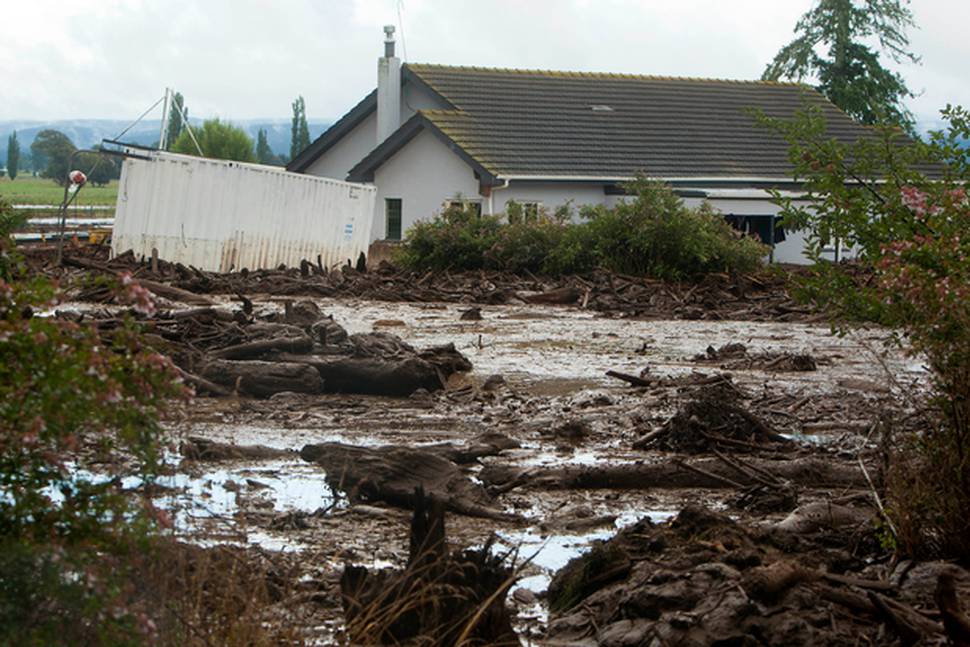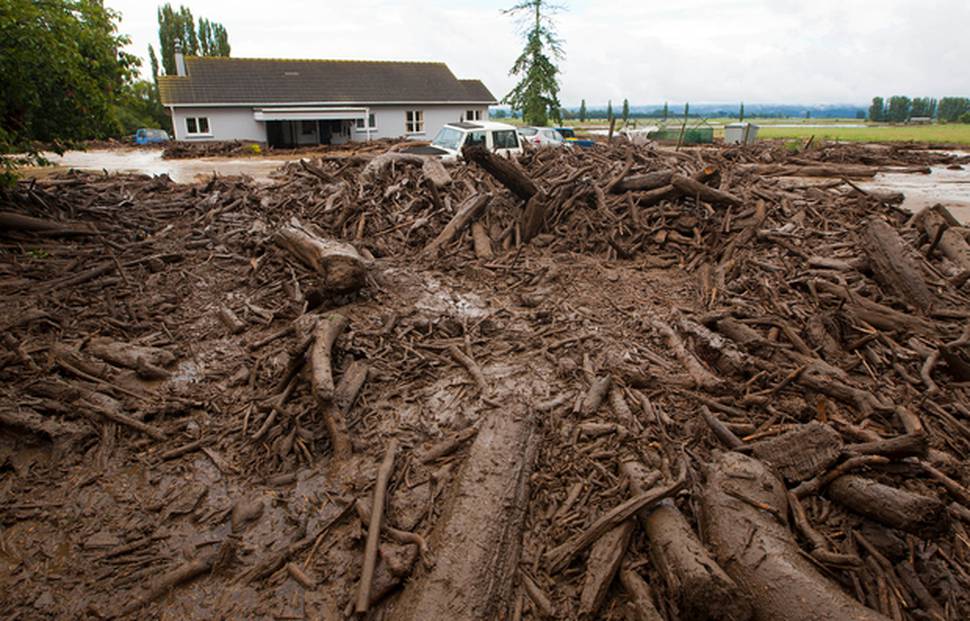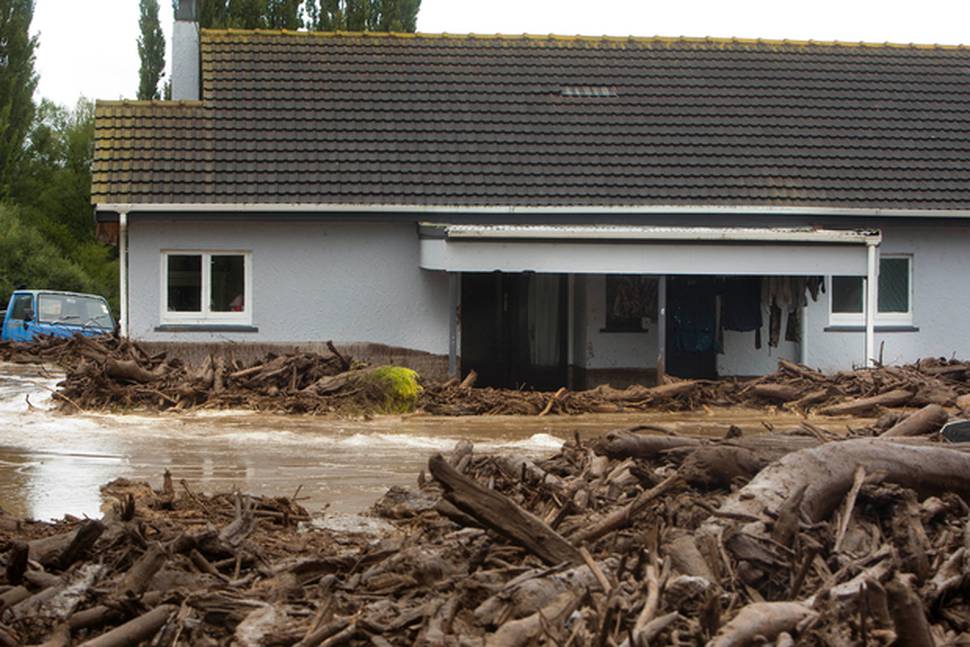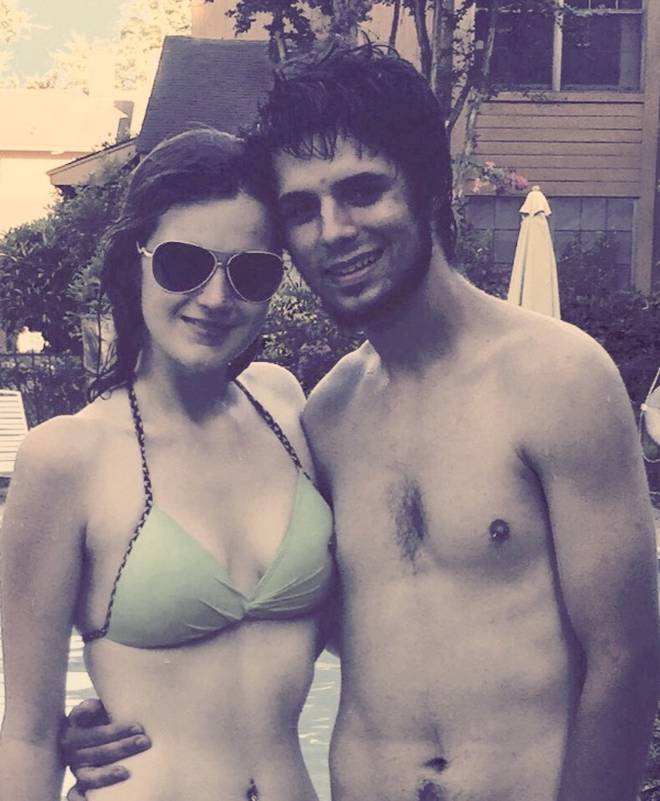 "They were on the road thinking how the heck do we get in."
She said a neighbour was eventually able to get through with a tractor and she and Mr Smith managed to get out.
"We've got two dogs, they had to come with us."
Miss Page said she had time to "throw on some clothes" before leaving.
"I didn't know what to pack so I took a bag of some random things."
Miss Page hadn't been back to the house but said she thought they'd be looking for a new place to live.
"I was a little bit panicked just seeing the water up to the window."
Earlier, muddy storm waters threatened to consume the house and dragged cars away while debris bashed up against walls and blocked roads.
Residents of the town near Murupara have compared the flooding to the infamous Boxing Day tsunami, and described the area as looking like a disaster zone.
Two people had to be rescued from a house on Troutbeck Rd in the township early this morning after flood waters trapped the pair with water sitting halfway up the windows.
Firefighters were initially unable to access the property because the road was completely washed out and after a large effort the pair were rescued by tractor.
Nearby resident Shaun Bicknell said he was shocked at how bad the destruction was.
He said there had been heavy rain all night then between 6am and 7am it "absolutely teemed down".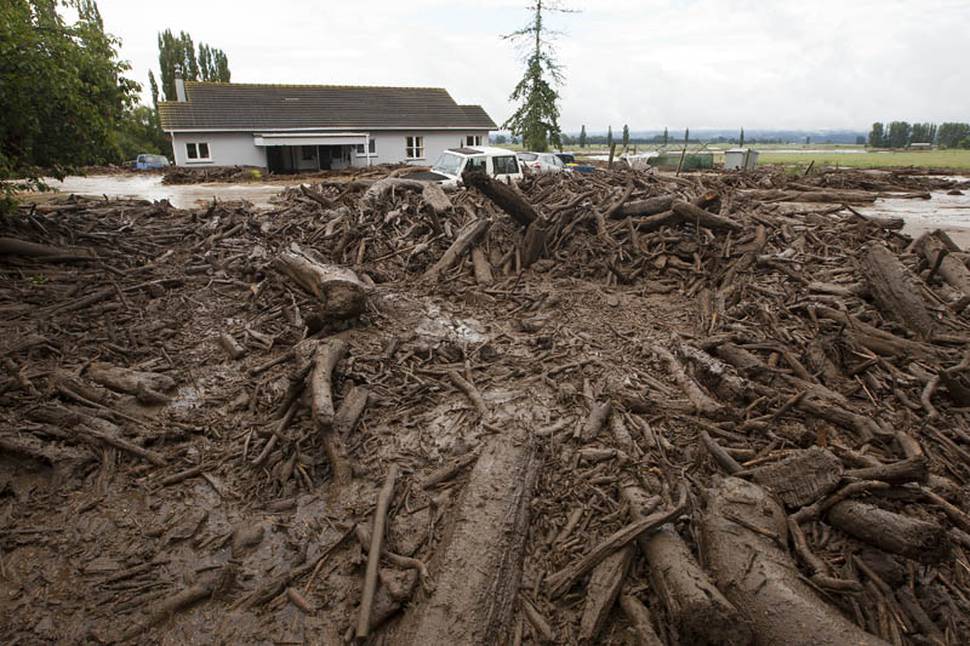 Mr Bicknell said the house "looked like that tsunami on Boxing Day ... It's a disaster zone."
He said the house was right where the water comes out of the hills and there was a lot of debris and farmland under water. "It's pretty disastrous. It's actually quite unbelievable."
Mr Bicknell said the area often got heavy rain but usually it was quite forgiving.
He said it appeared big logs had hit the house. "Looking at it now there is a lot of silt and dirt and that. It looks like it all banked up then let go."
Witnesses said there was about 1m high of wood and branches blocking the road.
Firefighters were initially unable to access the property because the road was "completely washed out".
"They can't get out because of the rising flood waters ... the water is halfway up their windows."
The couple's neighbour and property landowner, Chelsea Luke, said the rain had since stopped but she could see dark clouds hanging over hills in the distance.
She said the house that was flooded was directly next to a "dry wash" or a creek that is normally dry. However, because of the flash flooding, logs had been swept down the creek causing a build-up of water which flooded the house.
Ms Luke said she got a call at 7am today advising her that her neighbours were in trouble.
However, she was relieved to see them finally get rescued and that they were okay, although the female occupant had been checked by St John Ambulance staff.
"I was more concerned about them than me ... our [farm] worker called in and said that he could see logs that were about halfway up their house."
She said their property had been in her partner's family for decades and said this morning's deluge was the biggest they had heard of since the 1960s.
Despite floodwaters also trapping her and her daughters on their property, their driveway had since been cleared.
However, there was a large amount of debris, including large logs, and silt lying on their property. A small bridge had also been destroyed, she said.
The emergency comes as severe thunderstorm watch has been issued for parts of the North Island.
MetService said Bay of Plenty, Coromandel Peninsula, Rotorua and Great Barrier Island could expect heavy rain, including thundery, localised downpours this morning.
It said the heavy rain had now eased on the South Island's west coast and has cancelled the heavy rain warning for Fiordland, Westland and Buller.
But those regions could still expect some heavy showers in those regions until just after midday.
A second weak front was expected to bring brief spells of rain to western areas of the North Island.
Forecasters said a front and a band of heavy rain would move slowly over northeastern regions and on to eastern Bay of Plenty before clearing this afternoon.
These regions could expect sudden bouts of rainfall measuring between 25mm and 40mm an hour which was enough to cause flash flooding and make driving hazardous.
The watch would be revised at 2pm.
Meanwhile, the Bay of Plenty Regional Council is monitoring lakes and rivers in the region as up to 260mm of rain has so far fallen in the area over the past 24 hours.
It has so far issued warnings for the Kaituna, Whakatane, Waimana and Waioeka/Otara Rivers, which continue to rise, with people in rural communities around these rivers being advised to move low-lying stock to higher ground.
The council has advised Trustpower to open the spillway at the Matahina Dam to manage rising lake levels. This release will increase river levels, and warnings have been issued. This process began at 11am today.
Bay of Plenty lakes have also filled up overnight. The Okere Gates have been opened to alleviate lake level flows but the Kaituna River is still sustainable for rafting.
In the past 24 hours, the Western Bay of Plenty has received 70-100mm of rain. The Rotorua lakes received 90-100mm, Whakatane River 50mm, upper Rangitaiki/Galatea 100-130mm, Opotiki rivers 70-100mm and East Cape 260mm.
Principal engineering surveyor Graeme O'Rourke says the lake and river level rises are due to a stationary front overnight that brought more rain than anticipated.
"[Council] continues to monitor the situation and will issue warnings as appropriate. We have staff on the ground in the affected areas. We will keep the community informed as the situation progresses."
Another few hours of rain is expected in the Eastern Bay, with a heavy rain warning still in force until mid-afternoon.