•Severe thunderstorm warning in place for parts of the central North Island today
•Subtropical air to keep humid conditions around until Sunday
•Auckland and Nelson Anniversary Day on Monday forecast to be fine with light winds
Holidaymakers hoping to have a long weekend in a sunny hot-spot may be disappointed as a severe thunderstorm warning is issued for the parts of the central North Island today.
Forecasters have warned the stormy weather could bring some high winds, floods and hail.
Places most likely to be affected were inland parts of Gisborne and Hawkes Bay across to the eastern ranges of the Bay of Plenty, Taupo and eastern Taihape and inland Northland later this afternoon.
A MetService report indicated the risk of thunderstorms was "moderate to high" in this region and the bad weather was expected to bring with it rain of 10mm to 25mm an hour and "small hail".
It also reported there was a moderate risk of a "severe" thunderstorm that could hit the eastern North Island bringing even heavier rain of 25 to 40mm and hour.
"Rainfall of this intensity can cause localised surface and/or flash flooding and make for hazardous driving conditions," the report read.
People in the affected areas were being urged to keep up to date with the weather forecasts.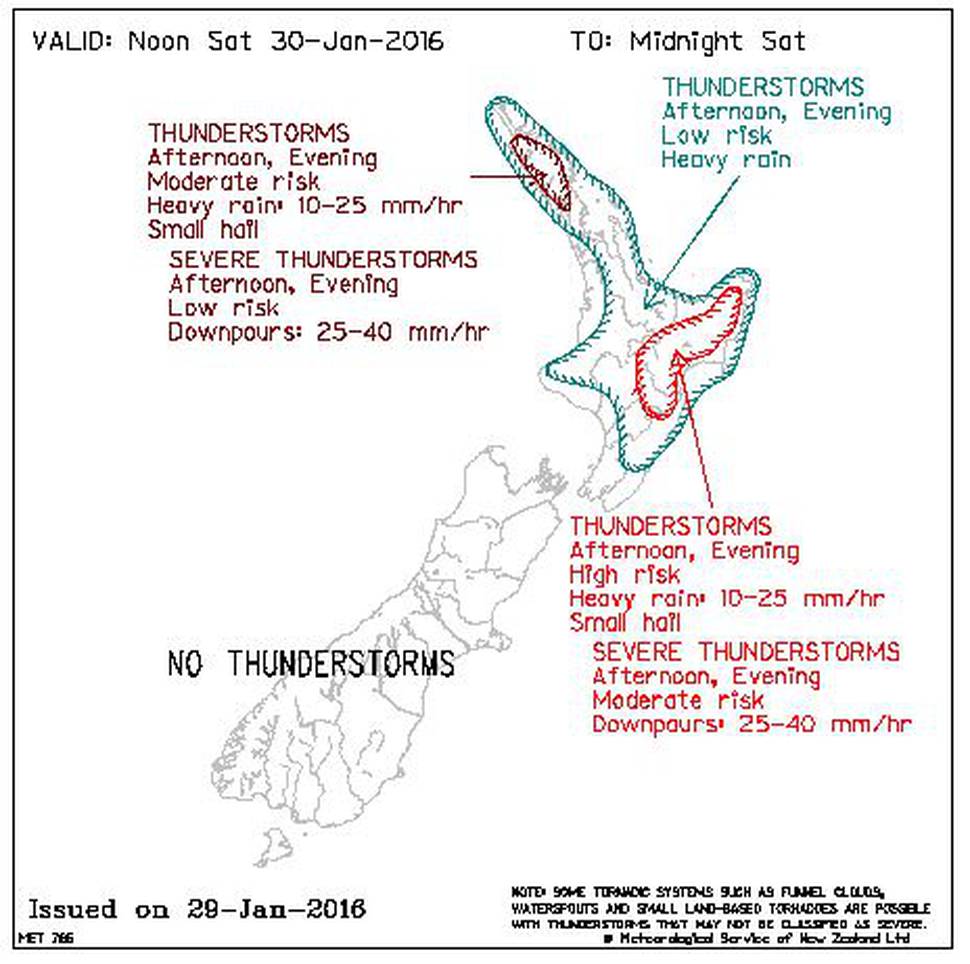 The Ministry of Civil Defence and Emergency Management advised that as storms approached people should take shelter, preferably indoors and away from windows. It was also advised to avoid sheltering under trees if outside, to move cars under cover and to secure any loose objects around the property. Those on the roads needed to be ready to slow down or stop and to be careful of fallen trees and power lines. Streams and drains were also to be avoided as the heavy rain bought the risk of flash flooding.
No thunderstorms were expected elsewhere, with most parts of the South Island forecasted to see a few fine spells with scattered clouds and the occasional rain.
Meteorologist Ciaran Doolan added a mass of "subtropical" air would offer North Islanders little break from the humidity.
"Unfortunately, a mass of subtropical air lingers over the North Island offering little respite from the humid and warm conditions which have affected many places over the last few days, although this should start to ease overnight Sunday."
The MetService forecast showed Westland and Fiordland were likely to offer some of the driest spots around the country this weekend.
The popular holiday spot, Queenstown looked likely to be one of the sunnier spots in the area, with sun expected for most of today and a high of 22C.
While some cloud was expected in the town early in the day tomorrow and Monday, it would be otherwise fine with a high of 26C on both days.
Meanwhile holidaymakers in the Coromandel Peninsula could expect a few showers in the afternoon and evening today with a few fine spells throughout the day, with a high of 27C.
Ms Doolan said it was good news for those attending the Rugby Sevens in Wellington this weekend.
"Sunday is looking like the pick. Saturday won't be too bad with periods of cloud and the chance of a shower in the morning, while Sunday should be fine with a light southerly.
"Auckland and Nelson Anniversary Day on Monday is shaping up well with fine spells and light winds expected."
At 8am today the highest temperature around the country was 20.3C in Auckland, the coolest was 7.5C in Gore, the wettest was Kaikoura with 1.4mm of rain and the windiest area was Kaikoura with winds of around 22km/h.
Main centres forecast:
•Whangarei:
Fine spells, isolated showers, improving conditions. Highs: Today 27C, tomorrow 26C, Monday 25C.
•Auckland: Fine spells, isolated showers, improving conditions. Highs: Today 27C, tomorrow 26C, Monday 25C.
•Hamilton: Fine spells, showers, some possibly heavy. Highs: Today 27C, tomorrow 26C, Monday 25C.
•Tauranga: Fine spells, light rain turning to heavy showers with low risk of severe thunderstorms. Highs: Today 27C, tomorrow 25C, Monday 24C.
•Wellington: Cloudy periods with the odd shower. Improving conditions, with good day on Sunday. Highs: Today 19C, tomorrow 21C, Monday 23C.
•Christchurch: Quite cloudy with patches of drizzle. Long fine spells on Sunday. Highs: Today 16C, tomorrow 21C, Monday 24C.
•Dunedin: Cloudy today with a few showers. Improving conditions over the weekend. Highs: Today 16C, tomorrow 17C, Monday 24C.
Source: MetService