Some passengers were still stranded at airport terminals around New Zealand last night after a radar failure grounded commercial flights for nearly two hours yesterday.
About 20 Air New Zealand domestic routes were abandoned as airlines tried to clear a backlog of passengers affected by the Airways New Zealand air traffic control radar fault.
Airways was unable to reveal how many flights were affected by the fault caused by an "internal network outage" - including some on airport tarmacs with passengers on board.
However, 160 Air New Zealand and seven Jetstar flights were affected when all outbound flights were immediately ceased at 2.41pm.
READ MORE:
• Passengers left stranded after domestic flights cancelled
When Airways announced the fault there were 50 airborne passenger planes still able to land or continue into international airspace.
Airways did not reveal details on what caused the outage, which was now being investigated by the Civil Aviation Authority.
"We are now carrying out an extensive investigation to determine the root cause and ensure this failure doesn't happen again," an Airways spokeswoman said.
"Airways immediately suspended all non-airborne flights while we investigated the issue and could be satisfied we could operate safely.
"At no point was the safety of any aircraft compromised."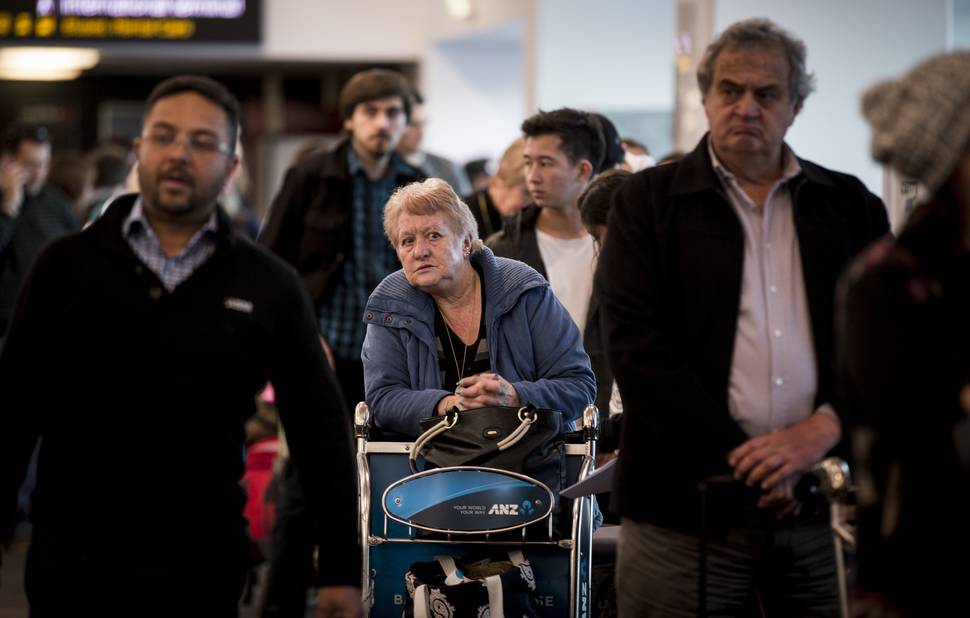 Stranded passengers wait for information on their flights.
The service was partially working again at 4pm and was fully operational at 4.30pm, but a major backlog of passengers remained at congested terminals throughout the country.
International services took priority, and those still stranded last night appeared to be domestic travellers - including members of the New Zealand U-20 rugby side which has just won the World Cup.
Prop Ricky Riccitelli and halfback Te Toiroa Tahuriorangi were on a 4.25pm flight from Auckland to New Plymouth that was cancelled. Riccitelli said he was beyond tired and had been travelling for close to 40 hours.
"Just got in from Italy, been a massive journey, so it's a bit annoying to get this far and not get a flight home."
The pair were on standby for a later flight, otherwise they would have to wait till the morning, he said.
Earlier, passengers in Tauranga on board a Christchurch-bound plane that was supposed to depart at 3.25pm were told soon after they boarded that the flight had been grounded.
One of the passengers, a Winton resident who had been holidaying in Papamoa, decided to stay on another night. "We were all boarded and ready to go and then they announced there had been a radar system problem, so they got us off," said the woman, who asked not to be named.
Kayla Gardyne was left worrying about missing her connecting flight from Christchurch to Dunedin.
The delay also meant her two-hour drive from Dunedin home to Gore could be more dangerous later at night, in freezing conditions.
An Air New Zealand spokeswoman said some domestic flights were cancelled and accommodation was organised for passengers affected.
"Unfortunately not all scheduled flights are able to operate. About 20 regional services were cancelled and passengers are being accommodated on alternative services [today]."
The airline did not respond to questions about the impact Airways' fault had on its business, but an airline group, the Board of Airline Representatives, said it would be looking for answers once "the dust had settled".
The association's chief executive, John Beckett, said the radar problem had been highly disruptive for member airlines and the first priority was getting planes back flying.
While it was unlikely airlines could seek compensation from Airways, his association would raise the issue of reliability the next time it met Airways.
"Their reliability is very high but it's just this has been a pretty big failure nationwide," said Mr Beckett.
What Airways New Zealand said
What part of the system failed?
An internal network outage at approximately 2.41pm caused disruption to communication and surveillance systems. Airways is now carrying out an extensive investigation to determine the root cause and ensure this failure doesn't happen again. We will know more once we complete our detailed technical investigation.
Why did it cause such a widespread outage?
Primary and secondary radar networks are supported by IP-based data communications networks. In the event of a failure of any part of this network, the system is designed to suspend operations until the cause can be identified. The outage was a result of the system being suspended. Priority is always given to airborne flights using alternate procedures to ensure their safe landing. Once we had established system integrity and stability, we could then return to normal operations by introducing departing aircraft back into the air traffic management system.
Has this happened before?
Until we've identified the root cause, we cannot be definitive, however the outage and impact on customers due to failures in our communications system is unprecedented. In an unrelated problem faulty cables to runway lights at Auckland Airport caused widespread disruption to domestic and international flights in 2010.
What are you doing to ensure it doesn't happen again?
Restoration of service and minimising inconvenience has been our first priority. We have immediately started a review and will ensure we establish the specific issue that led to this outage.
Do you offer any compensation to the airlines?
Any commercial discussions of this nature would be kept in confdence. Our primary concern is safety of the travelling public and we apologise for the inconvenience caused today.
What does Airways do?
Airways is a state-owned enterprise that oversees all air traffic within New Zealand's 30 million sq km of controlled airspace, handling more than one million movements a year.
Its system in New Zealand relies mainly on land-based radar although uses satellite technology to help guide aircraft in and out of Queenstown and on Smart approaches into Auckland. The system is supported by voice communication and air traffic control tower-based radio for talking to pilots and visual lighting systems for low visibility operations.
Past flight glitches
April, 2011:
Telecom fault leads to shutdown of the entire air traffic control system for about 15 mins. The glitch means pilots and controllers cannot communicate with each other. About 60 flights are affected.
Oct, 2001: A computer glitch grounds three fights in NZ and Australia for 30 mins. Airways Corporation's oceanic control system, at the national air traffic control centre in Christchurch, has reported a fault. A back-up computer system also fails.