50
On a night-time sea-borne raid in a high-speed motor boat in 1918, mechanic Roy Alexander took a bullet in his stomach.
The New Zealander hung on as the crew on his powerful vessel raced back to Dunkirk from the raid on Zeebrugge, a strategic Belgium port used by the German Navy as a base for submarines and light shipping.
Alexander, who was born in Ramarama south of Auckland, was lifted by crane off the coastal motor boat and sent to hospital.
"They operated on me straight away as I was nearly gone," he wrote in a revealing letter to his family in East Tamaki. "I have got the bullet they took out of me."
Alexander's craft belonged to a famous fleet of Royal Navy coastal motor boats, fast, wooden-hulled vessels designed to harass the German fleet and deliver torpedoes over their stern. When the boats latched on to a target, the 680kg torpedo wworld waras blasted off its cradle with an explosive charge and driven into the sea by a steel ram, entering the water tail-first. A tripwire engaged the weapon's motors.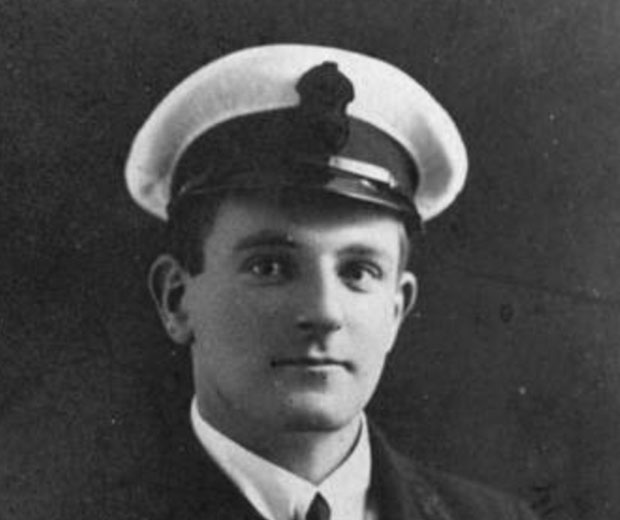 Roy Alexander.
For the three-man crew, the next task was to swing out of harm's way, because the torpedo was advancing on the same course as the boat. There is no record of these attack craft being hit by their own missile.
The history of the Coastal Motor Boat Service has a New Zealand connection. An officer from Harwich, the Essex port across the North Sea from occupied Europe, Wellington-born Lieutenant G.F.V. (Eric) Anson, was one of three young naval staff who advocated a fleet of swift attack craft to defend the English Channel against German submarines and destroyers.
The officers approached Thornycroft, a Southhampton shipbuilder, which designed a launch capable of speeds up to 34 knots, light enough to be carried by davits on a destroyer and strong enough to withstand being pounded by rough seas.
An impressed British Admiralty ordered 12 of the mahogany-skinned craft, which were powered by 12 cylinder aviation engines and came with a cockpit-mounted Lewis machine to defend the boat against enemy aircraft, a mortar for bombarding shore defences, and drums of acid which created a smokescreen when added to the exhaust.
Lieutenant Anson, who became one of New Zealand's pioneering anaesthetists, was put in command of one of the first boats, which were stationed at Dunkirk.
Working with Lieutenant Anson as navigator was author Erskine Childers. Lieutenant Childers was selected for his knowledge of German coastal positions.
Interviewed in May 1919, on his return to New Zealand, Lieutenant Anson described how he was injured in a raid on Zeebrugge.
Passing Ostend, another German base, they were engaged by four enemy destroyers. The enemy ships, he remarked, were at full speed, and pounding the British craft with shellfire. At the wheel, Anson felt a blow on his shoulder. "I found my right arm was useless," he recalled, and cried out to his second officer to take the wheel. Racing back to Dunkirk, Anson relieved the pain with "a smart bottle of French beer".
Anson survived both world wars. Roy Alexander was not so fortunate. Naval historian Gerry Wright has traced the April 1918 raid on Zeebrugge when Alexander was shot. A letter Wright found said: "The doctor told me it was a miracle I am alive as the bullet made eight holes in my intestines -- one bullet being enough to kill a man."
Of 11 Kiwis in the Zeebrugge action, only Alexander was injured. In July he was awarded a Distinguished Service Medal for bravery. He died a month later aged 21 and was buried with full naval honours in Essex.
100 Kiwi stories from the Great War runs in the Herald on Mondays and Thursdays. tinyurl.com/nzhworldwarone