Storms originating from the tropics are most likely to hit at the end of summer and the beginning of autumn, and New Zealand has had its fair share over the years.
With Cyclone Lusi expected to hit tomorrow morning, we look back on eight powerful storms that caused loss of life, destruction and millions of dollars' worth of damage.
1 Great Storm 1936
Largely forgotten, this storm began as a tropical cyclone that on January 28, south of the Solomon Islands before traveling southeast and meeting a cold front, intensifying and hitting the North Island on February 1.
It brought with it heavy rains, causing every major river in the North Island to flood. Buildings were destroyed from Picton to Kaitaia, footpaths were ripped up, thousands of trees were brought down, power was lost and roads and railway lines were cut in hundreds of places. There was flash flooding and thousands of cattle and sheep were drowned. In Auckland, 40 boats were sunk or driven ashore. 10 people lost their lives.
2. Cyclone Gisele 1968
Building near the Solomon Islands on April 5, warnings were issued throughout New Zealand, despite it being hundreds of kilometres away. Hitting Northland on April 9, it swept down the North Island with torrential rains causing flooding, landslides, and the destruction of buildings.
Colliding with a polar storm, it swept into the capital city on April 10 and the winds reached 275 kilometres per hour - the strongest ever recorded by the New Zealand Meteorological Service. A young girl was killed and her sister injured when iron from a nearby roof blew through their bedroom window. Another man died after being knocked over by the wind.
The storm also caused New Zealand's worst modern maritime disaster - the sinking of the Wahine. As it crossed the Cook Straight, gale force winds and large waves rocked the ferry and as it moved into the shallow harbour, she lost radio contact and was unable to gain her bearings. After an hour and a half, she struck Barrett's Reef and sunk seven hours later.
3 people died as a direct result of the cyclone. 51 people were killed in the Wahine disaster.
3. Windstorm 1975
Nicknamed The Big Blow, hurricane-force winds swept over Canterbury, with gusts reaching 195 kilometres an hour. Thousands of hectares of pine forests were destroyed, roofs were blown off buildings, aircraft were damaged and there were many electrical fires caused by falling powerlines.
4. Cyclone Bola 1988
Forming on February 24, Cyclone Bola struck the Hawke's Bay and Gisborne on 4 March 1988. Its torrential rains, which fell for three days, and strong winds caused flooding, damage to housing and the destruction of roads and railway lines. There were many landslides and farmers lost large portions of their pastures and orchards. Thousands of people were evacuated from their homes.
Three people died when their car was swept away by flood waters.
5. North Island Weather Bomb 2008
Three storms hit the North Island in a three week period in July 2008. Bringing with it high winds and heavy rain, it caused power cuts, flooding and damage to trees and buildings.
Three people drowned in the Bay of Plenty.
6. Ex-tropical Cyclone Fergus 1996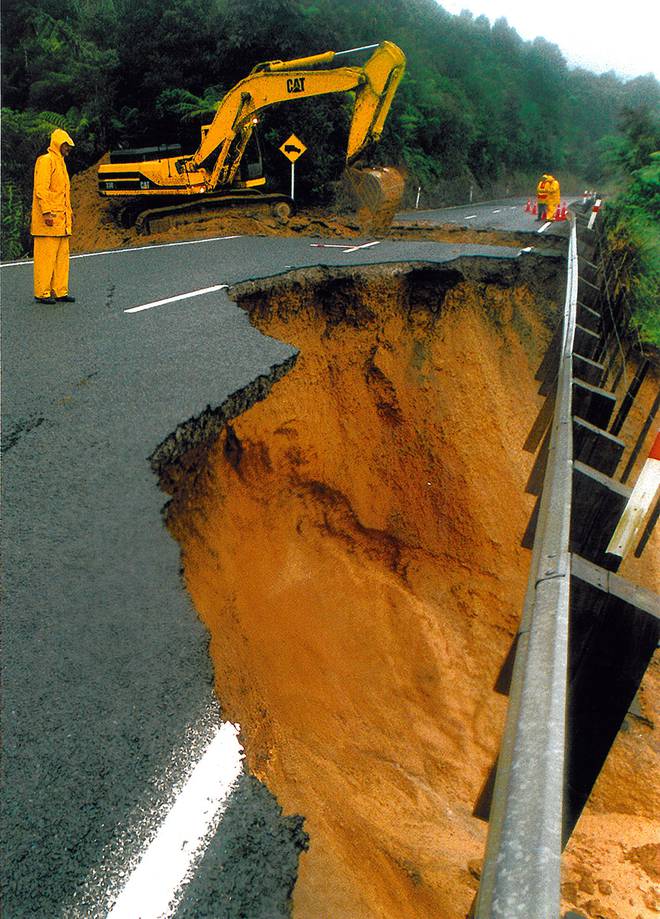 Forming in the Solomon Islands, on 28 February, Cyclone Fergus travelled across the Pacific in a loop before heading south towards New Zealand, hitting the North Island on 30 December. It brought with it heavy rains, flooding, landslides and high winds and caused havoc to hundreds of holiday makers who had to seek shelter in Civil Defence centres. There was major road damage, power cuts and flooding. Surf life guards rescued nine motorists trapped in three cars in Pauanui, getting them to safety in inflatable boats.
It caused significant damage and a Civil Defense Emergency was declared in some areas,
Two people died - one in Northland and another in Thames.
7. Ex-tropical Cyclone Drena 1997
Just two weeks after Cyclone Fergus hit New Zealand, a tropical cyclone formed in the Pacific, peaking in intensity on 6 January. It hit New Zealand on 10 January. As it hit the upper North Island, it brought high winds and seas, causing damage to property - including roofs that were lifted. It travelled south towards central New Zealand and damaged roads and property, brought down trees and destroyed agriculture.
In Auckland, boats were damaged and cars were blown across lanes. Over a hundred people were evacuated from their homes, roads were closed, and thousands were without power. The South Island also suffered strong winds and heavy rains and flooding.
Three people died, including a man hit by falling power lines and a couple who were swept away in a car.
8. Cyclone Wilma 2011
Travelling across the North Island on January 28-29 , Cyclone Wilma brought with it heavy rains and winds, causing severe flooding, road closures and landslides. The heavy rains caused sewage to spill into the water of some of Auckland's beaches, caused destruction to houses and many evacuations.
While there were no deaths as a direct result of the cyclone, there were many dramatic rescues. On Waiheke Island, two women were woken by their dog barking and managed to escape their bach before it plunged 30 metres off a cliff onto the beach at Onetangi. In Clevedon, a doctor travelled across floodwaters in a kayak to reach a woman in labour. She was airlifted to hospital and gave birth later the same day. Firefighters used a boat to rescue two people who were stuck up trees in Pipiwai, as well as rescuing a family of two adults and two children trapped in a house in Kaeo.