In the lead-up to the elections, the Herald is examining all 13 Super City wards, analysing issues and contests.
With the voters of Orakei having a bye for the ward seat on Auckland Council - sitting councillor Cameron Brewer has been elected unopposed - the focus shifts to the Local Board.
And then, it's a fairly straightforward contest with the existing seven members uniting behind the Orakei Communities & Residents ticket, the latest version of the Citizens & Ratepayers (C&R) brand that has served this community so well for 80 or so years.
But showing that democracy is alive and well, an alternative candidate has appeared from a sea of blue in the form of Green Party member Dorthe Siggard, a local resident of 12 years and council worker, who has taken leave to stand. Voters also have the choice of retired planner and business analyst Bill Carlin, Conservative Party candidate Andrew Craig and Jennie Hayman, a Hauraki Gulf Forum member.
Ms Siggard, the first Green Party candidate to stand for election in Orakei, said she would bring different viewpoints to provide a political balance on the Tory-controlled board.
She says the board is doing a lot of good work and respects board chairwoman Desley Simpson, but believes she has a lot of energy and fresh ideas to contribute.
These include being truly committed to public transport - ideally she would like cars out of bus lanes on Tamaki Drive and Remuera Rd - and says she is the only candidate committed to helping young people and giving them local opportunities; planks she thinks will appeal to women voters.
But trying to break the C&R stranglehold stretching from Remuera and Ellerslie in the west to the seaside suburbs along Tamaki Drive and around the clifftops to Glendowie is a huge ask.
It is especially huge after the five C&R members on the Local Board got two of their former colleagues, Colin Davis and Troy Churton, on board the new Orakei C&R ticket that includes Ms Simpson, Ken Baguley, Kate Cooke, Kit Parkinson and Mark Thomas.
Ms Simpson says getting Mr Davis and Mr Churton on the ticket shows how well the board has used its combined set of skills to collectively make up a team.
Orakei has been one of the most successful Local Boards, at a community level and advocating around the council table.
The Orakei Basin walkway, a private partnership to provide a new sports hub at Ngahue Reserve in St Johns, and developing plans for Tamaki Drive and Hobson Bay are among its achievements.
The board has rarked up the Len Brown-led council over big increases under the single rating system and pushed for improvements to the Unitary Plan - although the governing body of the council held firm on four-storey buildings in St Heliers when locals wanted a three-storey height limit. With Orakei C&R looking a shoo-in to regain control of the board, the ticket is keen to begin implementing the Tamaki Drive and Hobson master plans, push for better and more frequent transport options, including a new Selwyn station, and keep the pressure on the council over rates.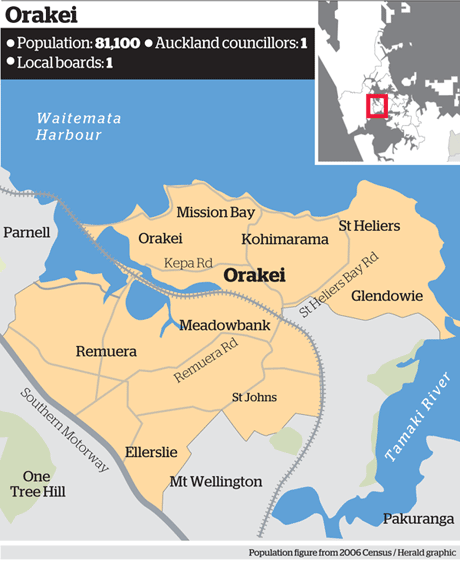 Local body basics
There are three main contests:
1. Mayoral election
2. 20 councillors from 13 wards
3. 21 local boards
Key dates
September 20-25: Postal voting papers delivered
October 12: Election day
This week
Today: Orakei
Tomorrow: Howick
Wednesday: Whau.
Ward profile: Orakei
Population: 81,100.
Auckland councillors: 1.
Local Board: 1
Ethnicity: European 72%, Asian 15%, Maori 5%, Pacific 3%
Median age: 38.2 years
Median household income: $88,714
Current councillor: Cameron Brewer (re-elected unopposed)
Local Board: Orakei.
Ward candidate (1 seat)
* Cameron Brewer
Local Board candidates
Orakei (7 seats)
* Ken Baguley (Orakei Communities & Residents)
* Bill Carlin (Independent)
* Troy Churton (Orakei Communities & Residents)
* Kate Cooke (Orakei Communities & Residents)
* Andrew Craig (Conservative)
* Colin Davis (Orakei Communities & Residents)
* Jennie Hayman
* Kit Parkinson (Orakei Communities & Residents)
* Dorthe Siggard (Green Party)
* Desley Simpson (Orakei Communities & Residents)
* Mark Thomas (Orakei Communities & Residents).
Eden-Albert-Roskill