Jacqui Madelin does her best to master the impressive specs of the KTM 350 Freeride
Downhill had seemed easy, the KTM 350 Freeride's progressive brakes and excellent suspension holding the ground through a controlled drop down rooty steps and into the rutted runoff.
But turning back uphill revealed I'd just descended a cliff, or at least an overhang looming over my puny self like some earthy monster; an impossible slope ending in a step atop which stood one of the world's best cross-country racers, encouraging me on.
First gear, gas it, hook second, head low, bum lifted, the willing engine pulling strongly, the step looming ever larger and banzai! Up and over and - stalled. Well, there's only so much a good trail bike can do when the rider lets it down ...
I'd signed up for a one-day course with Chris Birch, KTM-sponsored extreme enduro ace.
Look him up alongside "Red Bull Romaniacs", "Erzberg" or "Roof of Africa" and you'll see why my nearest and dearest had predicted my imminent demise.
But Chris is that rarity, a very good teacher able to communicate what is required and why, pitch it at a range of skills, then quickly evaluate where you're going wrong.
It's lucky KTM had lent me this $13,499 Freeride 350, for it delivers a stronger engine and much better suspension than my own tired machine and therefore added a gloss to my limited off-road skills.
The Freeride's often billed as a cross between a trail and a trials bike - a small, lightweight model that uses a detuned version of the EXC-F engine, fitted with electric start and slotted into a frame built of chrome-molybdenum, with an aluminium centre and a plastic subframe pretty much all designed for this bike, with its shortish wheelbase and steering head angle aimed at agility.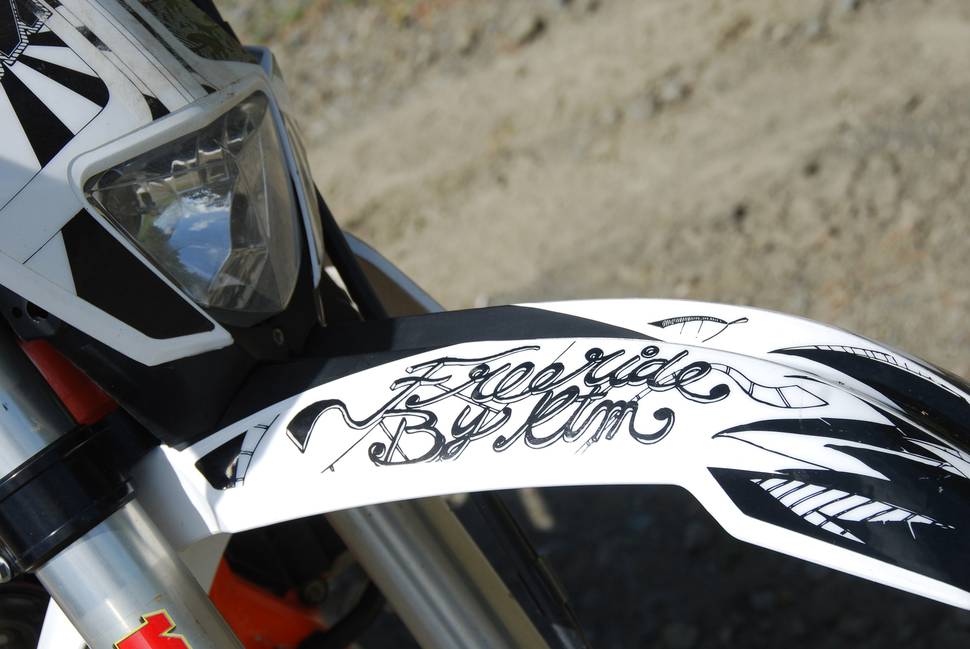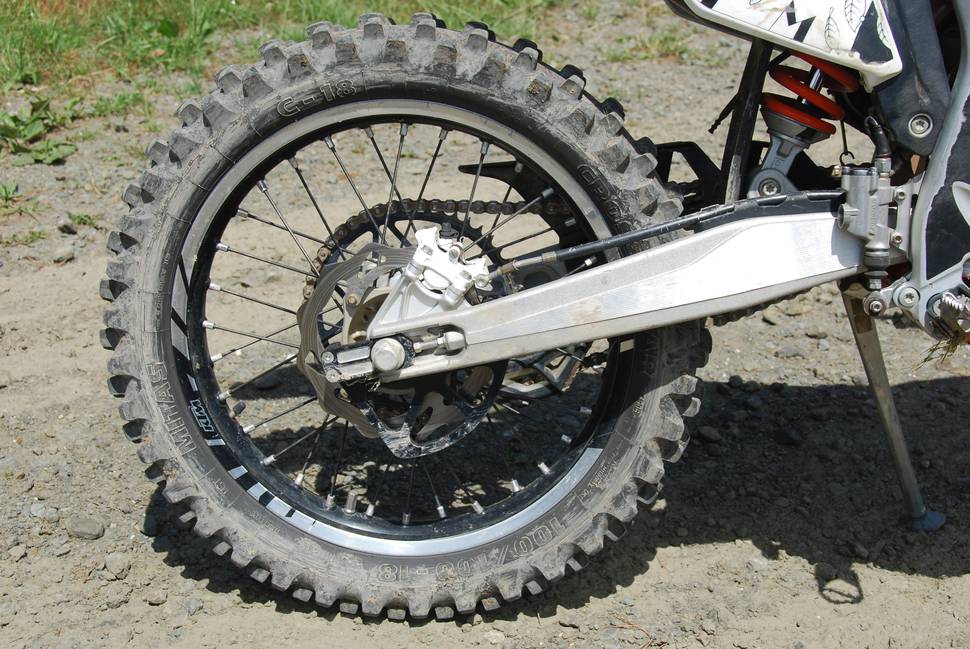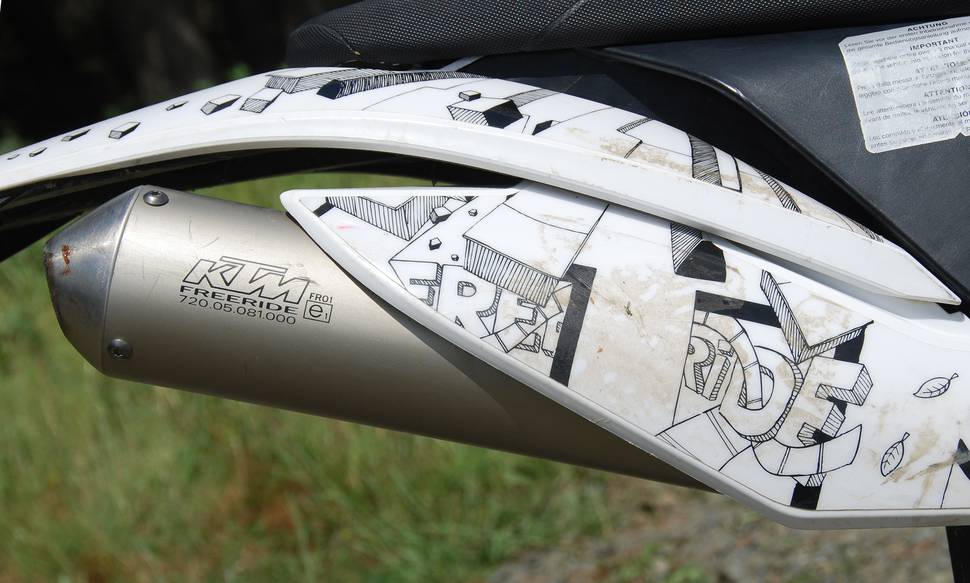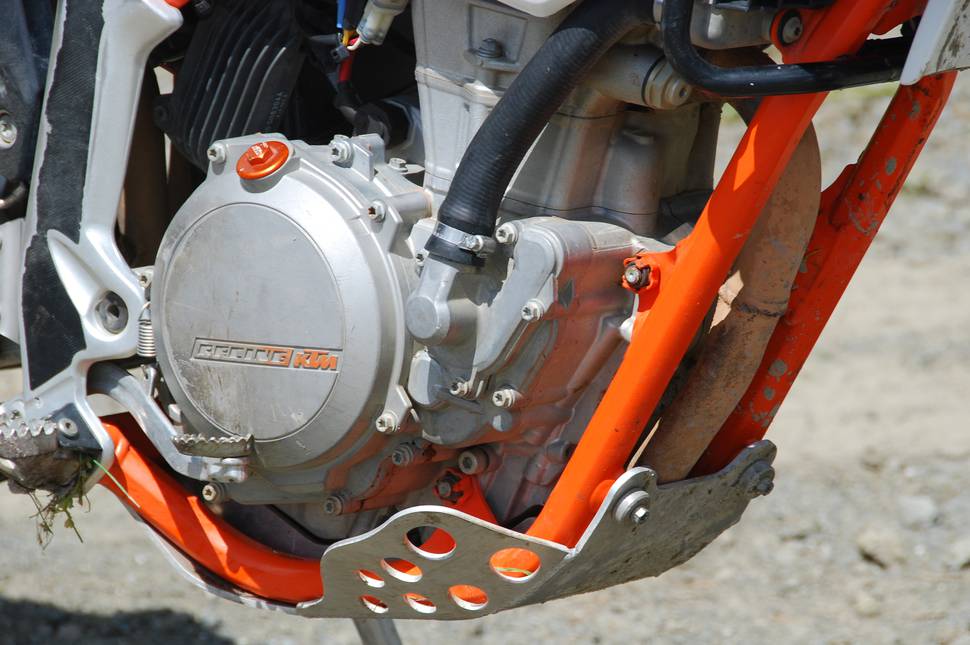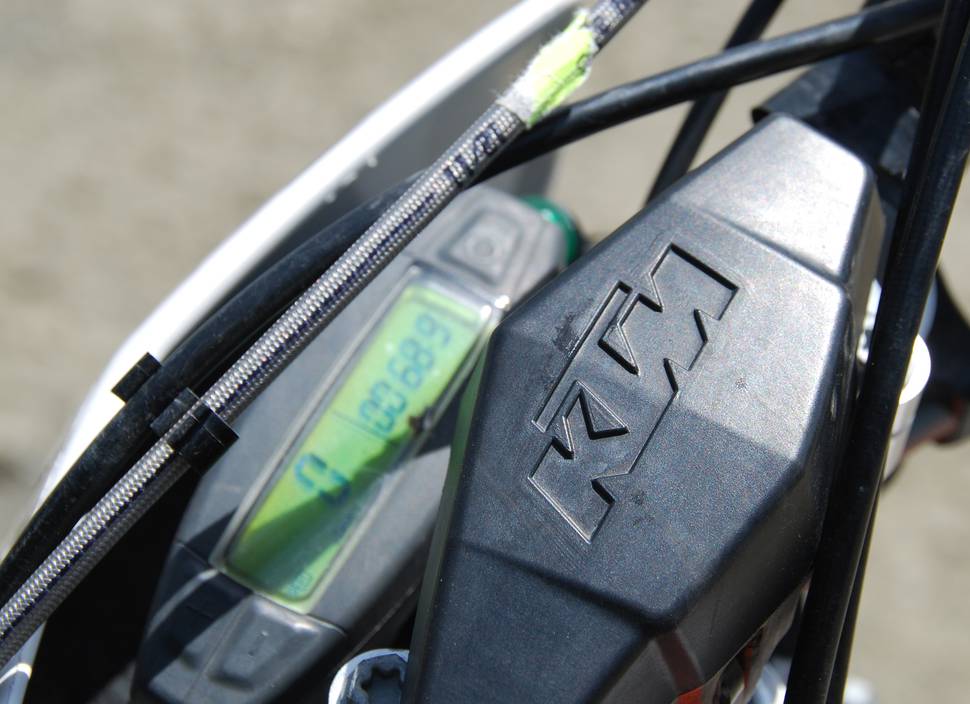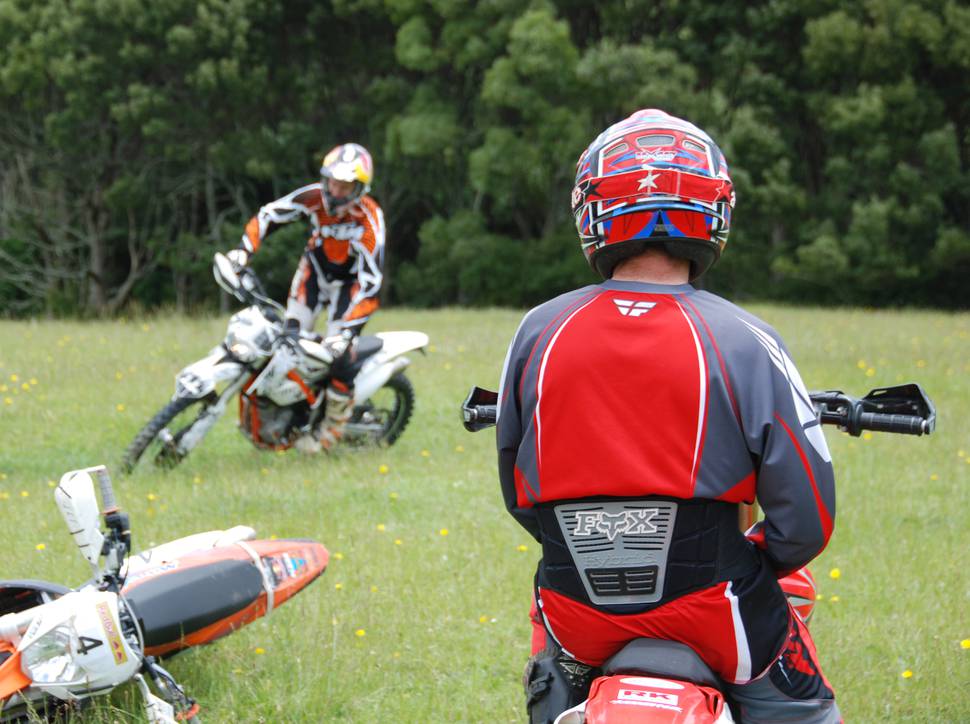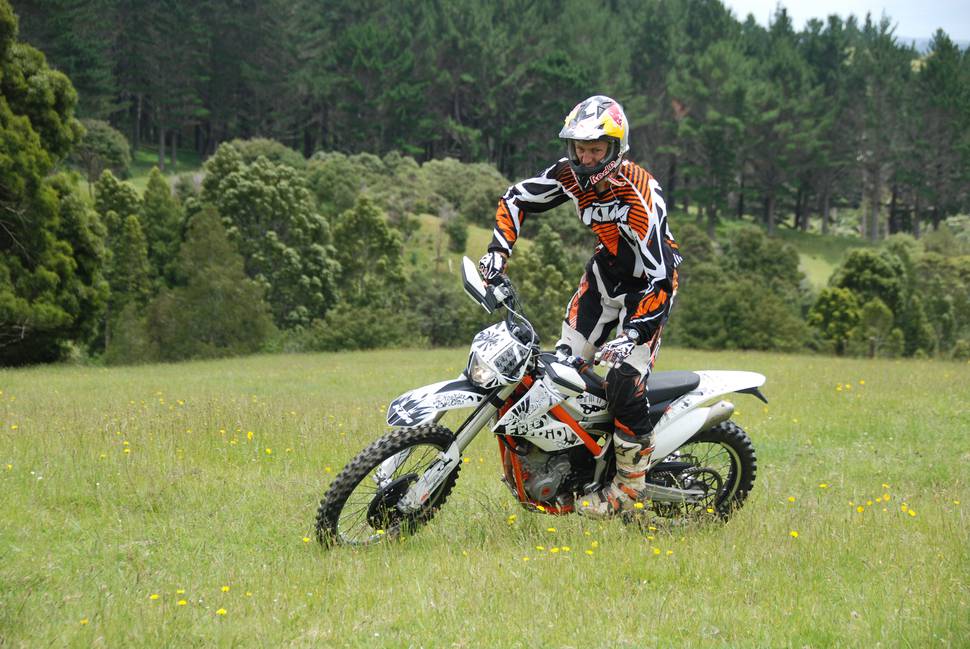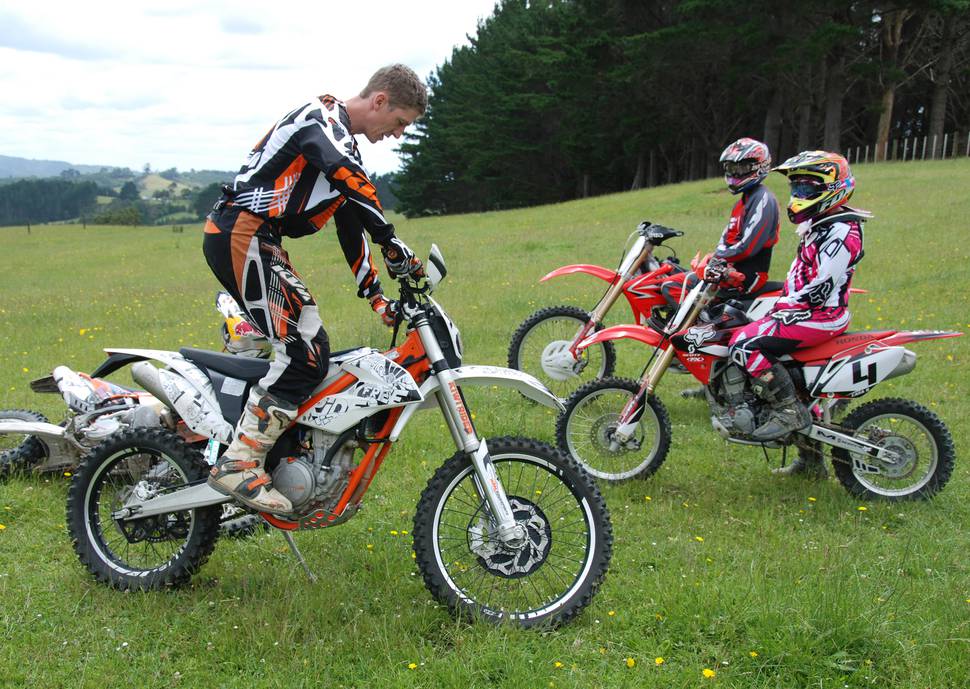 KTM bolted on a WP front fork and PDS rear shock, sourced brakes from Italian mountain-bike company Formula, and ensured the whole plot tips the scales at a whisker under 100kg, light for a trail bike. And it's small, too - the 915mm seat height, narrow waist and compliant suspension making this Freeride a bit of a pocket toy compared with KTM's usually burly outline.
The engine lacks outright power but it's a torquey unit that may baulk at high speeds, but delivers strong pull at almost any revs - just select a gear and get on with it. It's not prone to wheelspin, which would please the owner of the paddocks we rode, but nor does it threaten to run out of puff.
The closer you look at it, the more you see why the Freeride costs more than the average small trail bike. The designers ran the exhaust well out of the way of trouble. The air intake is tucked right up under the seat, above even deeper stream crossings. The air filter is slotted within an easy-change cartridge. And there's more.
It resembles the two-stroke GasGas Pampera which, like this four-stroke Freeride, was originally billed as a road-registerable trail bike that would suit shorties - then found a market with a wider range of buyers as an all-rounder.
Like the Pampera it'll allow you to dabble in club trials, easily manage a trail ride - trading outright power for manoeuvrability and agility - and can easily be road registered for adventure rides, a type of long-distance cross-country orienteering, though the 5.5-litre tank might then become an issue.
Given the paddock exercises Chris had us doing - full-lock turns, modulating brake and clutch to accelerate, brake to a fully balanced halt (or close to it) then pull away and repeat - I started to feel this Freeride imparted an advantage that masked my ineptitude, until it was forcibly revealed by that looming uphill step.
All of which makes the new arrivals more interesting, for a two-stroke 250 version has just landed, along with a mildly revamped 350 that sells at the same price, with tauter suspension, Trial-Maxx tyres for trials-style grip and trail-flavour tread profile, and updates to the brakes, clutch and gear ratios - with a taller sixth for a higher top speed.
I can't wait to try it. But yes, Chris, I promise to do those riding exercises before I see you again ...