Creating a winning culture at the Warriors will be key to their hopes of retaining Roger Tuivasa-Sheck, says assistant coach Tony Iro.
The Warriors face a battle to re-sign their off-contract captain and fullback with rugby union and a host of rival NRL clubs eager to lure him away from the Auckland-based NRL franchise.
Iro says it will take more than just a fat cheque to convince the 24-year-old to stick around after this season and says it will take a collective effort from everyone involved at the Warriors.
Read more: Tuivasa-Sheck hot property
Tuivasa-Sheck circus will continue
Kearney confident they can retain RTS
"Roger is a marquee guy who we want to stick around with the club because he is the captain, a good leader and he is only going to grow in that role because he is still young," Iro told NRL.com.
"There is also an understanding that individuals will have reasons to do what they want to.
"As a club we have to be doing the best we can, firstly as a team and building a culture where players like Roger want to stay.
"If that is successful, then the rest looks after itself. I don't think we are going into the season just thinking about how we can make Roger stay. That is up to the whole organisation in making it a place and environment where people don't want to leave."
Recent speculation that Tuivasa-Sheck was set to sign with the Blues Super Rugby franchise were linked to him potentially trying to win a spot in the All Blacks for the 2019 Rugby World Cup.
The lure of the All Blacks will always be ever-present for many New Zealand footballers but Iro said the prospect of losing Warriors players to the 15-man game was of little concern to him.
While Sonny Bill Williams managed to successfully cross between the two oval ball games, Iro feels it's a feat that's only achieved by "pretty special" athletes.
"To be perfectly honest, I don't really think about it," he said.
"Yeah, I imagine the All Blacks are an attraction but you have got to be a pretty special athlete to first of all be presented with the opportunity, and then make the most of it.
"The games aren't as close as what people think. I know the best athletes can transition but until you make the jump, and it is usually a big jump, you are going into the unknown and there will always be that element of risk.
"Is it an issue? I don't call it an issue because the number of players going across has been limited. Sonny Bill [Williams] is obviously one who has made a strong transition into both but he was a pretty special athlete and there aren't too many built like him."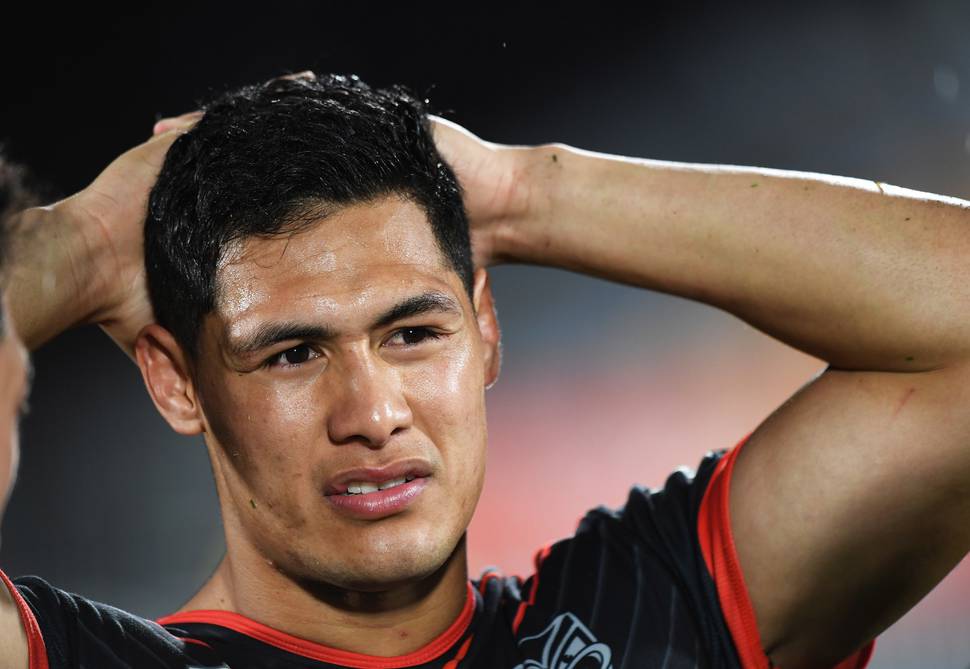 Former Kiwis captain and halfback Gary Freeman says there were positive signs late last season that Tuivasa-Sheck was close to finding his best form, after a knee injury limited him to just seven matches in his first year at the Warriors in 2016.
"It takes a full year to get back to your best from a full knee reconstruction, but in the last five or six games of last year, and for the Kiwis, I saw signs in Roger of what he is going to be like this year, Freeman said.
"The way he was running the football back suggested he was 10 or 15 per cent off his best, but after a full pre-season under his belt he will be primed for round one. I think he is going to have a cracker of a season."
Iro believes the mental scars of overcoming a serious injury can affect a player well after he regains full physical fitness, and agrees that Tuivasa-Sheck looks set for a big season.
"When you suffer from an ACL there is a timeframe where not just the body, but also the mind has got to heal as well," Iro said.
"Roger is training great at the moment and he looks and sounds really driven, which is him anyway, but I think he is looking to really do something after what has been a pretty disappointing two seasons for him, and that is rubbing off on the group.
"I think that some of the bodies we have put around him like Blake Green, Adam Blair and Tohu Harris are just as driven.
"They have come from successful environments and their impact on the group has been really good.
"That will take some pressure off Roger too because he has some real genuine voices there who are talking the same language, and as a young captain that will help him immensely."
To get the day's top sports stories in your inbox, sign up to our newsletter here