Departing Warrior Manu Vatuvei has achieved so much in rugby league but as he prepares to exit the NRL he remains eternally grateful to the game that saved his life.
The 31-year-old leaves New Zealand on Sunday to join UK Super League side Salford, after a 226-game career that included an NRL grand final appearance along with numerous successes on the international stage in 29 tests for the Kiwis and a lone outing for Tonga.
As the Warriors (152) and Kiwis (22) all-time leading try-scorer, and the only player in NRL history to score 10 or more tries in 10 consecutive seasons, there is little more the Otara Scorpions junior could give to the sport.
But it's what the sport has given to Vatuvei that's more important: he credits rugby league for transforming his life, by equipping him with personal skills and providing a broader world view that helped him to avoid a path less desired.
"Definitely the game has done a lot for me as a person," said Vatuvei.
"Just mentally and in knowing how to look after myself and how to deal with things in life and how to treat people well.
"If I was going back to when I was a kid, and all of the things that I used to see, the game kind of saved me from becoming a different person.
"I think I would have been doing bad things and I know I wouldn't be around too much.
"I think I'd be inside [in jail] or something. I'm not too sure, but just the way I'd been going as a kid, the game kind of saved me from all of that stuff."
Since making his debut against Souths in round five of the 2004 season, Vatuvei has endured the highs and lows in a career that tended to epitomise the Warriors' fluctuating fortunes.
Despite achieving icon status he remains harshly judged by some league supporters and New Zealand's wider sporting public, who tend to view his unique skillset from a glass half-full perspective.
Much maligned for his handling and defensive lapses, Vatuvei often copped the brunt of criticism from both fans and media during the Warriors' darkest times.
But teammates and coaches, past and present, argue the positives in his game always outweighed the negatives, while his rare combination of size, speed and power made him a genuine match-winner.
"He had his moments with mistakes but he got a pretty bad rap at times especially from some of the Australian media," says former Warriors coach Ivan Cleary.
"But it was always pretty obvious to everyone at the Warriors that the strengths in his game far outweighed the weaknesses and I think his career has proven that no doubt."
Many fans will remember the horror night Vatuvei endured against Parramatta in 2007, when he coughed up the ball on numerous occasions, but Cleary says that traumatic experience helped him to grow both as a player and person.
"It might have been a real turning point in his career," he said.
"What I think he learned to do was not carry baggage around and just get on with it and that was the real thing that helped him.
"Because any time he did make a mistake you couldn't get the ball off him after that and it would just make him want to contribute more.
"And that's a really great trait to have, for anybody, not just in sport but in life."
Current Warriors coach and former New Zealand test coach Stephen Kearney remains one of Vatuvei's biggest fans and rates his performances in the Kiwis 2014 Four Nations final win and the following year's Anzac test victory - his last two appearances in the black and white - as being up there with the best he has seen from any winger.
"That's how I remember him and I think that's how he should be remembered," said Kearney.
"I know that a lot of the significant victories that New Zealand have had, he's played a huge part in a lot of them.
"On those big occasions, more than likely he knew when to deliver and that's what I admire about him."
Warriors coach Stephen Kearney talks about upcoming game
Despite the praise that's been sent his way this week, Vatuvei himself appears to be one of his harshest critics.
In an emotional interview on the Warriors website he took time to apologise for anything he may have done to disappoint the club's fans, sponsors and his family.
While most followers of the game have forgiven his involvement in the sleeping pills and energy drinks scandal that rocked the club last year, it's clear he remains bitterly disappointed with his actions that preceded what he describes as "the hardest period of my career". Vatuvei and five other Warriors were stood down from representative selection and dropped to reserve grade after admitting to mixing pills with energy drinks during a night out following the team's embarrassing 42-0 Anzac Day defeat to Melbourne.
"I've always tried to make up for it any time if I did something bad. That's the real reason why I said that [apology] and I truly mean it.
"I know people will say 'oh, nah, you've never let us down' but I know I have. And I know I have, at some stage in my career, let a lot of people down, but it was just a way for me to apologise for it. And I've done that and can move on now."
Reflecting on his career, his debut club and test outings, the Warriors 2011 grand final appearance, and numerous test victories over Australia rank among the most special.
He remains humble about his achievements and says his proudest moments centre around his family and how much he has been able to grow after dedicating half his life to the one club.
"It's hard to pick. I'm just proud of myself that I got to where I am right now. From when I first started at the club in 2002 and just growing as a person and going from there.
"My first games for the Warriors and Kiwis will always be memorable because me and my family had worked hard for me to be able to do that. To see it pay off and the smiles on their faces made me feel really good about myself.
"And I'm just proud of what my parents and my family have done for me."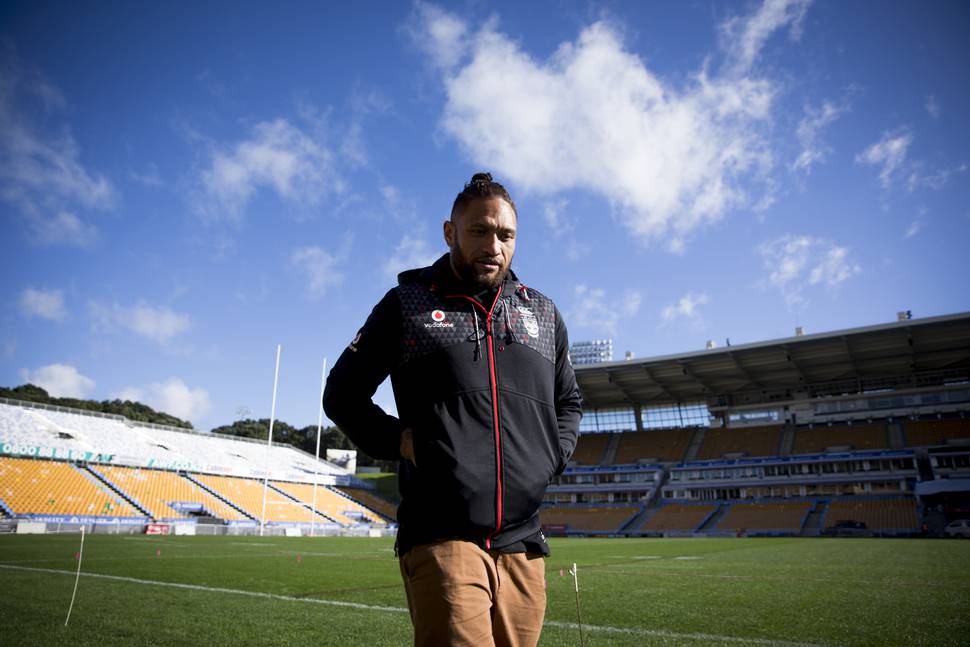 Manu Vatuvei
Born:
March 4, 1986
Birthplace:
Auckland
Position:
Wing
Height:
1.89m
Weight:
107kg
Junior Club:
Otara Scorpions
Other Clubs:
Otahuhu Ellerslie (Bartercard Cup), Otahuhu (Auckland)
NRL Debut:
Warriors v Rabbitohs, Aussie Stadium, May 23, 2004 (Round 11)
NRL Career:
226 appearances for Warriors, 2004-2017
NRL Points:
608 (152 tries)
Kiwis Test Debut:
v Australia, Sydney, October 15, 2005 (Tri Nations)
Test Career:
29 tests for Kiwis 2005-2015, 1 test for Tonga 2017
Test Points:
92 points (22 tries for Kiwis, one for Tonga)
Other Teams:
NRL All Stars 2010, 2012, 2015; All Golds 2008
Season-by-Season Breakdown
2004: 5 games, 0 tries
2005: 12 games, 9 tries
2006: 18 games, 10 tries
2007: 23 games, 10 tries
2008: 17 games, 16 tries
2009: 19 games, 13 tries
2010: 19 games, 20 tries
2011: 19 games, 12 tries
2012: 20 games, 12 tries
2013: 19 games, 16 tries
2014: 23 games, 17 tries
2015: 16 games, 11 tries
2016: 15 games, 6 tries
2017: 1 game, 0 tries
Career Total: 152 tries in 226 games