New footage has emerged of the moment a concrete house wall fell onto Kate Paterson's Pt Chevalier home, trapping her inside and rupturing her gas line.
Paterson uses a wheelchair and can only exit the house down the driveway. But the botched demolition of the neighbouring house on Wednesday night left her driveway strewn with concrete rubble and meant she could not leave the property.
Paterson's husband Aaron and sons Oscar, 11, and Ira, 8, were in their back garden filming as two excavators with claw grips worked to demolish the last section of the house next door on Moa Rd.
Their footage shows the claw of one of the excavators touching the final remaining wall, causing it to come crashing down across the Patersons' neighbouring wooden fence and driveway.
The decrepit house's chimney smashed through the wall of the Paterson's bungalow, leaving a gaping hole. The wall also nicked the gas line, sending gas hissing into the air, and took out the electricity.
In the video, shot by Paterson's son Oscar, neighbourhood kids can be heard screaming as the wall falls.
READ MORE
Pt Chevalier home demolition takes out a neighbouring house
Other neighbours can be heard egging the demolishers on.
"Do it, do it," says one man, before the wall comes down, followed by "That's f***ed your house Aaron."
Video supplied earlier to the Herald shows the excavator driver continuing to work while horrified neighbours yell at him to shut off his machine as gas starts hissing from the supply line.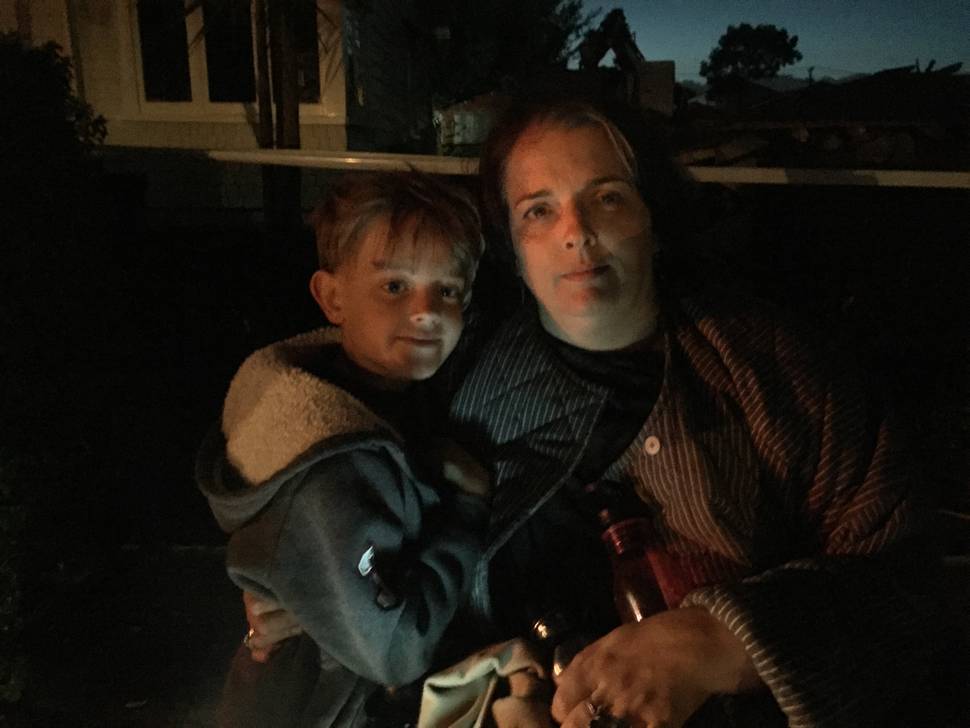 The Patersons have lived in the old wooden bungalow for 13 years and had it specially modified to make it wheelchair accessible.
Kate Paterson was trapped inside last night and had to wait for emergency workers to rescue her as the gas hissed from the broken line.
Work on site was shut down this morning by WorkSafe which has issued a non-disturbance notice.
Auckland Council today said it was investigating the demolition work. Worksafe NZ had also been notified and was leading an investigation into safety concerns.
A WorkSafe spokesman said there were two calls yesterday concerning asbestos contamination and unsafe demolition practice about the property. More complaints were received after the wall collapsed.