Westside director Aidee Walker, a friend of Jacinda Ardern, talks about working while pregnant and choosing when to return to work after having a baby.
1 - You directed this week and last week's episodes of Westside while seven months pregnant. What were the challenges?
I was in my second trimester so it wasn't a problem. I was a bit nervous about the 12-hour days. My ankles were starting to get a bit swollen by the end but everyone was lovely, getting me chairs. I think the pregnancy made me less stressed than usual, except for one stunt scene. I know the stunty really well from Outrageous Fortune where I did lots of stunts because Draska was always getting in fights. I knew he'd be fine because he does so much prep but for some reason I was just so worried.
2 - I heard the Prime Minister borrowed your Instagram pregnancy announcement — is that correct?
She did. I saw the idea done on a Spanish art Instagram page with a "family" of two big safety pins with a little safety pin. I thought that would be a cool way to announce my pregnancy instead of putting up the scan which some friends who don't want babies find really disturbing. Jacinda took the idea and did it with fish hooks instead, which is much more original. We don't get to see each other often but we managed to catch up before she had her baby. We mainly talked about breastfeeding.
3 - What do you think of the media coverage of her return to work?
I take my hat off to her because she's going to be judged whatever choices she makes as a parent. I've been talking to my mother friends about it and we feel like she's damned if she does and she's damned if she doesn't. I went back to work when my daughter was eight weeks old when I got an acting role unexpectedly. It's challenging but I'm not running a country.
4 - What are the challenges of going back to work with a young baby?
I really miss my daughter. My partner is away a lot working on films so when I was on set, my parents would bring her to me to feed at lunchtime. Being able to see your baby during the day makes a real difference. Since then most of my work has been scriptwriting, and my co-writers have been supportive of me taking breaks to express milk. Going back to work earlier you need flexibility and that "village" of support.
5 - You've named your daughter Te Awaroa. What's the significance of that name?
It means voice of the river or the long river. My partner Talor Wikohika is from Taupō and I'm from Hamilton so we're joined by the Waikato River. It was amazing because at my baby shower everyone was writing baby name suggestions. Talor's mum wrote two Māori names and one was Te Awaroa, even though she had no idea we'd already decided on it, so we thought that was a sign. Then his aunties told us it's the name of the river than ran through their grandparents' farm in Kawhia.
6 - Do you have Māori ancestry?
No but I've always been interested in te reo. As a kid, I was the little white girl in kapa haka. I did a year of te reo at Waikato University and recently started an online course with my partner. He grew up very connected to his whakapapa and tikanga Māori but doesn't have the language — thanks to colonisation. It only takes one generation to lose a language but it takes three generations to get it back, so we feel very strongly that our daughter needs to grow up with te reo.
7 - Growing up in Hamilton, did you always want to be an actor?
Hockey was my life. I was playing rep hockey and had athletics training four times a week. I remember my coach saying, "You need to choose or you'll never be good at anything." I thought, "I want to be in a band; its way cooler." So we started an all-girl band. I played drums and keys.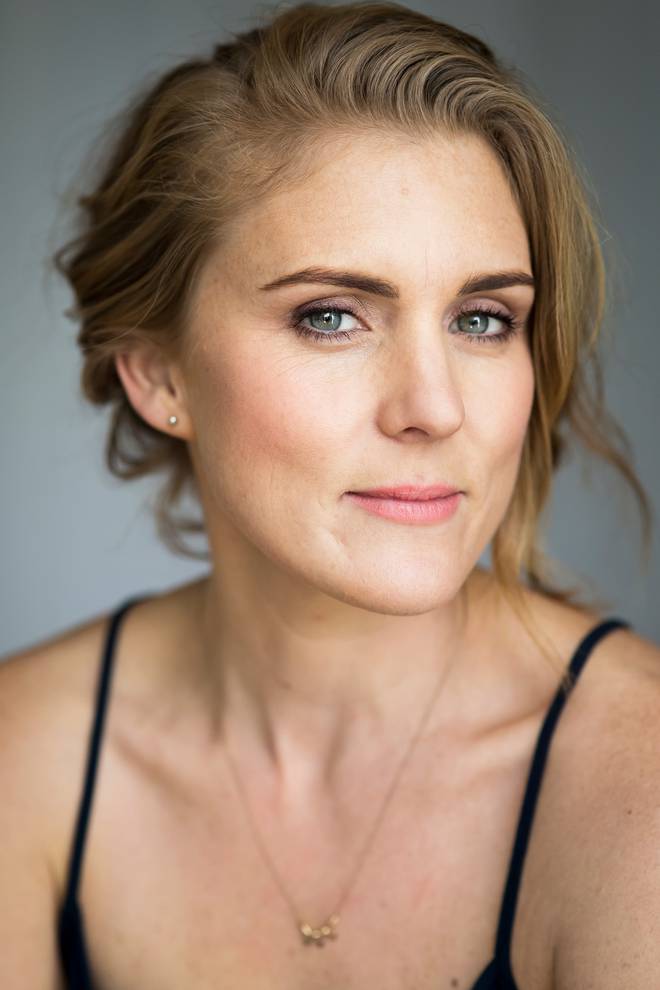 8 - Whatever happened to Handsome Geoffery?
We won the Smokefree Rockquest in seventh form and went on to compete in the Battle of the Bands at the Hillcrest Tavern. The Datsuns won but we got more publicity because our lead singer Anna Coddington got hit in the head by a flying jug. By our mid 20s the band came to a natural end; Anna was touring with Bic Runga and Anika Moa and I got a role on Outrageous Fortune. I'd love to take up drumming again so I can teach my daughter.
9 - Do you get recognised most often as your Outrageous Fortune character Draska Doslic?
I didn't at first because Outrageous was a slow burner. When I came home to shoot season six after a few years overseas it had blown up. I went to set up a KiwiSaver account and the bank teller said, "You look like that girl off Outrageous Fortune". I said, "I am" and she goes, "You don't look like her that much." Then it was just this really awkward, stilted conversation because she'd basically called me a liar. I got recognised in Huntly the other day so there are still fans out there. A whole new generation are coming to it from Westside.
10 - You recently appeared on screen in the telefeature In Dark Places. Were you already familiar with the Teina Pora story?
Yes, the guy who made it, Michael Bennett directed me in Outrageous Fortune. He was also instrumental in getting me to direct for the first time. I asked him for advice on a short film I'd written and he said, "You should direct this." There weren't that many female directors at the time and I wasn't sure I had the right skill set. He encouraged me to apply for funding and I just learnt it on the job. Around that time he was contacted by private investigator Tim McKinnel so he told me this incredible story right back then. I never thought I'd have a role in it, so it was really cool to be able to play lawyer Ingrid Squire.
11 - Did you get to meet Teina while on set?
No but my partner did. He works in the art department. I saw Michael the other day and he said that making that film with his wife and kids was the best thing that's ever happened to his family. They've been along that journey with Teina nearly as long as Tim McKinnel has.
12 - How did you make the leap from directing short films and music videos to prime-time drama?
Through the Directors Guild, I got an apprenticeship on Westside where I got to shadow Michael Hurst for two episodes. Two years later I was offered my own. Directing TV is a big step up when you're used to working on little or no budget. For last week's episode we had to recreate the 1983 Dire Straits concert with 83 extras. Luckily I had a very experienced assistant director.
• Westside is on Mondays at 8.30pm on Three and Three Now for catch up.
In Dark Places by Michael Bennett, published by Paul Little Books, RRP $34.99