Quack, quack, quack … If you were a kid in the 90s, those three words should bring back some happy memories.
In 1992 Disney released The Mighty Ducks, a family-friendly movie about a washed up hockey player who got busted for drink-driving and had to coach a kids hockey team as part of his community service.
The movie was such a hit that it spawned two sequels and led to the creation of an actual Mighty Ducks NHL team, reports news.com.au.
So what's happened to the stars of the Mighty Ducks trilogy in the 25 years since they first appeared on the big screen?
CHARLIE CONWAY
Joshua Jackson was one of the biggest stars of the 1990s thanks to his appearance in all three Mighty Ducks movies and his role as Pacey in Dawson's Creek.
Jackson, 40, used to date Dawson's Creek co-star, Katie Holmes, and later had a 10-year-long relationship with actress Diane Kruger.
The actor had a long-running role in TV show Fringe and currently stars in The Affair as Cole Lockhart.
And FYI he's totally on board for another Mighty Ducks movie, telling Us Weekly: "I feel like a fourth film should happen, and if there was space for any of the original kids to come back and have a role, I would be surprised that anybody didn't want to do it".
GOLDBERG
Shaun Weiss was rarely out of work in the 1990s starring as goalie Greg Goldberg in all three Mighty Ducks movies and appearing in a heck of a lot of TV shows.
The young actor had roles in Sabrina the Teenage Witch, Saved by the Bell: The New Class, Boy Meets World and Freaks and Geeks and The King of Queens just to name a few.
But as he grew older, his acting work dried up and his most notable role in the last 10 years was as a bus driver in Drillbit Taylor.
In the past couple of years, Weiss has made headlines for all the wrong reasons. He was sent to jail in July 2017 when he stole $151 worth of goods from an electronics store but only spent 12 days behind bars due to overcrowding.
A few days after being released he was busted with meth and was once again sent to prison for a short stint. And earlier this month the former child star, now 39, once again fell foul of the law and was arrested for public intoxication.
COACH GORDON BOMBAY
Emilio Estevez starred in iconic '80s films The Outsiders, The Breakfast Club and St. Elmo's Fire before winning over a whole legion of new fans in the 1990s for his role as Gordon Bombay.
In the 2000s he had a few minor TV roles including alongside his dad, Martin Sheen, in The West Wing and alongside his brother, Charlie Sheen, in Two and a Half Men.
He also wrote, directed and starred in the 2006 film Bobby about the assassination of Robert F. Kennedy which co-starred his former fiancee, Demi Moore.
Since then Estevez has gone on to direct and star in two films, 2010s The Way which co-stars Martin Sheen and 2018s The Public which co-stars Alec Baldwin and Taylor Schilling.
Oh, and quick a fun fact, according to Molly Ringwald, Estevez has no interest in catching up with his Breakfast Club co-stars these days.
"The only person I don't see is Emilio Estevez," she told Channel 7 in 2016. "He won't really have anything to do with (the film) … He's just like, 'That's the past, and that's not really what I want to do'."
ANDREW BANKS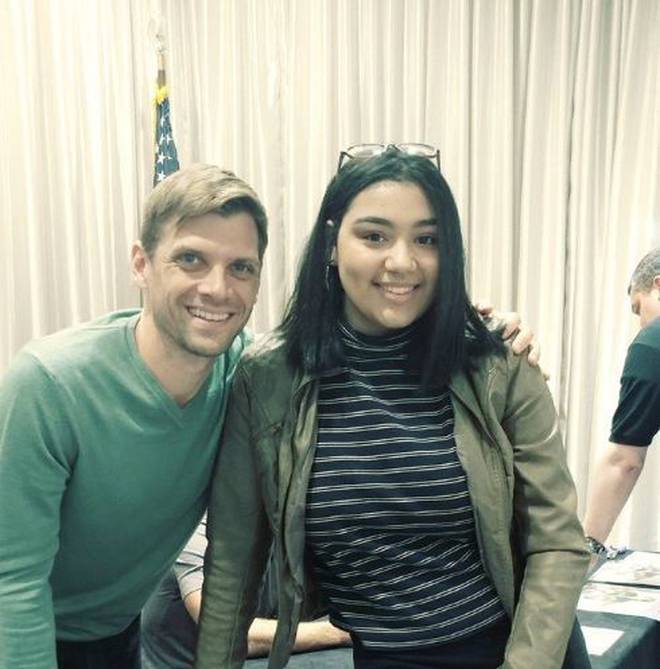 Vincent LaRusso landed the role of Andrew Banks after another actor got sacked for bad behaviour.
LaRusso was initially meant to have a minor role a rival Hawks player and told Time he'll never forget the day he landed the bigger role.
"Definitely a life-changing event," he said.
"I was cast along with two other Hawks: Larson and McGill … Then the young kid that they had hired to do Adam Banks, he was let go, and they asked me if I would audition while I was already there in Minneapolis, and so I did.
"It's really a very few memories of those ages but I remember that audition pretty clearly, and I got the part."
The former child star now works as an inventory controller for SoHo House, according to the Chive.
Just a couple of months ago he reunited with a few fellow Mighty Ducks stars for a fan event.
FULTON REED
Elden Henson played the heavy metal-loving Fulton Reed in all three Mighty Ducks movies. His brother, Garette Henson, also appeared in all three movies as Guy Germaine and was once injured on set.
"My younger brother … he got hit in the head with a puck and the helmet cracked and it cut his head open," Henson told The Iris. "So that was a bummer for him."
Henson had no idea how to skate before filming began but wasn't the only one who was a little dodgy on skates.
"I don't think most of us knew how to skate but we had hockey camps before each movie," he said. "They were like three, four, five weeks or something like that. We got good enough to fake it but it's not like we were doing all our own stuff (in the movie)."
Henson's had a steady acting career ever since the Mighty Ducks trilogy, appearing in The Butterfly Effect, Lords of Dogtown and The Hunger Games: Mockingjay Parts 1 and 2.
He's currently starring as Foggy Nelson in Netflix's Daredevil.
Seeing as you've read this far, it's only fair to reward you with a few extra fun facts about The Mighty Ducks.
The movie wasn't originally going to be so innocent: "The draft I wrote in that apartment was much darker," writer Steve Brill told Time magazine.
"It wasn't a Disney movie. There weren't murders or anything, but there was some adult romance. And a lot of hockey — that was always the key thing.
"As far as dark humour, there was always that DUI at the beginning, and I don't think it would hold up right now in a Disney movie. Then in the movie there are sort of having-sex-with-your-mother jokes in there and flatulence jokes, and guys are getting hit in the nuts."
The director, Pete Berg, originally wanted to play the role of Coach Gordon Bombay: "I was sort of starting out as an actor, and the plan was originally that I was going to star in it," Berg said.
"We went in there and Steve (Brill) said, 'Here's my man.' And the financiers kind of looked at me and then looked at Steve and were like, 'Yeah. No, he's not your man, Steve.'
"So, Emilio Estevez was the man, and, you know, the rest is history."
Filming in freezing cold Minnesota proved challenging for the cast: "We were in the midst of filming the scene where there's a kiss between Emilio Estevez and Heidi Kling, who plays Josh's mum, in 55 degrees below zero in St. Paul," producer Jordan Kerner said.
"And when they kissed, their lips stuck together. We had to get makeup to grab warm water and put droplets on their lips so they could actually separate."