Every cloud has a silver lining if you believe the age-old adage, and that's the underlying premise in Finding Your Feet when "Lady" Sandra Abbot, deftly portrayed by Imelda Staunton, finds out that her husband of 40 years has been having a five-year fling with her best friend.
His infidelity, which she exposes during a party to celebrate their retirement, ignites a chain reaction which sees Staunton's character flee her palatial, suburban haven and seek refuge with her estranged, older sister Bif (Celia Imrie), who lives in a cramped council flat, in London.
"Not only is she heartbroken but she's utterly humiliated too because she only finds out what's been going on at a party, in front of all their friends," explains Staunton, shaking her head in dismay. "It's such a huge betrayal, especially as she's always been the dutiful wife who's stayed at home and supported him completely."
Imrie adds: "What's sad is she's given up everything for him and for not much reward. She's also forced to leave their house, for her [own] sanity. But then what's she supposed to do? It's awful. I imagine a lot of people, who have found themselves in that position, will relate to her plight."
Moving in with her serial-dating, free-spirited sister proves an eye-opener for the stick-in-the-mud, set-in-her-ways, middle-class Sandra. But slowly she starts to shake off her shackles and underlying snobbery - with a little help from her sibling.
"She needs to be persuaded by her sister - and be shown how - to have a life rather than a lifestyle," suggests Staunton. "She needs to open up and be with people who feel carefree. But carefree isn't something she can do – at first – because she's deeply unhappy and closed-minded, confined by her own need to be living the life she thinks she needs and wants."
But that all changes when Imrie coaxes Staunton out of her cocooned stupor and drags her, kicking and screaming, to a local, community dance class. Soon she's gliding effortlessly around the dance floor, having rekindled her childhood passion for dancing.
"Getting it to look so effortless wasn't easy," reveals Staunton, laughing. "It was long, hard, sweaty rehearsals! But it was worth every single minute of it, because doing those dances was gorgeous; it lets your spirit soar!"
"I think the dancing is like an extra present in this film," Imrie enthuses. "Not only do you have a marvellous story and wonderful characters but then you've got these great dance routines, which act like a catalyst to bring out the joy of the film and remind you to live your life to the full.
"That was something that I really noticed with the dance troupe in the film," she adds.
"Some of the men, in particular, were well into their 70s but the moment they started dancing their faces just lit-up with boyish grins! It was really moving seeing that transformation and the way they came to life."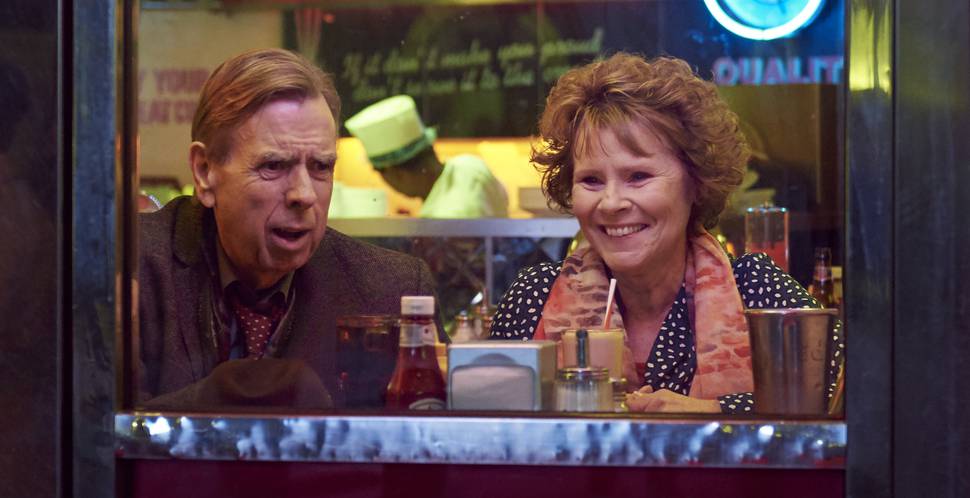 It's equally moving watching Sandra's transformation from subjugation to liberation and the way she comes to life on her heart-warming quest for happiness and love in Finding Your Feet. There are plenty of laughs along the way too, as well as tears, hope, loss, joy and sorrow which make it a feel-good, bittersweet treat.
It's also a film that highlights just how Hollywood's obsession with youth and perfection is misguided, with Finding Your Feet yet another example, like The Best Exotic Marigold Hotel, Calendar Girls, Three Billboards Outside Ebbing, Missouri and Film Stars Don't Die in Liverpool, that films featuring older women can be enlightening, entertaining, powerful and poignant.
"I agree; I think things are changing for the better because of the films you've mentioned," acknowledges Staunton. "There are now more scripts, with interesting roles for over 50s and 60s out there. That's really encouraging because, if you're my age, you don't just want to play the woman who's making tea, in the background. No, you want to be the woman whose story is being told, like this film where the two main protagonists are women. That's definitely happening now, which can only be a good thing."
LOWDOWN:
Who: Celia Imrie and Imelda Staunton
What: Finding Your Feet
When: In cinemas next Thursday