Jack Sparrow is back - and he's dirtier than ever.
The first full trailer for Pirates of the Caribbean 5 debuted during the Super Bowl yesterday, and it shows the CGI boating spectacle is definitely upping the anti.
Subtitled Dead Men Tell No Tales, the trailer teases some big changes: it's about ghost pirates this time, not zombie ones, as Jack Sparrow is pursued by the vengeful Captain Salazar, played by Javier Bardem.
With Salazar seeking to kill every pirate at sea, Sparrow has to stop him by finding the Trident of Poseidon, which gives the holder total control of the oceans.
Sparrow will be joined by other returning faces in Hector Barbosa (Geoffrey Rush) and Will Turner (Orlando Bloom), who returns to the franchise after a one-film absence.
READ MORE:
• Judge finalises divorce of Johnny Depp, Amber Heard
• Johnny Depp spends $2.7m a month being Johnny Depp
Newcomers include British actress Kaya Scoladerio, a wannabe academic and astronomer seeking the Trident as well, and Australian actor Brenton Thwaites as Henry, who is trying to break a curse that prevents him from seeing his father.
The trailer is thin on plot, but reveals similar levels of CGI that have been a regular within this franchise, including ghost pirates running on water and a giant chasm opening up in the middle of the ocean.
There will also be plenty of boats magically rising up out of the sea, and boats getting destroyed by other boats.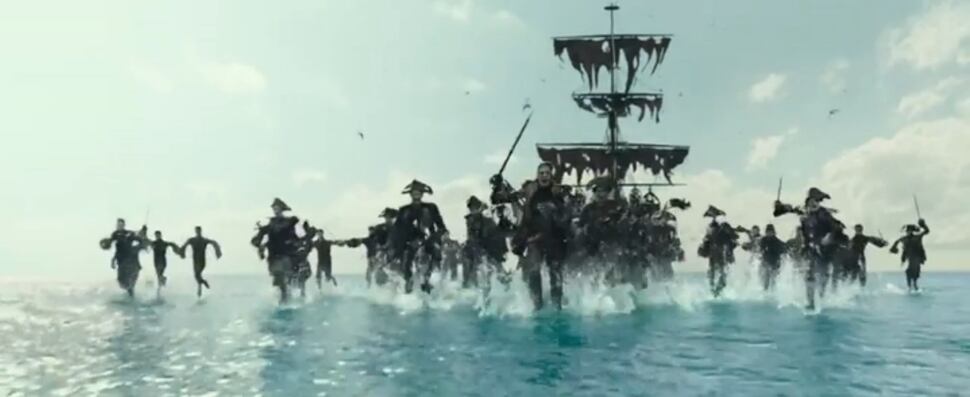 Notably, Johnny Depp is saved only for a brief appearance at the end of the trailer, which raises questions as to how involved he will be in the film's marketing.
Depp has not had a great run at the box office recently, with movies such as Transcendence, Mortdecai and Alice Through the Looking Glass bombing at the box office.
He also was accused last year by his ex-wife Amber Heard of domestic abuse, claims that have not been disproven or disputed.
Pirates is notable for being the catalyst behind the 'Pistol and Boo' saga. While filming the movie in Australia, Depp had his dogs illegally brought in, leading to an Australian minister threatening to have them killed.
Dead Men Tell No Tales is set for release on May 25.