To us humble outside observers/members of the plebeian masses, popstar Katy Perry and former elf Orlando Bloom always seemed like a bit of an odd couple...albeit one that we were quite happy to emotionally invest in.
Both stars were previously married: British-born Bloom, a 39-year-old father of one, separated from ex-wife Miranda Kerr in 2013, while 31-year-old Perry, the daughter of two born-again Californian Christians, endured an acrimonious split from her former husband Russell Brand in 2012.
After first blossoming (blooming?) in the January of this year, Bloom and Perry's relationship was marked by futile early attempts at secrecy, and by a very un-secret August 2016 incident, involving a paddle-boat, a privacy breach, and a problematically-placed paparazzi snapper.
As reports emerge that the pair have now ended their romance, we take a look at their 10-month history.
January 10 2016: did it all begin at the Golden Globes after party?
Bloom and Perry were friends for several years before they became a couple, but it looks as if their relationship (hashtag #Perrybloom) began in the January of this year, after they were pictured "getting close" at the Golden Globes after party in January.
Did Orlando kiss a girl? Did he like it? Was the girl in question Katy Perry? Was she wearing cherry chap stick? We don't know the answer to any of these questions. But we do know that, in the weeks following their rumoured Golden Globes tryst, the pair were spotted together again several times...
January 21 2016: attended a play together
One of these occasions was at an LA performance of the one-man play The Absolute Brightness of Leonard Pelkey, starring James Lecesne.
Afterwards, Lecesne posted a picture of himself backstage, alongside Perry and Bloom (as well as actress Vinessa Shaw and her partner Kristopher Gifford).
February 12 2016: spotted at an Adele concert
Perry may well have spent "last Friday night" dancing on table tops/taking too many shots/kissing unmemorable people, but on Friday February 12 2016, she was very definitely attending an Adele concert with Bloom.
A blurry video of the pair smooching was later shared with the press, while a fellow concert-goer told the Mail Online: "They seemed to just be enjoying the show as they sung and danced along with some of their other friends."
New relationships can of course be distracting, but Adele fans will be relieved to hear that it sounds as if Bloom and Perry remained suitably focused throughout.
"At certain points Orlando would give Katy a peck on the lips but then would just carry on enjoying Rolling In The Deep," explained the source.
Afterwards, the couple were snapped leaving via a back entrance, apparently in a (not very successful) attempt to keep things secret.
April 2016: pictured arm-in-arm at Coachella
By the time April rolled around, Perrybloom had apparently abandoned secrecy, allowing themselves to be pictured together as a couple at the Coachella music festival in California, land of Daisy Dukes, bikinis on top and and sun-kissed skin.
The weather was hot, popsicles may or may not have been melted, and fellow festival-goers reported that the couple had been openly indulging in some PDA.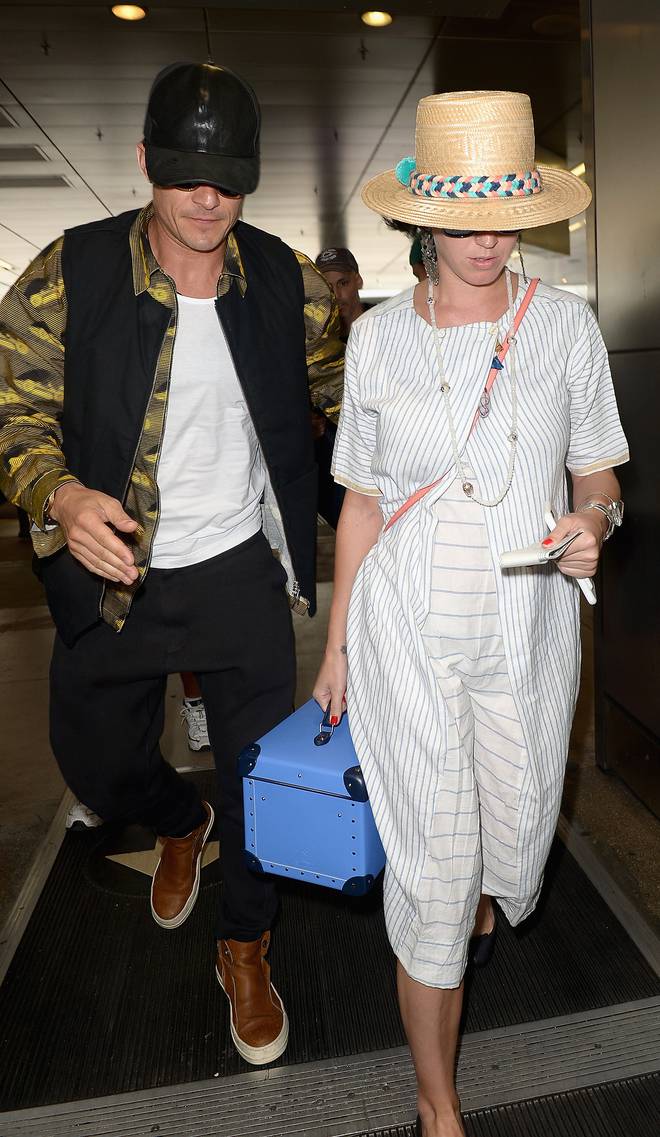 Even more romantically, they may even have been vaping together.
"They came in about 20 minutes in to The Kills set," a witness told E! News. "They were hugging and with a group of other people. Orlando was behind her and swaying with her to the music. They also were vaping together. They were kissing and very much a couple."
May 2 2016: snapped at the Costume Institute Benefit Gala
We're a little disappointed: hair and makeup-wise, Perry apparently put in a lot more effort then Bloom when the pair attended the the Costume Institute Benefit Gala at the Metropolitan Museum of Art in New York back in May.
The couple walked the red carpet separately, but were pictured together at various after parties, and later shared a taxi back to their hotel.
May 20 2016: Katy makes it Instagram Official
In an bid to come clean (and stop coming at us like a dark horse?), on May 20 Perry shared a picture of herself and Bloom at the Cannes Film Festival.
August 2016: those photos emerge
During a holiday to Italy, Bloom decided to strip off while paddle-boarding with Perry.
Unfortunately, an opportunistic photographer was lurking somewhere on the shore, long-lense camera in hand...and nude pictures of Bloom (albeit with a strategically placed black rectangle) were soon splashed across several tabloids.
September 5: Perry complains about the 'long distance' aspect of the relationship
"My boyfriend lives in Malibu, and getting used to that [drive] was like, 'Are you kidding me? What kind of life is this?'" Los Angeles-based Perry told Women's Wear Daily.
"There's no pop-over and I never really got used to Malibu 'cause it's halfway to Santa Barbara, so I'm always just going to Santa Barbara then."
October 2016: Perrybloom attend a Halloween party dressed as Clinton and Trump
Anyone else feeling nostalgic for the innocent days of October, when we still believed that Hilary Clinton would win the US presidential election?
And when Bloom and Perry (who campaigned for Clinton and performed at several Democrat rallies) decided to dress up as the Presidential hopeful and her rival for Kate Hudson's Halloween party?
To achieve the impressive disguise, Perry reportedly spent hours having makeup and prosthetics applied.
While fans initially believed that Bloom had dressed up as Clinton's husband, Bill, closer shots later revealed that he was in fact dressed as Trump (seen standing behind Perry in the picture above), and that a different friend had donned the Bill disguise.
November 22 2016: reported split
While their split is yet to be confirmed, in November 2016 it was reported that Perry and Bloom had separated after just 10 months together.
"Not long after Halloween, Orlando confessed to pals that he'd decided to end their relationship," a source told In Touch Weekly. "He claimed that he's just not ready to get married and have babies."
But a separate source indicated that Bloom was most likely not "the one that got away", and that Perry may have instigated the split.
"She said they were on different life paths and as much as she likes him, it's time to move on," claimed the unnamed "insider".