Angelina Jolie told Brad Pitt about her plans to file for divorce over the weekend, just days after the actor was allegedly abusive with one of their children on a private flight back from their French estate.
The couple and their six children were returning from Chateau Miraval last Wednesday when, according to TMZ, Pitt allegedly got "verbally abusive and physical with his children" while he was "wasted".
Jolie listed the next day, September 15, as the couple's date of separation, and over the weekend told Pitt that she would be filing divorce papers, despite him begging her to wait.
"She sat down, talked to Brad and offered to file [for divorce] together," a source close to the actress told People.
"She said, 'This is what I'd like to'. She explained everything. Angelina did what she felt she needed to do."
On Monday, she had her high-powered attorney Laura Wasser file the papers in Los Angeles.
On Thursday morning, a police car was seen arriving at the Jolie-Pitt compound in the Hollywood Hills, were Pitt is believed to be staying while Jolie and the children are at a Malibu rental home.
The FBI is investigating the incident because it happened on an international flight.
TMZ reported: "The plane landed a week ago Wednesday just before 8PM at an airport in Minnesota. That's when eyewitnesses say Brad was 'out of control' on the tarmac and even tried to leave in a fuel truck.
"Our LAPD sources say because the incident occurred in the air, the FBI has jurisdiction. The ACU then closed its file and referred the matter to the FBI."
The LA County Department of Children and Family Services meanwhile told KTLA reporter and anchor Wendy Burch there is an investigation into child abuse claims.
However a spokesman told DailyMail.com they have strict laws that don't allow them to confirm or deny the subjects of investigations.
Pitt and Jolie are said to have been interviewed as part of the probe, and there are plans for authorities to speak to the children.
Access Hollywood reported on Thursday that the six children are now with their mother at a rental house in Malibu where they are being home schooled.
Jolie wants the children to have a relationship with Pitt according to the entertainment news program, but does not want him having any visitation at this time.
She is also seeking sole physical custody of the children.
Over the weekend, the couple's three biological children - 10-year-old Shiloh and 8-year-old twins Knox and Vivienne - were seen at a Los Angeles park playing with Jolie's brother James Haven.
A source close to the couple told DailyMail.com earlier this week that Jolie rented the home in Malibu just before she filed for divorce without Pitt's knowledge, and moving trucks were photographed on Wednesday arriving at the couple's Hollywood Hills compound.
Prior to this, Pitt had been in counselling, trying to do everything he could to repair the couple's marriage according to one source close to the actor.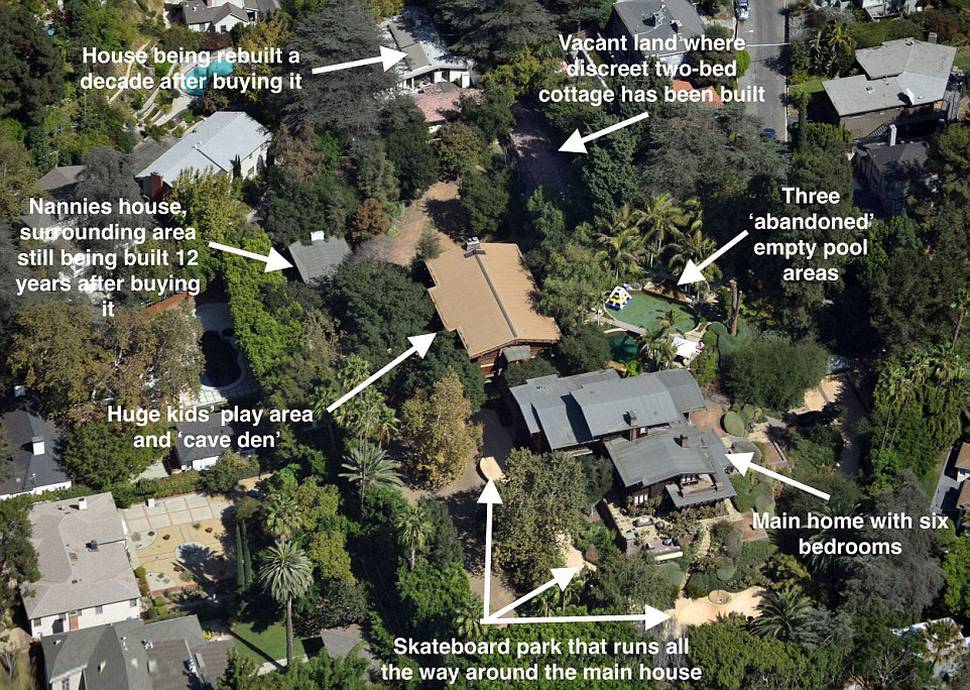 "He was willing to do anything, change any habit, change any lifestyle, to do what had to be done to make this work," the source told People.
"And by 'make this work', that means doing what had to be done to make even a split one that is amicable and in the best interest of the children."
That all seemed to change though after the incident on the family's private plane last week which was called in by an anonymous source.
A source close to Pitt told TMZ: "He takes the matter very seriously and says he did not commit any abuse of his children.
"It's unfortunate that people involved are continuing to present him in the worst possible light."
Both Pitt and Jolie have said little in the past few days, but those close to the couple have stressed how much they care for one another.
"Brad still cares for Angelina very much and respects her as the mother of his children," a source told DailyMail.com earlier this week.
"But after the rhetoric that has been put out over the past 24 hours about his drinking and doing drugs, along with the completely untrue rumours about him having an affair with his co-star Marion Cotillard, he is hoping to be able to turn the volume down."
The source then added that while people close to Jolie have been going after Pitt in the press, he is making sure that his friends and colleagues say nothing negative about his estranged wife.
"People close to him specifically avoided criticising her while trying to stay positive in defending him at Brad's request," explained the source.
And while the divorce did not come as a surprise to Pitt, he was thrown off by the time according to those close to the actor.
"He was appealing to her to do this quietly - not to save the marriage but to consider the well-being of the children - and it was ignored," a source close to the actor told People.
The source added: "There was clearly a breaking point, where she'd just had enough. He may have been broken himself and said he couldn't go on, and she reacted. This has been difficult for a while."
A source close to Jolie meanwhile said: "Things built and built over time - it wasn't any one thing.
"She's loved this man for several years, and [divorce] is not something you do impulsively."
That source said that in the end Jolie did "what she needed to do".
The Jolie source added however: "They have six kids together and are always going to be in each other's lives."
Jolie did not respond to a request for comment while a spokesperson for Pitt reiterated the actor's statement from earlier in the week in which he said: "I am very saddened by this, but what matters most now is the well being of our kids. I kindly ask the press to give them the space they deserve during this challenging time."
Both sides have been animate that there was no extramarital affair and that both are committed to their children, despite false reports that Pitt had engaged in a relationship with his Allied costar Marion Cotillard.
On Wednesday, Cotillard revealed that she is pregnant with her second child and vehemently denied having an affair with Pitt.
Cotillard, 40, wrote a lengthy Instagram message to make the announcement and to dispel rumors on Wednesday before confirming that her partner of eight years Guillaume Canet is the father of her unborn child.
"This is going to be my first and only reaction to the whirlwind news that broke 24 hours ago and that I was swept up into," the actress said in her post.
"I am not used to commenting on things like this nor taking them seriously," she continued, "but as this situation is spiraling and affecting people I love, I have to speak up."
She concluded her message by wishing Brad and Angelina Jolie well.
"Finally, I do very much wish that Angelina and Brad, both whom I deeply respect, will find peace in this very tumultuous moment. With all my love, Marion."
Her well wishes come despite a source telling DailyMail.com that Jolie was so jealous of Cotillard on the Allied set that she would not even speak to the French star.
Angelina completely ignored Marion on the set, and when Marion tried to talk to her she just looked the other way," said the source, who is close to both Jolie and Pitt.
"Marion was devastated, here she is thinking she is going to meet this great UN ambassador and instead Angelina refuses to speak to the woman because of her own jealousy."
Jolie filed for divorce from Pitt on Monday for "the health of her family", two years after they wed at their French estate Chateau Miraval.
The actress filed papers citing irreconcilable differences as the reason for the split and asked for physical custody of the couple's three biological children as well as their three adopted children - Maddox, 15, Pax, 12, and 11-year-old Zahara.
The couple have been together for 12 years and married in 2014 at their French estate.
This will be the third divorce for Jolie, who was previously married to Elementary star Johnny Lee Miller for three years after the pair met on the set of the film Hackers.
She later wed Billy Bob Thornton just two months after the pair began dating when they met on the set of Pushing Tin.
Thornton had been engaged to actress Laura Dern at the time.
Pitt's first marriage to Aniston ended in 2005, with rumors swirling at the time that it was because of his relationship with Jolie.
Now, friends say Aniston sees the impending divorce of Pitt and his second wife as "karma" for what happened to her 11 years ago.
An insider told Us Weekly, that Aniston commented on Tuesday after the split was revealed: "Yeah, that's karma for you!"
The actress, 47, "admittedly feels sort of satisfied about Brad and Angelina's split", according to the insider.
Prior to that Pitt was engaged to Gwyneth Paltrow and dated actress Juliette Lewis for three years in the early 1990s, despite being a decade older than the then teenager.
The final days of Brangelina
SEPT. 14:
The entire Pitt-Jolie family land in Minnesota on trip home from France just before 8pm, where Brad is reportedly seen 'wasted' and yelling on the tarmac, at one point trying to drive off in a fuel truck. The plane then continues on to Los Angeles with Pitt back on-board, and soon after landing an individual contacts the L.A. County Dept. of Children and Family Service to anonymously report that Pitt was 'verbally abusive and physical' with the children on the flight.
SEPT. 15: The official separation date listed by Jolie on divorce documents.
SEPT. 15 - 18: Jolie goes behind Pitt's back and rents a home in Malibu before filing divorce papers a source close to the couple tells DailyMail.com.
SEPT. 17 - 18: Jolie sits Pitt down and tells him she plans to file for divorce. He begs her to wait and promises to undergo more counselling.
SEPT. 18: Jolie's brother is seen watching the couple's biological children - 10-year-old Shiloh and 8-year-old twins Knox and Vivienne - at a Los Angeles park.
SEPT. 19: Jolie files for divorce in a Los Angeles court, citing irreconcilable differences.
SEPT. 20: News of the divorce breaks, along with false reports that Pitt's Allied costar Marion Cotillard had an affair with the actor, which caused the split. Both Jolie and Pitt say in statements that their children are their primary concern at this time and ask for privacy.
SEPT. 21: Cotillard releases a statement on Instagram saying that she has never had any sort of relationship with Pitt while also confirming rumors that she and her actor partner Guillaume Canet are expecting their second child.
SEPT. 21: Moving vans are seen coming and going from the Pitt-Jolie compound in the Hollywood Hills.
SEPT. 22: News breaks that Pitt is being investigated by the FBI and the LA County Department of Children and Family Services.
SEPT. 22: Police are seen arriving at the Pitt-Jolie compound, where Pitt is believed to be staying alone.