For the first time since Bobbi Kristina Brown's death last July her fiancé Nick Gordon is describing in detail what happened in the crucial hours before she was discovered face down and unresponsive in the bathtub of their shared home in Roswell, Georgia.
In an emotional and wide-ranging interview with Daily Mail Gordon has laid bare the true extent of the couple's drug use.
He has spoken of Bobbi Kristina's torment over her father Bobby Brown's "abandonment" of her and her mother, Whitney Houston; told how she self-harmed; revealed her depression over two miscarriages and admitted his own sense of failure that he could not stop the downward spiral of addiction into which they both descended in the months leading up to the fatal incident on January 31 last year.
Strikingly he has claimed that Bobbi Kristina almost drowned in a bathtub once before - falling into a drunken sleep only to be rescued by her mother.
According to Gordon it happened the night before Whitney died in the very same way.
Speaking exclusively to Daily Mail Online Gordon, 26, says: "I blame myself for not getting to Krissy quick enough that day.
"I can't blame myself for another addict's addiction but I feel like I failed her. She didn't make it. I wish she got help.
"I wish she got my spot [in rehab]. I did not protect her the way that I was supposed to - even if it was from herself."
Gordon, who went into rehab following an intervention by Dr. Phil McGraw last year, return to the show in his first TV interview since his rehab on Thursday and Friday.
Bobbi Kristina, known as Krissy, was 22 years old when she was declared dead on July 26, 2015, six months after being placed in a medically induced coma. She had "global and irreversible" brain damage.
Gordon's actions in the early hours of that January morning have been the subject of intense scrutiny, suspicion, and allegation ever since.
Bobbi Kristina's autopsy listed cause of death as "undetermined," but Gordon is still facing a civil suit brought by Bedelia Hargreaves, Bobbi Kristina's conservator.
It alleges he stole from Bobbi Kristina, violently abused her and, on the night in question, "injected her with a toxic cocktail" of drugs before placing her in the tub.
In her deposition as part of that suit, house guest Daniella Bradley described a vicious argument between Gordon and Bobbi Kristina during which he punched and kicked her to the ground before dragging her upstairs by her hair.
Bradley claimed that he then came into her room, lay on the bottom of her bed and said; "Now I want a little white girl like you."
Bobbi Kristina's father, Bobby Brown, has openly stated, "We believe we know who harmed Bobbi Kristina Brown and his name is Nick Gordon."
Today Gordon vehemently denies any wrongdoing, dismissed the civil suit as "bull***t" and given his own account of what happened.
He says: "I went out with a couple of buddies of mine earlier that day and we were out having a good time. Krissy thought I was with some other females and that's when she got upset. She called and said I had to come home."
Gordon claimed it was around four in the morning when he finally did and that when he arrived back home Bobbi Kristina was already clearly "messed up."
He adds: "I saw a couple of bottles of wine. I thought she had just been drinking, maybe smoked a little. She was upset, we got into a little argument and then we made up and went upstairs and lay on the bed for about 45 minutes and did what adults do."
He conceded that Bradley's version was "half true," admitting that he then went and lay on the bottom of her bed but that he never said anything about "wanting a little white girl".
"I don't know why she said that," he says. "She's said a lot of things that aren't true."
Instead, he reveals: "I went downstairs to go and play PS4 real quick and she [Bobbi Kristina] got up and was doing her own thing. She was getting up and getting dressed."
There were four people in the house at that point - Bobbi Kristina, Gordon, Bradley and friend Max Lomas.
Gordon's timeline is hazy but, at around 10am, he explains: "The Xfinity [cable] guy came and had to do a bunch of stuff in the house and I had my friend Max walk round with him because he had to change all the boxes and I wanted to make sure he's not stealing anything or taking pictures.
"So he [Max] walked him into my room to show him the box in there.
"He knocked on the door and didn't hear a call from Krissy. He knocked on the bathroom and still didn't hear a call from Krissy and that's when he found her in the bathtub. Then he calls my name."
Pausing Gordon apologises: "I'm sorry this is hard. I knew instantly something was wrong. You know there's a tone; you can hear it in someone's voice.
"I ran to my room and then I saw my girl on the floor. It was so traumatizing. I dropped to my knees and kept giving her chest compressions and blowing into her mouth."
There was a moment of relief, he tells, when Bobbi Kristina spat up some water. "I thought she was going to come round but that never happened."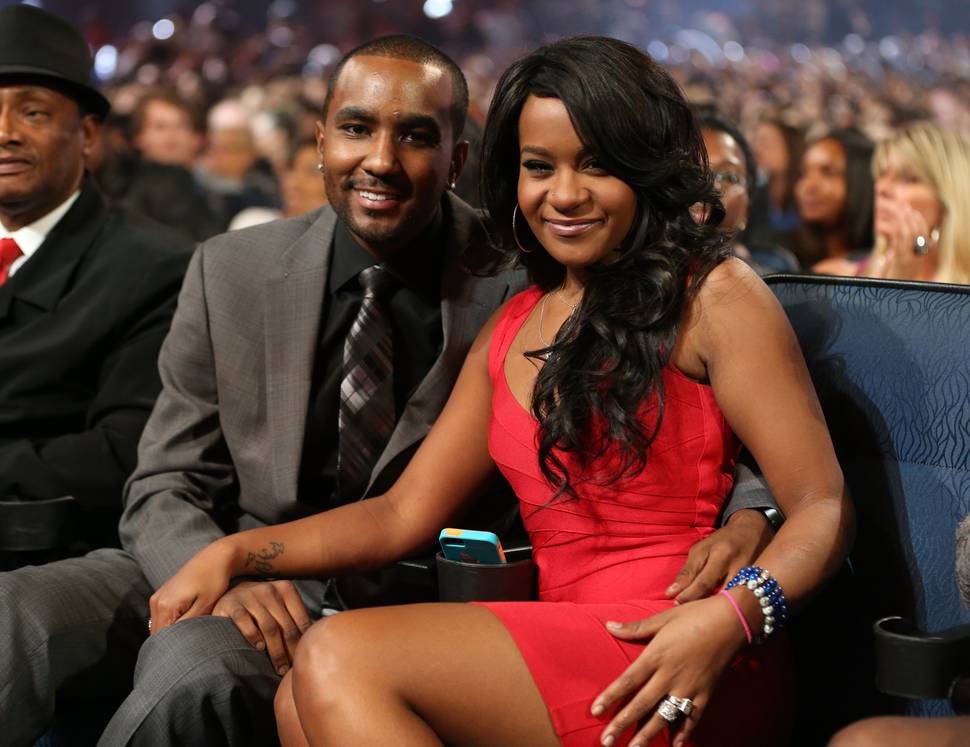 For Gordon, history was repeating itself in the most hideous fashion. He says: "It was a nightmare all over again. It was the worst thing."
In a bizarre twist of fate Gordon had been there at the Beverly Hills Hilton back in February 2012 when Whitney Houston drowned in the bathtub. She was later found to have cocaine in her system.
On that night Gordon heard screams coming down the hotel corridor and ran to Houston's room to see her, lying on the floor, her lips blue.
He has previously said that he tried giving her CPR but that it was too late.
Houston's family have issued a denial of this and stated that the police report shows that he did no such thing.
Today Gordon has amended his account slightly, stating, "I shouldn't have said CPR. I tried a couple of chest compressions but I knew in my heart she was gone."
For Bobbi Kristina, Gordon says, it was the beginning of a descent into drug use that spiraled out of all control. For him it was the end of a relationship that has long perplexed observers.
He explains: "Nippy [as Whitney was known to family and friends] was like a mom to me. Momma Dukes. Losing her was terrible."
Gordon was 17 years old and Bobbi Kristina 14 when Whitney invited him to move into their home in Georgia.
He was a junior in high school but stopped going after he moved in, as did Bobbi Kristina who began being tutored at home.
Bobbi Kristina introduced her mother to her friend Gordon one day when she was dropping her daughter at school, he explains: "It was like, 'Oh there's my friend Nick.'"
"Whitney took my cell number so she could call and check up on Krissy and it evolved from there."
Gordon can't really account for the extent to which he was adopted into the Houston household other than to suggest that both Whitney and Bobbi Kristina were reeling from Bobby Brown's departure that same year and that he was a man they felt they could trust.
He says: "They talked about it all the time and they were upset about it all the time. It affected them both in a really negative way."
He moved in with Whitney and Bobbi Kristina when his own mother and then stepfather decided to move back to Florida, where Gordon now lives, and he didn't want to leave Atlanta.
Looking back he believes that there was always an attraction there for Bobbi Kristina, though he regarded himself as a sort of sibling.
But then, after Whitney died, he reveals: "It was just me and Krissy. I feel that it was like we felt we only had each other after Nip had passed away and we were with each other all the time and it went from there."
The shift in relationship was not something with which Bobbi Kristina's family was comfortable. Gordon adds: "I was really close with Whitney and Krissy; maybe it was jealousy that caused that [ill-feeling].
"It got to the point where I was making decisions for Whitney for a while. I got really close to them and the family didn't like it.
"Plus I came from welfare, they're like 'How did this kid on welfare become...you know, get to here'?"
Addressing the allegations that he was in it for financial gain Gordon says: "I never had to steal. It was given to me. I was asked if I wanted it. I'm not the guy the media portrays."
Gordon says he never saw Houston do drugs and never saw mother and daughter do drugs together as has been claimed.
He admitted that Bobbi Kristina would "smoke a little marijuana" while her mother was alive.
He even revealed that she nearly drowned in the bathtub once before when she fell into a drunken sleep with the water still running.
He says: "It was in the Beverly Hills Hilton and the water overflowed out into the hallway.
"Whitney found her, pulled her out and slept in her bed that night."
Chillingly, he says, Whitney died in the same way the very next night.
Her death was the catalyst for a disastrous change in Bobbi Kristina's drug use.
He tells Daily Mail Online: "After her mom had passed she would use drugs to numb the pain she was feeling."
"She started taking pain pills and Xanax and self-harming. You could see the scars on her arms," he says.
Bobbi Kristina's family has blamed Gordon for her struggle with addiction. But, he says, "She had problems long before I came on the scene.
"I think that family [the Houstons] has a lot of guilt of not being in her life enough. And you know it's funny, I hardly saw any of these Browns before and all of a sudden they come out of nowhere.
"They weren't in Krissy's life and I strongly believe they're looking for somebody to blame but guess what? I'm not filling the role of being the blame guy."
In fact, Gordon portrays himself as one of the few men Bobbi Kristina could trust. He says: "We did everything together. We were inseparable.
"We nearly got married one time. We went to the courthouse but the line was too long and we had a family reunion to get to in Florida. I said, 'Baby we got to hit the road.' I wish I had just waited that 30 minutes and done it."
But despite the fact that they were not legally married Gordon and Bobbi Kristina claimed publicly that they were.
It's what Bobbi Kristina wanted, Gordon explains. And though he would like to have people believe that he gave Bobbi Kristina no reason to feel insecure or jealous he admits: "She wanted to tell people we were married. She probably would have figured I had something to hide if I was like 'No let's not do that'.
"She had a lot of men let her down and run out on her."
In the month before the bathtub incident Gordon admitted he saw "a really bad decline" in Bobbi Kristina.
Cops were called to the Rosewell house on several occasions by neighbors reporting disturbances and fights.
The last time was January 23, 2015 when they found no evidence of any fight. Gordon dismissed the visits as nothing more than neighbors complaining about loud music.
On January 27 Bobbi Kristina was involved in a car wreck that badly injured the other driver when she switched lanes unexpectedly at a reckless speed.
Her court appearance was pending when she admitted to hospital four days later.
Gordon says: "The drug use was becoming more and more and we were already using a lot. People started suggesting rehab but she was resistant, addicts are always resistant. She was mixing drugs."
According to Gordon, Bobbi Kristina hadn't cut herself for "about eight months" before she was found in the bathtub.
But she was often depressed. He reveals: "We had a couple of miscarriages. We would have loved to have a kid but we weren't planning on it yet and she was just such a young fragile person it took a toll on her."
But he rejects any suggestion that Bobbi Kristina might have intended to take her own life with an overdose.
He says: "We wanted to get clean, settle down, get married, have kids."
It was not to be. Instead as Bobbi Kristina lay in a coma Gordon found himself shut out by her family - banned first from her bedside and ultimately from her graveside.
He lashed out against Bobby Brown on twitter on many occasions.
He says: "I wasn't in the right state of mind but I don't regret the tweets I did about Bobby. I would do stuff differently now but the fact that Bobby didn't let me into the funeral? No. He knows I didn't do anything wrong and that still affects me today.
"I had a very, very, very hard time accepting that because Krissy, and her mom, would have wanted me there."
Gordon visited Bobbi Kristina's grave for the first time last August and plans to return soon.
Following an intervention initiated by Dr. Phil McGraw last year Gordon checked into rehab and today claims to be clean and sober and proud of how far he has come.
He plans to go to college to study business with a dream of opening a gym.
He tells Daily Mail Online: "I'm starting to feel like a new man and I feel like it's about time for things to be cleared up. I can't live under this [suspicion]. I was quiet for long enough.
"I can't move on from Krissy. She's got a super special place in my heart. I don't want to move on from that.
"I think she's with me every day. She's here, right now. I speak to her all the time. I have to. It keeps me sane."
Reflecting on Whitney and Bobbi Kristina's litany of tragedy Gordon admits: 'I think we all let each other down because we were all doing the same thing.
"I didn't bring drugs into the house for them. That was for me, and [Whitney and Krissy] got their own stuff, but we let each other down. It's not just me. I'm just the only one here able to tell the story."