Artist takes inspiration from McCahon, but his works are more controlled
Epics are not often described as charming but the long series of Indian miniatures at the Auckland Art Gallery telling The Story of Rama are absolutely delightful.
The works come to us from the National Museum in New Delhi, with more than 100 by various artists from the 17th to the 19th centuries. Collectively they tell the story of the demi-god Rama, the son of a king and the seventh incarnation of the Hindu god Vishnu. Throughout the series he is always painted in blue as a sign of virtue, honour and strength.
The small paintings have exquisite detail of garments, trees, flowers and birds. The conventions for figures are different from Western styles. The faces are mainly in profile, adorned with paint and hung with jewellery. Everything is painted with finely considered delicate touches. Rama is depicted as having a benevolent, smiling strength.
In the story, which sometimes recalls Western epics like the Odyssey, Rama bends a bow no one else can yield. He shoots an arrow through the trunks of seven trees. The story involves Rama rescuing his wife, Sita, from the 10-headed, 20-armed demon king Ravana.
One striking feature is the part played by the Monkey General, Hanuman, who, with his dangerous tail and his army of monkeys, is instrumental in freeing Sita from the realm of the demon.
Great apes are also to be found in the exhibition across the road at the Gow Langsford Gallery. The work is by Lisa Roet, an Australian artist who concentrates her sculpture on depicting primates, their expressions and details of their bodies. The artist has done many years of observation in zoos and field studies of the interface between apes and humans.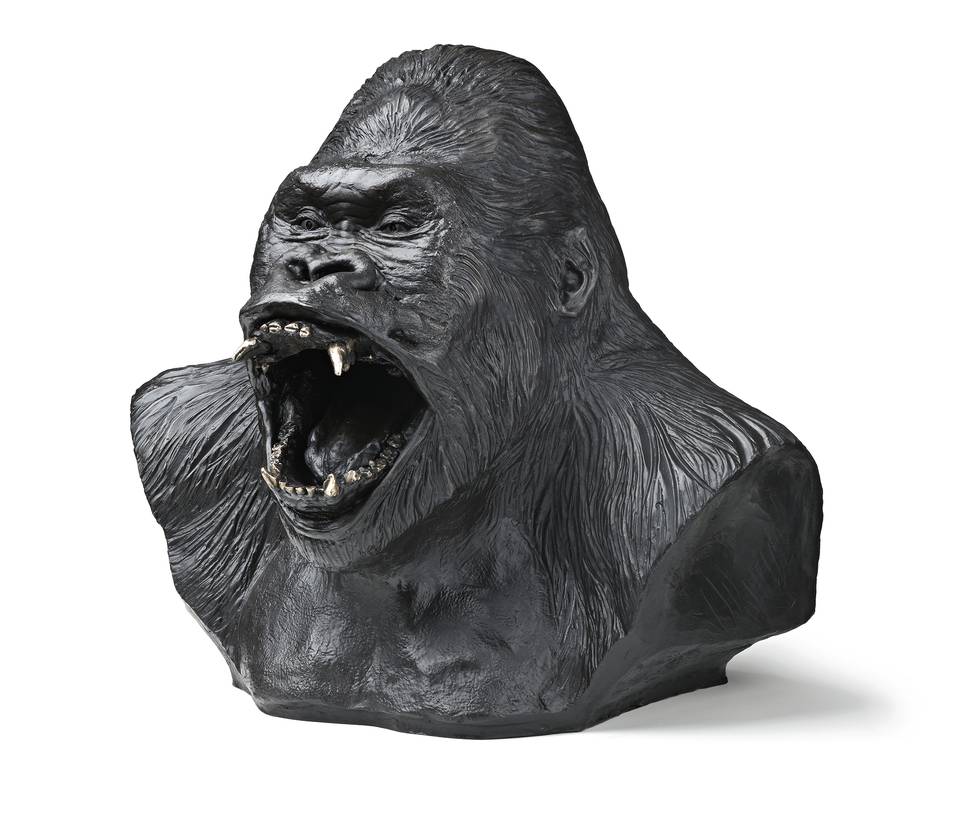 The first piece is a giant finger carved in a superbly veined black and white marble. This monumental work looks human at first but the depth of the folds and the fatness of the pads of the finger give it strangeness that is not quite human. The most confrontational work is a large bust of a gorilla with mouth wide open showing powerful teeth plated in gold.
The title of this work is Bokito, when I laugh, he laughs with me, referring to a gorilla in the Rotterdam Zoo who responded to a female visitor who often laughed at him by also apparently laughing. The relationship ended when he leapt out of his enclosure and pursued her until tranquillised. The impressive bust is modelled with accuracy but the expression is ambiguous. Is his fierce mouth open in a snarl or a laugh? His small eyes certainly appear to glitter with mirth.
Other works carved in marble or cast in bronze show the physiognomy of apes with their individuality defined by the shape of mouths and jaws and their expressions which range from pensive, Marble Chimp Bust No 4, to forthright, Marble Chimp Bust No 5, and other variants. They are not humanised but appear to have counterparts to human responses but the possibility of miscommunication is always present.
It is an exhibition with profound implications carried through with outstanding knowledge and skills.
Ambiguities of a quite different kind, this time expressed in vigorous painterly strokes, are the material of works by Scott McFarlane, called Maps and Flags at Whitespace.
The work is filled with historical references in a visionary world painted mainly in quick flourishes of brown along with some sharp detail. The title work has a wide horizon with a sailing ship approaching the land. On the shore sits a figure characterised by a leg with an 18th century shoe. He holds an early map of New Zealand. Above the rocky shore, spirit heads hover menacingly.
The foreground is occupied by a number of shapes, including a horse that was a surprising beast to the Maori when introduced by the first settlers. The painting does not illustrate any first landing but captures the forces at work in the decisive moment when cultures cross the beach.
Other works are more simple but equally mysterious and forceful. The Apostles of Freedom shows four dark figures and creates a potent Goya-esque atmosphere of conspiracy and dread.
In the same gallery, the muted and mysterious situations of McFarlane's sombre paintings are a contrast with the open satire and invention of Lauren Lysaght's show, Big Deal. Her satire is expressed with found objects. In one work they are stiff, starched shirt collars mounted on black, gold-studded plinths. Similar studs adorn a gloved hand that holds a tiny open suitcase spouting a fall of largesse in Golden Handshake. The wit is clear and clever.
Animals with emotions are part of Observer State by Michael Harrison at Ivan Anthony. His works are pale blue dreams with symbols of emotional states embodied in animals, usually cats. Their lithe bodies express love, desire or jealousy.
What is going on in their heads is indicated by symbols as simple as hearts, and the overall effect is delicately touching.
At the galleries
What:
The Story of Rama: Indian Miniatures from the National Museum, New Delhi
Where and when:
Auckland Art Gallery, Kitchener St, to January 17
TJ says:
More than 100 rare Indian miniature paintings of great delicacy and charm tell the epic story of the demi-god Rama and his struggle to regain his wife.
What: Bound Communication and Stories of Love by Lisa Roet
Where and when: Gow Langsford Gallery, 1 Kitchener St, to November 7
TJ says: Unsentimental, hugely knowledgeable investigation into the interface between apes and humans in bronze and marble sculpture.
What: Maps and Flags by Scott McFarlane; Big Deal by Lauren Lysaght
Where and when: Whitespace Gallery, 12 Crummer Rd, Ponsonby, to November 7
TJ says: Dark visions and deft brushwork mark the work of one artist and bright satire with found objects the other.
What: Observer State by Michael Harrison
Where and when: Ivan Anthony Gallery, 312c Karangahape Rd, to November 14
TJ says: The dreams of cats, dogs and people, with the artist's
special visionary manner of soft colour and open design.