Herald journalists have been in small town New Zealand to talk to voters about their hopes, fears and dreams. Each day we visit a town beginning with one of the letters H, E, A, R and T. Today, Isaac Davison visits Eketahuna.
Eketahuna is used to being the butt of the joke.
The town's name means to "run aground on a sandbank" because Maori canoes could go no further up the Makakahi River. But it is better known as a byword for small-town New Zealand, a funny-sounding name which stands for the middle-of-nowhere.
"Some people think it's not actually real, that it's New Zealand's Timbuktu," says Corinna Carew, who works at Eketahuna's library and service centre.
Originally from Cornwall, England, Carew and her husband arrived here 11 years ago. They wanted to start again in the most distant place possible, and after some googling they ended up in the small rural settlement in the shadow of the Tararua Ranges.
"Our immigration officer said 'What the hell are you going to do there?'" she says.
"But we liked the name. And we liked the people - they'll talk to you. It's a fluid town, some people feel isolated and job opportunities in Eketahuna are not always huge. People have to travel out. But it's got a good, core base."
Eketahuna's population is falling, but only slowly. At last count it had 444 living in the town and about 1500 in the broader region. It has lost its two banks, some of its schools and its Post Office.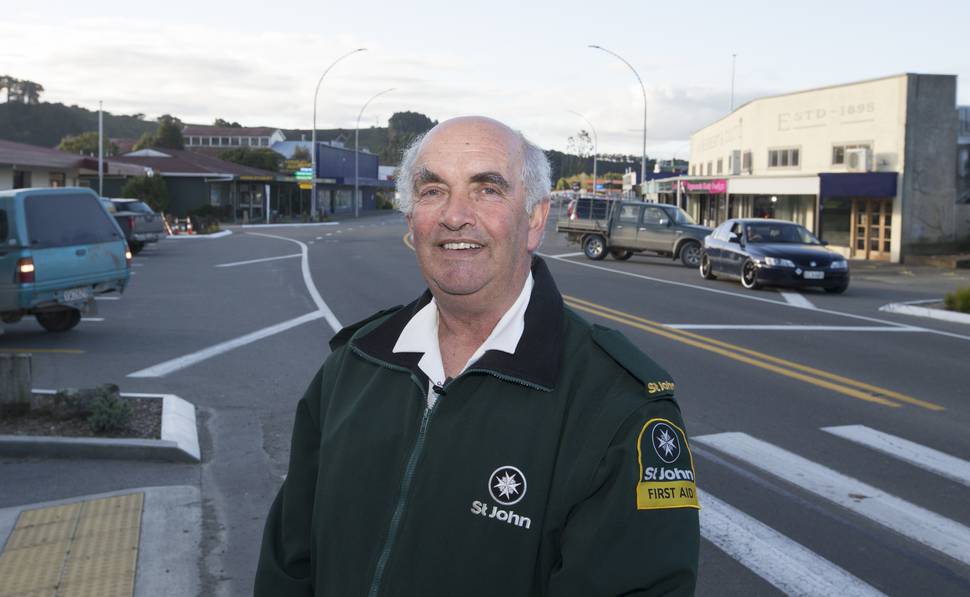 But it has a resilient, entrepreneurial streak, says community board chairman Charlie Death, a resident of 70 years. When the only petrol station burned down, the residents raised $200,000 in two days for a new one.
"Simply awesome," Death says, pumping both his fists in the air. "People just come out of the woodwork. That's community spirit. That's Eketahuna."
Residents also propped up the Four Square supermarket to make sure they could still buy groceries without driving to Pahiatua or Masterton. A Tararua District Council makeover has helped to spruce up the 100-metre main drag. A modern war memorial and a big sculpture of a kiwi have been installed to get tourists to stop and spend in one of the four cafes or the gift shop.
For all the community's initiative and independent spirit, there is some resentment about central government neglect. Underfunding of transport and healthcare are the most common grumbles.
A train line runs through the township but have been no passenger services for 30 years. Its only user is the Eketahuna Express, a steam train which makes occasional trips from Palmerston North.
"They're talking about putting rail between Auckland and Tauranga," Carew says. "But we need so many opportunities down here with the [Manawatu] gorge closing and stuff. We don't have any way to get around. We have one bus a day and it goes at the wrong time. That's the sort of thing that allows people to have jobs or not."
"Eketahuna's a big joke anyway," she says, half-sarcastically. "We don't expect to be high on the list of things to be done."
Farming is Eketahuna's lifeblood. When the dairy price is up, the money flows through the district.
Steve and Pip Olds own a 121ha property 10km north of the township where they farm Angus cattle, red deer, and sheep. They don't get cellphone reception and their broadband connection is relayed through two other properties. These gradual technological advances mean Eketahuna is not as isolated as it seems, Steve says. And that gives him a bit of hope.
"I think the world's getting smaller. We sell a lot of our meat throughout the country. And that's done sitting here on our laptop, in the middle of nowhere. So I think there are opportunities for our kids to grow businesses and develop in this area."
His farm sells meat directly to customers' doors, which he says is important because it makes a human connection between the farm and urban consumers. It is designed to counter what he sees as a slowly-forming divide between country and city folk in New Zealand.
"I don't know any farmers that don't farm sustainably," he says. "We farm generationally. We bought this land and the long-term goal is that it is going to be better when we hand it over to our kids. I don't think people in the city appreciate that farmers don't own the land - they look after it to hand it to the next generation."
A prime example of the urban-rural divide is the Labour Party's proposed tax on freshwater, he says.
"I'm picking that Auckland Council is the biggest user of water in New Zealand. Are they going to be charged and push the rates up? Or is it farmer that's trying to provide food for the people that live in Auckland?
"And that's what's annoying. Because the 400,000 that are going to be affected are providing food for the ones sitting in their office that can't feed their families."
Loreen Cunningham left Masterton for Eketahuna 11 years ago because she and her husband family wanted a slice of land at a cheap price. A 4000sq m section here costs about $35,000.
The cheap land has also attracted property speculators from Auckland who have looked further afield for new investments.
"There's one guy from Auckland, he owns three houses." Cunningham says. "And they're so cold, real old houses. They come once a year, to see how they're going. That's not good, not to me."
Cunningham manages the Eketahuna camping ground - a pretty spot surrounded by pines which block out the noise of traffic from State Highway 2. She also does a morning shift at the op shop, where she sees some of the town's rougher side.
"There's not a lot of money around here," she says. "If you look at some of the housing, walked up the streets, they haven't got anything, some of the young ones. I suppose that's why they come here, because the rent is cheap.
"The farmers are doing alright. But a lot of the young people are unemployed, on a benefit. That's why we're busy in the op shop - because they can afford it."
Eketahuna hasn't had a GP for 30 years and the closest hospital is nearly an hour away at Palmerston North - a trip complicated by the indefinite closure of the Manawatu Gorge Road because of landslips.
When its last GP retired, the community set up the first nurse-led health clinic in the country. The clinic gets some state funding, but has to cover the rest of its costs through grants.
Adrienne Dempsey, chairwoman of the committee which runs the health centre, arrived in Eketahuna on a whim. Originally from Christchurch, she got a job as an audit manager in Palmerston North and her parents lived in Masterton.
"So I closed my eyes and thought where's halfway between those two and it happened to be Eketahuna. So we bought a little lifestyle block just out of town, four and a half acres.
"When you get home, this light switch flicks on and you just breath a sigh of relief coming to Eketahuna and you think 'I'm home'. It's quiet, it's peaceful, and everyone knows each other."
Dempsey says the health centre used to deal mostly with elderly people. But the nurses are noticing more people in their 50s coming in for chronic health conditions like diabetes and heart disease.
"Over the years, our expenses have increased," she says. "And like most DHBs the funding is tight."
She is investigating the possibility of video-conferencing to allow patients to talk to doctors in the cities.
"When your back's against the wall - and I lived through the Christchurch earthquakes - you come up with some of the best solutions."
Like other residents, Dempsey talks about the disconnect between Wellington and the regions.
"Whoever wins the election, the sky is not going to fall. But Jacinda Ardern, bless her cotton socks, I think she wants to be the Prime Minister of Auckland.
"It's all very to talk about fast rail links and public transport. We have neither in Eketahuna.
"What they're talking about has no relevancy for us. They keep saying Auckland is the economic boom town of the country, well I don't see that."