South America Giant tortoises, grunts, or blue-footed boobys - Lydia Jenkin doesn't quite know which Galapagos curiosity to look at first.
There are few places left in the world where you can come within half a metre of a giant tortoise, where you can be sprayed by a sea lion shaking off salt water, where you might be brushed by the wing tips of a magnificent frigatebird, or stare into the eyes of an iguana, all within their natural habitat - no fences, or enclosures of any kind.
The Galapagos Islands offer all that and more, because its impressive array of creatures, great and small, see humans as a friendly species. They're occasionally curious, but mostly indifferent rather than wary. And of course they're also some of the most fascinating animals in the world, due to their unusual evolutionary paths on these very isolated islands off the coast of South America.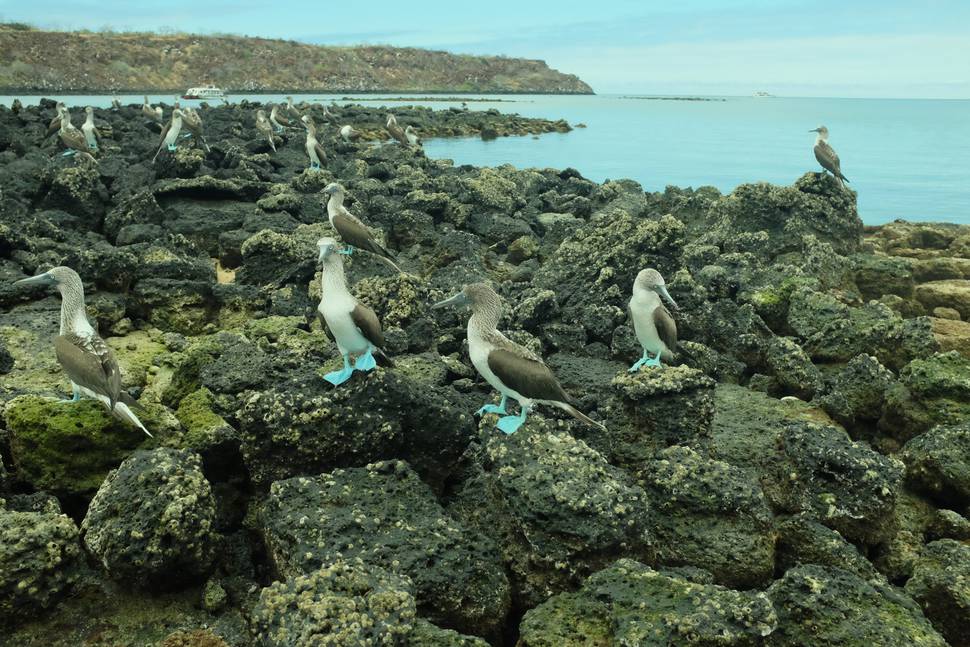 The Galapagos Islands are the stuff of dreams for many ecologically interested travellers: the place where Darwin got the first inkling of how evolution works; the place where animals ended up by accident, having drifted there on the Humbolt Current after these volcanic islands exploded from the earth's core; the place where birds and reptiles and insects all somehow made a home for themselves, despite the sometimes-harsh climate. And when you step off the plane, your first thought might well be "How on Earth does anything survive here?"
The small islet on which you land, known as Baltra, seems pretty much barren - flat red and brown earth, a few scrubby, almost dead-looking trees, heat and wind. And a fair portion of the volcanic islands in the archipelago look the same. They certainly evoke the idea of molten rock simply bubbling up from the sea and solidifying.
But over centuries some of the larger ones have managed to shelter plant seeds and saplings enough to grow small-scale jungles -- some parts are positively lush. And in truth it's the ocean surrounding these islands that make them so habitable, teeming with life and creating a certain amount of isolation that has left them (relatively) predator-free.
Of course the relationship between these islands and any human population has always been fraught, but since the 1970s, under Ecuadorian governance, considerable effort has been put into achieving a delicate balance between a resident population (around 30,000 now), tourists, and of course the wild life.
A variety of regulations limit visitor numbers on most of the islands: there are only 116 visitor sites in the Galapagos - 54 land sites and 62 scuba-diving or snorkelling sites; small groups only are allowed to visit, in 2-4 hour shifts, to limit impact on the area, and all groups are accompanied by licensed guides. Plus, 97 per cent of the islands remain uninhabited and classified as a national park, which is fairly remarkable, and a big part of what makes the archipelago so attractive - it has a true sense of wilderness, despite its popularity with tourists.
You only have to visit a few spots to witness the harmony with which people and animals combine their lives. One morning we're walking past a small open-air, fresh fish stall, and a whole family of sea lions and large brown pelicans seem to be lounging around, trying to get under the feet of the locals running the stall to nab any scraps that might be tossed their way. Everyone seems fairly nonplussed by the situation though, happy to share the space.
Later we see a distinctive marine iguana sunning itself on the rocks next to a boat ramp, completely uninterested in the maritime comings and goings, far more preoccupied with warming itself enough to dive back in the water in search of more food.
When you visit the Galapagos, your main question will be whether to find accommodation on an island, or on board a boat. There are pros and cons to both, of course, but staying on land and doing boat day trips gave us the best of both worlds, partly because we were lucky enough to stay at the boutique Pikaia Lodge.
It's one of the newest developments in the Galapagos, and it perfectly blends environmentally conscious principles (the place is powered by solar panels, wind turbines, and water is gathered from the 17,000sq m roof) with wonderful comfort and tranquillity. It's on one of the higher peaks in the islands (at 450m), set next to a giant tortoise reserve towards the southeastern side of Santa Cruz, where roughly 3000 tortoises settle in the cooler months.
The views are stunning, and make you feel like you've arrived at the edge of the world.
Swimming in the pool as the warm rain gently falls and the dusk settles feels like the height of peaceful luxury. It's like being comfortingly suspended between earth and sky.
It's hard to describe the feeling that washes over you at the lodge, as you realise how far away the rest of the world is.
It's beautiful to be able to see so far, and know that the only thing you're likely to glimpse among all the blue and green and earth tones is a giant tortoise, or perhaps one of the islands many famed finches, or a tiny frog, like the one I encounter in the stairwell as I'm heading up to my (beautifully appointed) room one evening.
He's ever so cute, and very shy, hopping away as soon as a I crouch for a better look.
Whether you can see bright blue skies and sunshine, or the whole place is shrouded in mist, there's a sense of quiet and space that's quite intoxicating.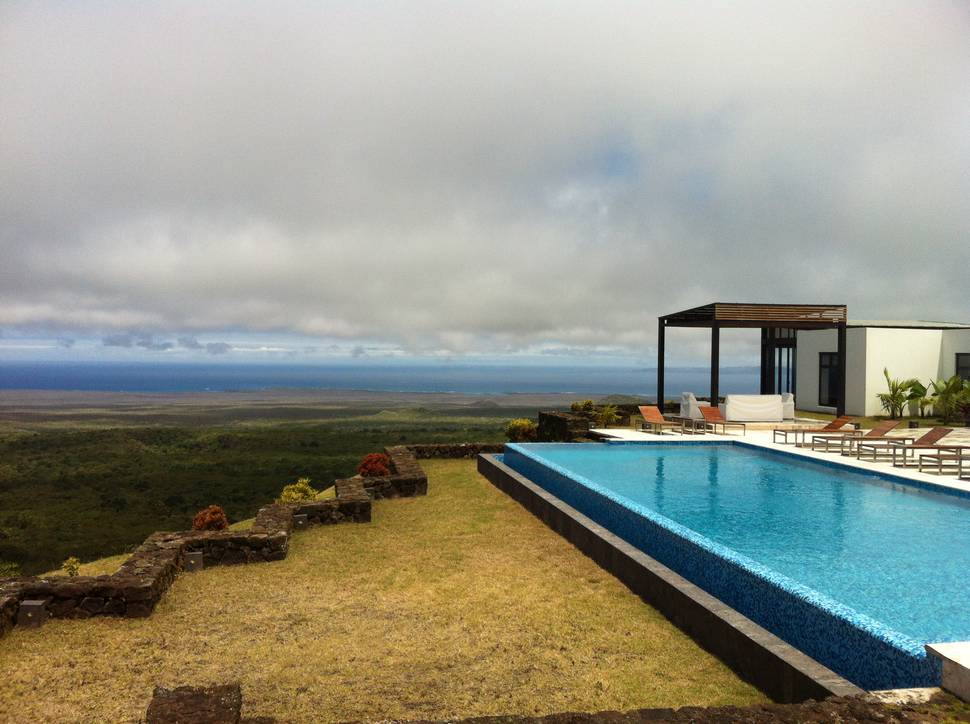 And the overall philosophy of well-being only adds to that, with a menu designed around fresh local food cooked by Ecuadorian and Peruvian chefs, a selection of in-house spa treatments (with more amazing views) and an emphasis on getting guests out and about to explore the islands.
We spend one memorable day out on a large launch, first heading to North Seymour Island, an uninhabited slab of rocks, sand, scraggy trees and cactus, which is barely2sq km, but home to one of the largest populations of blue-footed boobies and magnificent frigatebirds, as well as swallow-tailed gulls and tropicbirds.
There's also a growing colony of land iguanas, and plenty of seals and sea lions, many of whom come to greet you as you hop from the Zodiac on to rocky steps, and clamber ashore.
It's remarkable to see nesting birds up so close, and to observe their behaviour. The blue-footed boobies are especially entertaining with their funny little dancing feet and mating manoeuvres, and the frigatebirds with their red balloon chests and huge black wings are truly magnificent, if a little spooky.
Later we headed to Las Bachas, a beautiful white-sand beach on the northern side of Santa Cruz, home to nesting sea turtles, a lagoon that is a favourite flamingo spot, marine iguanas, and of course many fish and birds.
It's a perfect spot for snorkellers of all levels, with hospitably warm water and hordes of parrotfish, angelfish and oddly named grunts to check out. I was happily paddling around, having just caught a glimpse of a sea-turtle swimming away, when a large brown pelican dove into the water only inches from my head. It was quite the surprise, being almost dive-bombed in the water, but good to know we weren't disturbing their daily lunch-time routine.
Another day we drive down to the Charles Darwin Research Station, a hub of conservation, education, collaboration and, of course, research.
They work on a huge variety of projects that aim to preserve the integrity of the islands' ecosystems, protect them from introduced flora and fauna, and understand the particular nature of the creatures who have made their home here.
They also operate a giant tortoise breeding programme, which is slowly helping to bring these amazing reptiles back from the brink of extinction, and it's here we meet Super Diego, a young 130-year-old tortoise who has fathered more than 1000 babies - and he's still chasing the ladies.
Then we head further inland, gaining altitude, to check out these ancient beasts in their natural habitat - roaming fields, munching grass, bathing in watery mud, and generally hanging out. They're equal parts amusing and impressive, with their slightly clumsy limbs and total disregard for getting in anyone's way, plopping themselves down wherever they please, even occasionally in the middle of a dirt road (locals are very accommodating drivers).
We also visit lava caves and sink holes, both of which are a vivid reminder of how these fascinating, surreal islands got here in the first place.
It's hard to keep it all in perspective when you're there, your senses somewhat overwhelmed by all the sights, and all the information to take in.
But reflecting on it later, a visit to the Galapagos gives you a whole new perspective on the forces of our planet, and the way all these elements fit together so beautifully and harmoniously, if only we can minimise our impact and tread lightly on the earth.
Checklist
GETTING THERE
LAN Airlines operates seven non-stop flights each week from Auckland to Santiago, Chile, with connections to Ecuador's Galapagos Islands. Economy fares start from $1775.69. lan.com
DETAILS
Abercrombie and Kent offers an 11-day "Sail the Enchanted Isles" tour to the Galapagos Islands. Prices start from $14,873 twin-share.
abercrombiekent.com.au