It was no doubt a well-worn joke, but Gareth Evans was a good sport about it.
Just before Evans moved from his job leading Qantas' international airline to become head of Jetstar, his boss Alan Joyce introduced him to a group of journalists as the man who would soon have a large collection of ties going spare.
Evans was at Boeing's Everett manufacturing plant near Seattle as part of a mission to pick up Qantas' first Dreamliner, heavy on premium seats and top-shelf product, and the trip was one of his last jobs for the full-service airline.
As head of low-cost Jetstar since November, the tie's come off and he's even grown a beard.
The more casual dress code, introduced by Qantas Group chief executive Joyce back when he was Jetstar's first boss, neatly suits the culture.
Since taking the top at Jetstar, Evans has done a lot of travelling around its Australasian and Asian operations, where the airline has carried more than 250 million passengers since it was set up in 2003 by Qantas, one of the world's oldest airlines, formed in 1920.
''One is not better than the other; they're just different," says Evans. "And one thing I certainly want to do in this role is preserve that.
''I've seen a lot of examples along the way of where Jetstar needs to learn from Qantas and many examples of where Qantas needs to learn from Jetstar.''
For Evans, the posting to Jetstar, wholly owned by Qantas, was another move in the rotation which is part of the Qantas executive culture. It has given him what he describes as deep insight into all parts of the business. He joined Qantas in 1999, served in an array of operational areas and as chief financial officer at the time the airline implemented its $2 billion transformation programme to staunch deep losses.
Jetstar has been operating in New Zealand since 2005, initially flying transtasman before starting domestic jet flights in 2009 and regional turbo-prop services six years after that.
One of Evans' first moves at Jetstar — which periodically gets roasted for its service lapses — was to appoint a chief customer officer.
''There was a customer development area executive at a lower level of the organisation who had some responsibilities. But I think it's important in the lifecycle of the airline that we put that completely front and centre,'' he says.
While many businesses talk about putting customers at the centre, Jetstar needed to ''walk the walk'' with that.
During the airline's short history, says Evans, there have been a pile of procedures drawn up and more than 700 commercial policies.
''I think we just need to make sure that we can simplify, streamline and be clear and transparent to the customer about what it is we offer — and communicating to the customer in easy to understand and easy to access ways.''
Will the customer service get better?
''We're working on it, we're going to work on all aspects of the business. New Zealand has made significant strides in improving the reliability of the operation. We now have on-time performance in this market which is on par with Air New Zealand.''
He says that is a ''phenomenal achievement'' from an airline with a small fleet of eight A320s and five Bombardier Q300 aircraft.
''We are what we are — a value-based airline, an unbundled airline. We've just got to be clear to the customer about what it is that they are purchasing and what they can purchase as additional products and services.''
Customer satisfaction scores had improved but there were always things that could be done better.
At Jetstar, Evans took over from Jayne Hrydlicka, who was to have headed the Qantas loyalty programme but instead quit the group to lead New Zealand founded company a2 Milk.
Jetstar has an estimated 20 per cent of the New Zealand domestic market and it doesn't have any immediate plans to expand here.
Evans says the next big opportunity for expansion will be when the airline gets new Airbus A321NEOs around the middle of 2020. Its A320s are relatively young.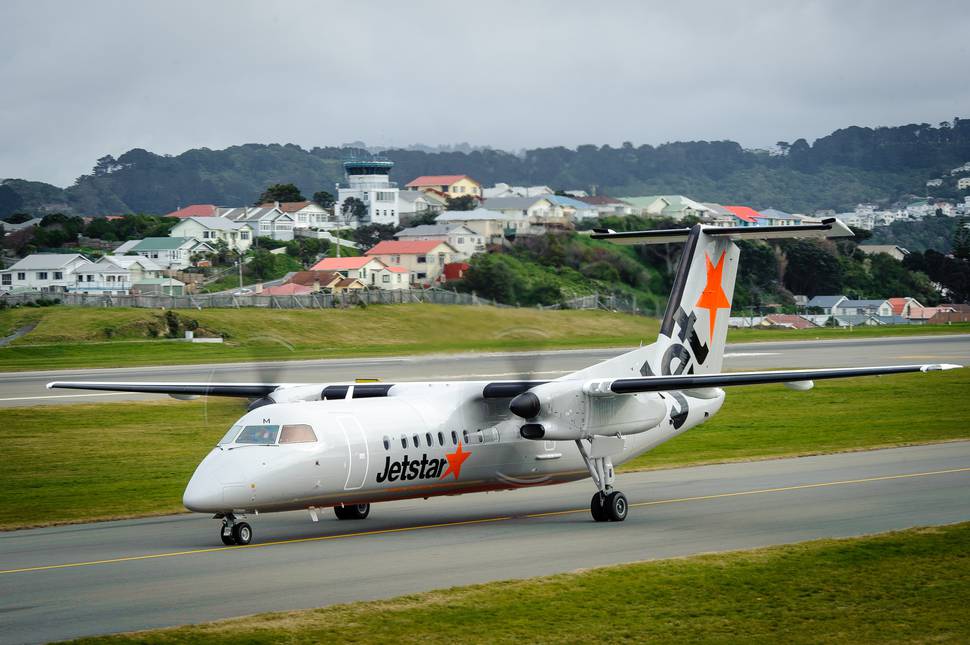 ''You never make predictions and you never give guarantees in aviation, as the markets do shift around, but as we get close to the day that we've got full flexibility to make decisions about how much capacity we want to retire, how much capacity to shed — if we see great opportunities then we'll move up to leverage that as growth,'' he says.
''We will see how the markets develop over time, about what may change or shift in the future, but right now we're very happy about how they're performing.''
The introduction of turbo-props on regional routes had benefited communities served by the aircraft, by bringing more competition and pushing down fares, says Evans.
He has been identified as a contender to succeed Joyce, who still relishes the top job at Qantas and has no fixed term.
Evans, aged 49, is not keen to talk about the speculation, saying Joyce is doing a ''fantastic'' job.
''I'm focused on doing that to the best of my ability. What happens in the future is in the future, I can't control that.''