After a tough start, tourism company boss is now enjoying the surge in overseas visitors.
Grant Webster took the helm at Tourism Holdings just as the global financial crisis hit hard.
It was December 2008 when Webster, who had been at the company for three years, took over as chief executive and tourist numbers and spending plunged.
Key markets such as the United States and Britain were badly hit.
"It was a shock and it was a tough time," he says.
He can laugh wryly about it now, but he was forced to endure a few tough years as the sector was caught out after rapid growth in the first part of the century. In May 2007, the company's shares traded at $2.76 but by mid 2009 they were down to about 41c.
They were tough times. Spending per visitor dropped dramatically.
"It probably took too long for us to sort out the industry and wake up to overcapacity back then," says Webster.
Now the company, which traces its origins back nearly four decades, is at the centre of a historic surge in tourism that shows no sign of letting up as airlines pile on capacity and New Zealand's attractiveness to overseas visitors grows.
Tourism Holdings (now THL) began as three separate companies that merged to form The Helicopter Line in the 1980s and branched into other operations including campervans, Kelly Tarlton's, Milford Sound's Red Boats, Fullers in the Bay of Islands, coach tour operations and the Waitomo Caves.
It was a complex operation and before the global financial crisis (GFC) the company was narrowing its focus to motorhomes. And at the depths of the GFC, THL took one of its biggest punts - entering the United States market.
In 2010 it bought Road Bear RV Rentals and Sales - at that time a 300-vehicle company.
"Being prepared to enter the US in the midst of the GFC for a New Zealand company was quite substantial," says the 44-year-old.
It's paid off. The US fleet has grown to 700 vehicles and is the most profitable of THL's motorhome businesses, he says.
"It's good for the company to be getting some of those rewards for taking those risks to expand."
Now the business earns about half its revenue overseas - besides the US it has motorhome rentals in Australia, Britain and a franchise operation in South Africa.
As the company ground its way through the GFC, it also changed its approach to the New Zealand motorhome operation. It had grown to include an assembly business, rental arm and vehicle disposal business when they were five to six years old.
It entered a new manufacturing joint venture at Albany and put more resources into its sales operation.
"We started to see the benefit of that with the quality of the vehicles."
The glut of motorhomes on the market also led to a fundamental shakeup - THL took over rivals United and Kea in 2012.
The focus now is the growing pains - it's a much better place to be in.
Like the US move, the merger was deemed high-risk and not all investors were convinced.
"None of the businesses were performing particularly well because the industry wasn't quite right but I think we've proved [the benefit of] consolidation and rationalisation."
The number of motorhomes fell by about 600. Webster's firm now has about 2000 of the 5000-strong New Zealand vehicle fleet, which can be supplemented by vehicles from its operation in Britain.
The arrival in 2013 of Rob Campbell as a director, and soon after as chairman, has also added impetus to the Auckland-based company.
Forsyth Barr has initiated coverage of THL and has a target share price within the next 12 months of $3.25. The company's shares were trading yesterday afternoon at $2.87.
Forsyth Barr says THL is an "easy company to like": It has a proactive approach to enhancing industry structure, discipline in deploying capital, active targeting of costs, it embraces technology and creates a more flexible business.
"Historic return volatility has been shaped by high capital intensity with limited flexibility in tourism downturns. The shift to a less capital intense business model will create a more nimble business and less volatile returns in the future."
The company says it is on track for a profit exceeding $24 million in the current financial year.
Webster had childhood connections to the tourist industry, growing up in Napier where his father was a tour bus driver.
"It used to be a holiday for us to hop on a bus and go up to the Waitomo glowworm caves. It's funny how things come around."
He also sits on the board of Tourism Industry Aotearoa and says the sector - now bigger than dairy as an overseas exchange earner - is well placed for future growth that will come from increased airline capacity.
"The focus now is the growing pains - it's a much better place to be in," he says.
"As an industry we've been operating without growth for the past couple of seasons, but it's now that people are looking up and thinking far more strategically about what New Zealand starts to look like with ongoing growth and hitting new capacity levels."
This includes adequate funding for infrastructure.
International visitors pay about $900m a year in GST and Webster says the tourism industry wants a bigger chunk of that.
"My personal view is that the tourism industry does pay significant taxes and that is not being returned to some of the core infrastructure yet - that argument could be laid out for a whole lot of different industries, I acknowledge that."
Webster says targeted tourist taxes have been spoken about, but there needs to be more work. "I think there are different people leaping to it as an easy solution and I think people think that it is easy to tax international tourists - someone once said they don't have a vote. A lot of people in different sectors are saying maybe, but it hasn't been thought through."
In spite of concern about pressure on local infrastructure, Webster says there is a genuine belief that tourism is good for the country, especially with dairy in decline.
An estimated 16 per cent of THL's customers come from Britain and there could be some fallout from the Brexit vote.
"With the movement with the exchange rate, it tends to impact how people spend on the ground - we need to be aware of that as a potential negative impact," he says.
Next year's Lions tour was unlikely to be badly affected, as fans had already booked or were committed to book for the "trip of a lifetime".
Forsyth Barr says that in the past, downturns have inflicted multi-year damage to THL, but its business is now better suited to manage them.
The company is scouting for acquisitions and is targeting net profit of $30m by the 2019 financial year.
Grant Webster Bio
• Age: 44
• Grew up in Napier
• Commerce degree from Victoria
• Worked as an executive at SkyCity before joining THL in 2005 as chief operating officer in the attractions division.
Pros and cons
Forsyth Barr says:
Opportunities include
• Further industry consolidation in the US and Australia.
• Enhanced use of GPS tracking technology.
• More direct selling rather than using agents.
• Further reductions in capital intensity.
Threats
• New market entrants.
• A global shock to tourism.
• Consumer confidence/currency drop in key source markets.
• A freedom camping tax in NZ.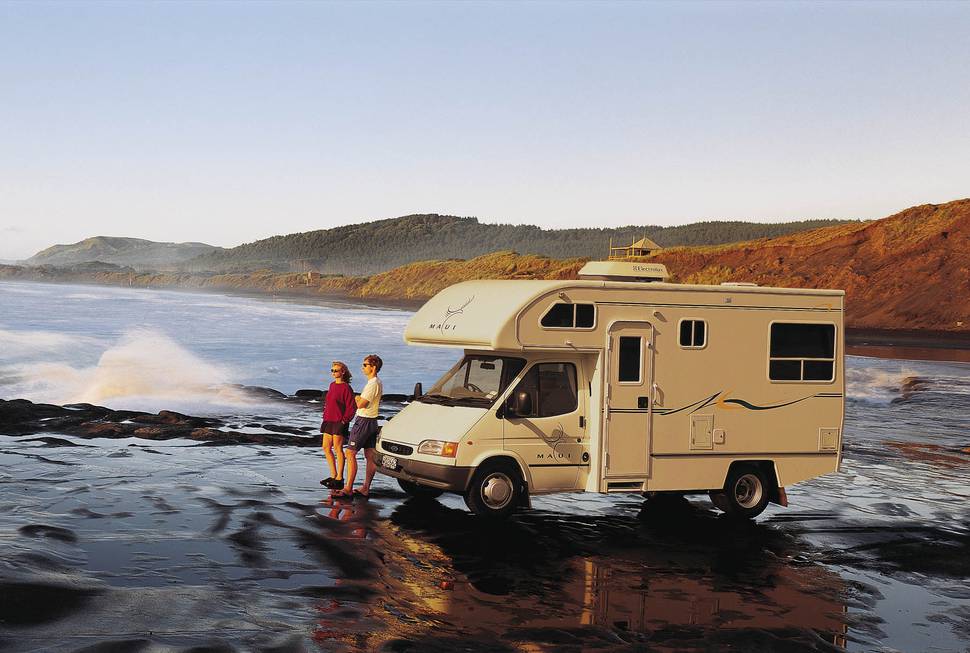 Speeding campers dobbed in
Campervan operator THL has dobbed in customers to the police after real time monitoring equipment found evidence of dangerous driving.
Chief executive Grant Webster says there have been cases in Australia where police have been told of risky behaviour and the company is rolling out equipment to allow it do the same in New Zealand.
Telematics technology receives wireless information and can track the vehicle's location and speed. A screen in the motorhome's cab provides feedback to drivers from THL operators.
Warning signals are set so they increase in intensity if speeding continues.
"If we have a serial offender with what we believe is a dangerous amount of speeding we will warn them several times and then fine them."
As part of the rental agreement, drivers are liable to pay up to $300.
Asked whether police had been called in, Webster says it has been done in a few cases.
"If we believe they are a serious risk to themselves and other people we will take action to address that."
Customers had been overwhelmingly positive about the tracking system which last summer helped direct some away from bush fires in Victoria, Australia.
"It's fascinating and useful information we're getting," Webster says. "We can see what [country] of origin speed the most or have the harshest driving so we can get more specific about how we focus our education."
Telematics is in all of the 1300 rental vehicles in Australia and 25 per cent of the 2000 vehicles in this country.
THL
• Has Maui, Britz, Mighty Campers in NZ.
• Is the largest provider of motorhomes for rent and sale in NZ and Australia.
• Third biggest player in the United States RV rental market with Road Bear.
• It also has a 50 per cent stake in manufacturing operation, Action Manufacturing.
• Owns Kiwi Experience travel firm.
• Owns Waitomo Caves experience.