COMMENT
Another self-inflicted uppercut lands flush on the integrity of boxing. This time in the form of the Tyson Fury and Deontay Wilder result.
Rather than dissect a truly great heavyweight contest, one of the best in modern times, instead we are left to ponder another disturbing chapter in the love-hate relationship with this conflicted sport.
There is nothing quite like heavyweight boxing drama. The theatrics, the characters, the ever-present threat of power shots laying someone out cold.
Lightning sure struck twice for Fury. How else do you explain his resurrection in the final round?
Boxing's heavyweight championship, however fractured, however frustrating, remains the Holy Grail.
But for all the glam and showbiz trimmings, the essence of this sport is fast losing credibility.
The grander the stage, the bigger controversy. Time and again. And with many millions at stake, it is impossible to shake the feeling we are all being robbed. Accomplices, even, to plotlines.
Fury and Wilder put on a magnificent boxing spectacle in Los Angeles and, yet, the overriding sense is a stain on the establishment.
It certainly left a sour taste.
Styles make fights. Two such contrasting gladiators produced a fascinating duel. Fury proving exactly why there is no one like him on the planet; why he deserves to remain the lineal heavyweight champion.
His defensive class, constant feints, deft movement, taunts, counters, showcased all his sweet science ring craft. He was masterful. For the most part making Wilder look decidedly average.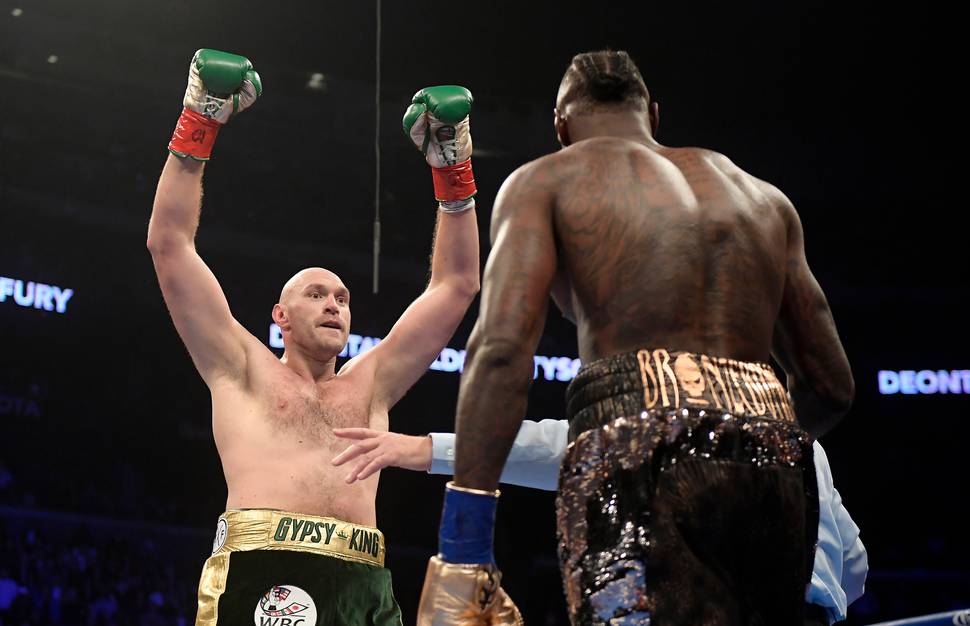 According to Compubox the devastating American landed 17 per cent of power punches compared to 54 per cent in his previous eight fights.
Those stats alone tell you just how good Fury is. Schooling Wladimir Klitschko was no fluke.
Two knockdowns, the second so savage he began celebrating, saved Wilder's prestigious WBC title.
Or, more accurately, one judge saved his crown.
Lennox Lewis, Mike Tyson and even rival promoter Eddie Hearn, everyone knows Fury pulled off the most remarkable victory.
Not Mexican judge Alejandro Rochin, though. His astounding 115-111 scorecard in Wilder's favour came from gifting the home fighter the first four rounds.
Sure two knockdowns significantly narrows the gap but, even then, most astute boxing analysts had Fury comfortably two rounds ahead.
English judge Phil Edwards' 113-113 was baffling enough. The third, Canadian Robert Tapper, penned 114-110 when his card actually read 114-112.
Rochin awarding Wilder seven rounds is plain ridiculous.
Allowances can be made for human error from officials but incompetence or, worse, corruption cannot be tolerated if we are to believe in the fabric of a genuine, fair contest.
In a sport where athletes sacrifice life and limb every time they step in the ring, more must be done to hold officials to account.
If boxing had any justice or guiding ethics Rochin would never judge again.
A long way from home, Fury saw his inspirational comeback from drugs, major mental health issues, two years of inactivity and shedding more than 60kg killed off by the hands of others.
He was wrongly denied his moment.
That saddest part is this form of sham happens too often.
Boxing has an imperfect, subjective judging system heavily influenced by which angle the three ringside officials view the fight.
That's no excuse for such skewed results. Pundits aren't stupid. They know a farce when they see one.
In the first Gennady Golovkin-Canelo Alvarez middleweight title fight last year, another apparent split decision draw, judge Adalaide Byrd had a shocker with 118-110 in favour of Alvarez, the popular, Mexican drawcard.
Never mind Golovkin landed 218 punches to Canelo's 169 – Byrd saw a different fight.
Given rematches are frequently more lucrative, mega fights that go the distance and somehow end in draws make great business sense.
What does that say to the paying public, though?
Can we take big fights seriously? In other parts of the consumer world you could demand a refund.
This is not supposed to be the WWE.
All contrived, concocted elements must end with the bell or what is the point?
Fury should now be returning home with the WBC belt around his waist and sights firmly set on a unification bout with fellow Brit Anthony Joshua.
One, in my opinion, with the proper preparation would win.
Instead, we now await the second edition of Fury-Wilder. I'll be among those watching, of course.
And so the love-hate battle rages on.