Helpless cats, dogs and rabbits with horrific injuries including scorched eyes and paws are among the latest victims of California's deadliest blaze to date.
Pets and wild animals became trapped as the deadly blazes closed in and now rescuers are working to save any which have defied the odds to survive.
The number of human fatalities rose to 50 human in northern and southern California today.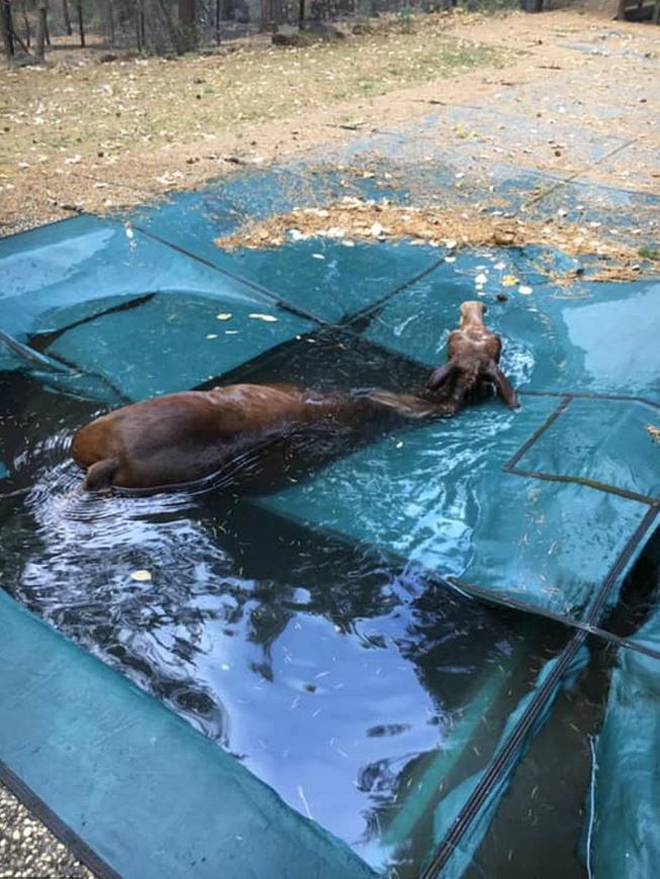 Paradise resident Jeff Hill said he had been scouting his neighbourhood over the weekend when he discovered a helpless horse trapped inside someone's swimming pool.
Hill wrote in a Facebook post: "As I was checking to see if someone's house was standing, we stumbled upon this girl who had given up and had the look of defeat in her eyes.
"There's no telling how long she was there but she was shivering uncontrollably... she was all caught up in the pool cover but her being suspended by it prevented her from drowning."
Hill unhooked the pool cover and assisted the horse to the shallow end and onto the steps, where helped her out of the water to safety. The horse luckily survived.
"She got out, shook off, loved on us for a few minutes as a thank you and walked off assuring us that she was OK," Hill said in the post.
The happy ending wasn't the outcome for many other animals.
Tear-jerking photographs show burned and injured cats and a crying kitten receiving treatment thanks to the Little Angels Project, which is helping animals hurt in the blazes.
The more seriously-injured cats were transported for rest to the Project's hospital in Agoura Hills.
A German Shepherd was found hanging from a fence with badly-burned paws. The dog can be seen in photos lying in his recovery bed with casts on all four legs.
A terrier was photographed getting readied for an operation to fix a broken jaw after being hit by a car fleeing the fires.
There were happier moments as well - of firefighters and residents tending to animals, feeding them and providing much-needed affection.
Meanwhile, a tabby cat found with serious injures in a wildfire ravaged street in Paradise, northern California has tragically died, animal activists said.
A picture of the cat, nicknamed Billiegirl on social media after the road where she was found on Sunday, was shared all over the world as a miracle rescue, but unfortunately the animal did not survive its injuries.
An organisation of animal lovers known as California Wildfire Pets which has been trying to reunite lost animals with their owners disclosed the news on Facebook.
They had earlier posted: "Are you missing an orange tabby kitty from the area of Billie Rd in Paradise?" with a picture of the cat in the hope its family could be found.
Billiegirl the cat became one of thousands of animals who have perished in the deadly wildfires ravaging the state of California.
More tragic images from animal clinics or during rescue efforts show a cat in a makeshift incubator, a bunny rabbit whose ears were burned off by the flames and emergency workers desperately ferrying animals from the edge of the fires to safety.
The Camp Fire devastating Northern California, and the Woolsey Fire, which is currently raging near Malibu in the south, have forced residents to flee their homes, and have left many unable to also save their beloved pets.
As the confirmed human death toll of the Camp Fire reached 48 as of late Tuesday, with the flames having levelled more than 7100 homes and other buildings, it now ranks as the deadliest and most destructive wildfire on record in California.
It is not officially known how many animals - wild or pets - have been killed or injured in the wildfires, which have been raging since Thursday, but it is thought to be at least several thousand.
Urgent evacuation orders have seen many animals abandoned, including horses and other farm animals, with residents potentially underestimating how damaging the fire would become.
As well as pets, Northern California area is home to a myriad of wild animals, including several types of deer, black bears, bobcats, elks and cougars, and the Butte County area where Camp Fire burns hosts several wildlife sanctuaries.
Other common forest creatures are coyotes, raccoons, squirrels, skunks and foxes as well as a number of birds and snakes.
Volunteers and professionals have bandied together to try to rescue as many as possible, helped by donations from animal lovers - including Hollywood actress Sandra Bullock.
The Oceans 8 actress has donated US$100,000 to The Humane Society of Ventura County, which announced the generous boost on their Facebook page.
"Our efforts for rescuing and caring for evacuated animals from the Hill and Woolsey fires had caught her [Ms Bullock's] attention and her team reached out to the shelter to show their support," the organisation, which operates in southern California, wrote.
"Sandra Bullock and her family have reached out to other nonprofit organizations both during this incident and in the past.
"However, this time she wanted to contribute to those on the frontline rescuing animals in peril and hope others will choose to do the same.
"The HSVC pledges to care for these animals for as long as is needed or until their owners feel comfortable in safely reuniting their families."