Standing behind a basic wooden table in a rural cabin, the eyes of the three girls look vacant and glassy, while their smiles look like those of mystics having a vision.
Their hair is cropped in military buzz cuts, different frames show them cradling rifles or toying with knives, and one plays dreamily with a snake wrapped around her neck.
They appear to be talking about what would happen if somebody threatened their leader, a man called "Charlie", the Daily Mail reports.
"We could respond so quickly," says the girl in the middle, Lynette "Squeaky" Fromme.
"With what?" an interviewer asks off-camera.
"Anything," says the girl on the right, Sandra Good. "Whatever. Whatever's at hand. We are animals!"
"We are," Fromme interjects.
"And I know that if they laid a finger on Charlie," Good continues, "if we were unarmed, we would chew their necks off. Claw their eyes out. And they know it."
In another segment of film we see Fromme once again. This time her hair is long and she looks as if she's been crying. She is holding a rifle and leaning on it.
"Every girl ought to have a daddy like Charlie," she says, her voice slurred as if drunk or drugged.
In another context, it would be easy to suppose that the footage is from some Seventies B-movie. But the girls — wearing denim jackets with the words Satan's Maidens, Devil's Witches and Devil's Daughters stitched on their backs — are not actresses and the words they speak are frighteningly real and sincere.
For the "Charlie" they speak about with such violent loyalty is none other than Charles Manson, the notorious leader of a cult he called his "Family", who brainwashed his young followers to commit a series of savage murders in the summer of 1969 in Los Angeles that would shock the world.
Among the nine people they slaughtered was actress Sharon Tate, who was eight-and-a-half months pregnant, and married to the film director Roman Polanski.
Tate had pleaded for her life and that of her unborn child, but the cult members would hang her from a beam and stab her 16 times.
One of those who stabbed her would later recount that she murmured the words, "Mother...mother" as she was being killed.
What made the murders all the more shocking was the identity of those that Manson had brainwashed into being killers.
In the main, they were all-American boys and girls, who'd fallen prey to his satanic charm, and who had been seduced by a life of unfettered sex and drugs.
But as the 50th anniversary of the killings approaches, many questions about Manson — who died last November — and his cult still remain, the biggest of which is this: What drove these young people not only to kill, but to kill so savagely?
The answer, I believe, lies in extraordinary lost footage of the Manson Family I discovered in California, and which is the basis of a documentary series being shown on ITV later this month.What the film shows is nothing less than the real-time radicalisation of a group of young, disaffected people, who were to fall under the spell of a highly charismatic leader.
I first learned of the existence of the footage when I received a text. "I think I've found what you are looking for," it read.
Attached to it were three pictures, showing some two dozen rusting film cans. They appeared to be stored in an attic, and many had the word "Manson" still just visible on their labels.
Over the past 30 years, I have made a number of films about serial killers, and I have always wanted to make one about Charles Manson. Back in 2016, I came across an intriguing reference in a book to a young filmmaker who had gained access to Manson and his cult over a period of nearly four years, from 1969 to 1973.
This was Robert Hendrickson, and there had been almost no trace of him for decades. His career seems to have focused almost entirely on Manson, producing two documentaries on the Family, one of which had a limited theatrical release in 1973 and was then banned, and one of which was never released at all.
Manson had let him in because he was friends with one of the Family's associates but perhaps also because, in his heart, he wanted the world to witness what he had created, one day at least.
He can't have known then that it would take nearly 50 years.
I hired a private investigator and asked her if she could find any of his unseen footage. A few weeks passed and I waited more in hope than expectation.
Then that text arrived. I was told that Hendrickson had died just a couple of weeks before and the tapes had been sitting in his attic for more than 40 years.
It turned out that the find was even better than I had dared hope. What Hendrickson's lost footage showed was nothing less than the unexpurgated life of Manson's cult over four years.
This was exactly what was needed to make the film I wanted about radicalisation and, better still, there were chilling revelations in the footage about Manson and the madness of his "family" — a madness that would lead to some of its members stabbing their victims more than 100 times and daubing the walls with their blood in a display of utterly horrific barbarism.
So what does the film show?
Clearly, Charles Manson is the central figure. Undoubtedly a man who committed many evil acts, he was born in 1934 into the kind of rootless and abusive environment that fostered criminality.
With an absent father and alcoholic mother, the young Manson progressed from truancy to delinquency, before graduating to carjacking and armed robbery.
Manson was sentenced to the type of institutions where physical abuse and homosexual rape were common, acts that he would then reciprocate on his peers.
At some point in his troubled life, he found time to get married and father a child, although his criminality meant that his roles as husband and father were severely lacking.
By 1967, Manson had spent half his life in "correctional" facilities or in prisons and when he was released in March that year, he headed up to San Francisco at the height of the hippie era. Here, the 32-year-old Manson realised that the counter-culture of free love offered him the opportunity not only to wield his darkly charismatic personality for his own sexual gratification, but to establish a community of impressionable youngsters who would be his acolytes.
He was, in his own twisted way, needy for love and desperate for some form of control.
By drawing on lessons he had learned from pimps in prison, Manson preyed upon young men and women — especially the latter — who were vulnerable and lacking in family bonds and self-esteem.
He would tell them that their parents had betrayed them and that he would become their new father — give them a sense of belonging to a new family.
While some members like Lynette Fromme saw Manson as their 'Daddy', others were even more extreme in their affection for him.
"I am Charlie," says Family member Thomas Walleman in the newly discovered footage. "When he dies, I die. I gave up my personality and became what he showed me I could be — total love."
This was the first stage in Manson"s radicalisation process, although even he did not yet know its ultimately horrific destination.The second stage was, quite simply, to give the young people a good time. He provided an environment — a run-down ranch in the Santa Susana mountains, about 30 miles north of Los Angeles — which was free of moral restrictions and full of sex and drugs.
It was here that a group of as many as 30 Family members lived together.
Paul Watkins, one of the early male members of the Family, describes in the tapes his first experience of the anything- goes culture.
"There was a big room with mattresses all over it and a little table in the middle," he says. "Charlie was playing the guitar.
"He laid out all these girls in front of me and said: 'They're yours. What are you going to do with them?' I was flattered."
Unsurprisingly, Watkins stayed, although he was to find that Manson used sex as a means of control. "We all had to go through lots and lots of changes," Watkins says. "All the guys had to get over all their homosexual [reticence] by doing everything you could possibly think of doing with guys.
"And all the girls had to do everything you could possibly think of with other girls." Manson would watch it all. That enabled him to get to know his disciples' most intimate natures, which would, of course, help him control them.
Some of the cult members were very young, such as Dianne Lake, who was just 14 when she joined the Family, and when Manson first had sex with her. It appears that Lake relished the attention.
Her parents, she told us when we tracked her down last year, were not the "warm, fuzzy, hugging variety".
"He expressed his love and admiration for me," she said. "It was a high. It was magic.
"It was an incredible upwelling of love and joy. Charlie invited me to be a part of their family. It was what I was looking for."
But along with the reward of sex, Manson would also use punishment to keep his followers in his thrall. When girls did not do as he pleased, he would hit them.
Many of them became like battered wives, with Manson using intermittent cruelty followed by love and intimacy.
The use of drugs was the fourth stage of radicalisation, and the Family took them daily.
"We took things like belladonna, smoked hashish a lot, smoked marijuana all the time, and took mescaline [a natural psychedelic]," says Watkins, in the lost footage.
"When I was with Charlie, I took between 30 and 40 trips on acid alone. Everyone just went stark raving mad. I mean just completely crazy."
While marijuana sedated the Family members, it was the psychedelic drug LSD that Manson used to cement his control.
For it was while his cult members were having acid trips that Manson would insinuate the idea that he was the messiah.
"Charlie never just said he was Jesus Christ," says Watkins. "But then he always said it in every other way."
Another follower, Brooks Poston, recalls in the footage how Manson once said that "two thousand years ago he had hung on the cross and died for everyone's sins, and it didn't do a f*** bit of good".
The Family members appeared to believe it.
"We've seen what's possible," says Sandra Good in an audio recording. "We've seen Charlie do things that no human being has ever done, or no human being has revealed that he can do these things. We've seen miracles."
These supposed "miracles" — which apparently included Manson's ability to bring a dead bird back to life and to jump higher than possible for a human being — were doubtless the product of narcotics rather than divinity.
By now, the members of the Family were utterly under Manson's spell, a fact that was compounded by the way he ensured that no members had access to any media — there were no newspapers, magazines, televisions or radios. There weren't even any clocks at the ranch. The only source of information about the outside world was from Manson himself and he presented the world as he wanted to see it, rather than how it was.
They lived from hand to mouth, collecting food that supermarkets had thrown out, begging on the streets of LA, cajoling worried parents into sending gifts in the hope they would grow out of their Charlie Manson phase and yes, from casual prostitution. This paid for the food and, of course, the drugs as well.
What made Manson's view of the world so violent was that he was full of rage and wanted his revenge on those he felt had betrayed him.
A failed musician, Manson's loathing was particularly intense for the showbiz world, which he felt had ignored his genius. The person for whom he reserved his greatest bile was a record producer called Terry Melcher, who had been introduced to Manson by Dennis Wilson of The Beach Boys.
After making some initially positive noises, Melcher realised that Manson was not all that talented, and besides, he was clearly prone to violence. The record producer did not sign up Manson and cut all ties with him.
As well as loathing Melcher and his industry, Manson was a racist, convinced that a race war between blacks and whites would soon break out in the United States.
He called this forthcoming war "Helter Skelter" — after a song from The Beatles' White Album — and convinced the Family it was both real and imminent.
Isolated at the ranch and strung out on drugs, the cult members believed him. Imbued with a strong sense of vengeance and feeling that his life was in danger of falling apart, Manson started training his followers to use knives and guns.
Of all the footage we found in Hendrickson's attic, perhaps the most disturbing features three elfin young women — Fromme, Good and Nancy Pitman — posing with guns and hunting knives.
Their faces are set in rapturous expressions and they talk openly about their willingness to kill.
"If you want it, here it is, come and get it," sings Good with a smile on her face, brandishing a huge knife.
In another section of the footage, she says, chillingly: "When somebody needs to be killed, there's no wrong, you do it, and then you move on."
And killing is what would soon happen. Towards the end of July 1969, Manson ordered his followers to start their slayings. On the 25th, Manson and members of the group went to the home of music teacher Gary Hinman in Topanga Canyon, on the fringes of Los Angeles
They were concerned that Hinman had sold them some bad drugs and wanted to get their money back. But Hinman insisted the drugs were good and would not pay up.
Eventually, Manson challenged Family associate Bobby Beausoleil to stab him to death.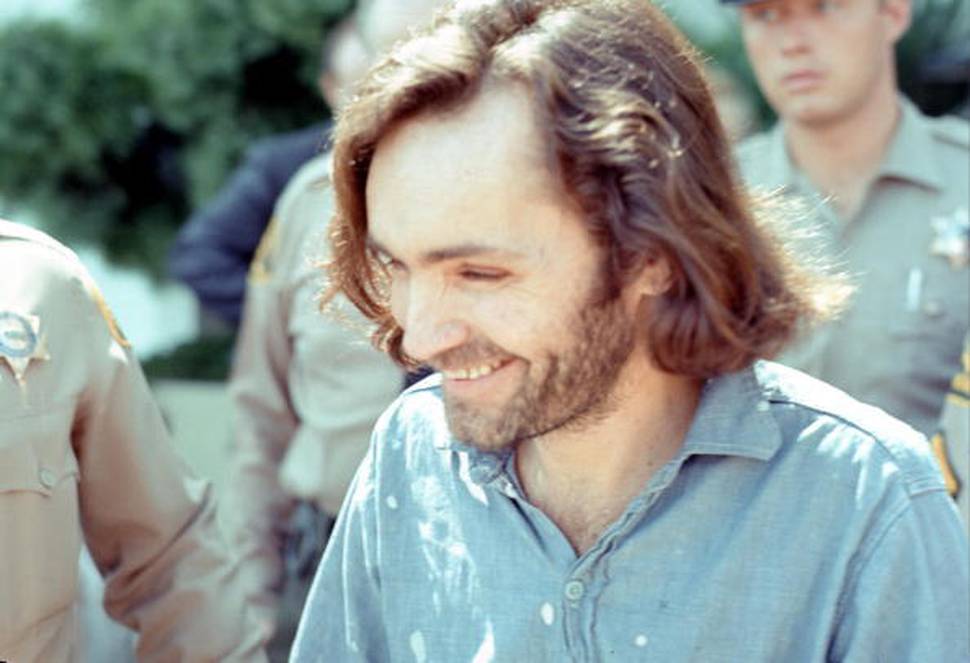 Afterwards, Beausoleil and the gang smeared their victim's blood on the wall, daubing it as gruesome graffiti that suggested the killing was the work of the radical black power group, the Black Panthers.
On the night of August 8, Manson ordered four Family members — a man named Tex Watson and three women — to a house at 10050 Cielo Drive in Los Angeles and to kill everybody there. The address had been the home of Terry Melcher, the music producer who had cast aside Manson.
Although it is often thought Manson was well aware Melcher had moved, our documentary reveals he had indeed wanted the gang to kill Melcher and not those who were to die — five victims including the actress Sharon Tate.
This revelation is made by Beausoleil, who gave us an exclusive interview from prison, where he is still serving a life sentence.
While he and Manson were locked up together in a holding cell during his subsequent trial, Manson told Beausoleil that Melcher had been the target.
"He admitted to me that he had made a mistake," Beausoleil told us. "And he said, "I sent Tex to kill Terry", meaning Terry Melcher, the producer for The Beach Boys."
What happened that night was truly barbaric.
After cutting the telephone line, the group's first victim was the 18-year-old Steven Parent, who had been visiting the house's caretaker. Watson first tried to stab him, then shot him four times in the chest.
The group then entered the house and this is where the butchery began.
Its four inhabitants, including the heavily-pregnant Tate, were bound, pistol-whipped, hanged, stabbed and shot.
One was stabbed 51 times. Tate pleaded with the killers to let her live long enough to give birth, but her appeal fell on deaf ears.
After she was repeatedly stabbed, her blood was used to daub the word "pig" on the front door, in another ludicrous attempt to convince the authorities that the murders were committed by black activists wishing to start a race war.
The following night, six more members of the cult, including Manson himself, were involved in the double murder of a supermarket owner and his wife, Leno and Rosemary LaBianca chosen, apparently, at random after a four-hour drive scouting possible targets. Leno was stabbed 12 times — his wife 41 times.
Justice would finally catch up with Manson and his cult after one of the killers, Susan "Sadie" Atkins, spilled the beans to a fellow inmate in a jail cell where she was being held on an unrelated charge of arson, three months after the murders.
In June 1970, the Family were put on trial.
However, even then, the cult was determined their messiah would never be punished and hatched an outrageous plan that's revealed in our film.
One of those we spoke to, former member Aesop Aquarian — now a character actor — told us that the Family wanted to kill the judge appointed to the case: "One of the girls came up to me and said, 'We've gotta get Charlie out. We need you to go to the courthouse and kill the judge.'
"I felt my jaw drop to the ground. 'You want me to what?'"
"We want you to kill the judge. That will show them that we're serious and get Charlie out."
"Are you for real?" And she said, 'Yeah.' My first thought was what the hell am I doing here?"
As if he needed any more persuading, Aquarian left the cult immediately. It would be easy to say the demand to attack the judge was mere bravado, but the brutality of the gang's slayings mean the existence of such a plan should not be dismissed.
Once more, the footage shows what extreme measures some cult members were willing to take to protect their "Daddy": "I'm ready to die for Charlie," says Fromme.
"He's ready to die for me. He has died for me. I'm ready to die. I'm ready to die to protect my own. Snitches will be taken care of."
When asked how by one of the original film crew, she leans on a pump-action shotgun and says ominously: "Ah. That's to be seen."
The plan to kill the judge never came to fruition and Manson and those Family members directly involved in the slayings were sentenced first to death and then, when the death penalty was temporarily abolished in California, to the rest of their lives behind bars.
I do hope this proves to be a warning from history. It shows clearly how impressionable young minds can be twisted to suit the violent ends of a dominant and cunning personality.
Ultimately, nobody deserves a daddy like Charlie.