WARNING: Graphic
When Marina Krim laid eyes on her two small children she knew at once she would never hold them alive in her arms again.
It was their eyes that revealed the horror. They were vacant, lifeless — and Mrs Krim reacted as any mother would.
"It was a scream you can't imagine is even inside of you. I don't even know where it came from. I just thought: 'I'm never going to be able to talk to them ever again. They are dead. I just saw my kids dead."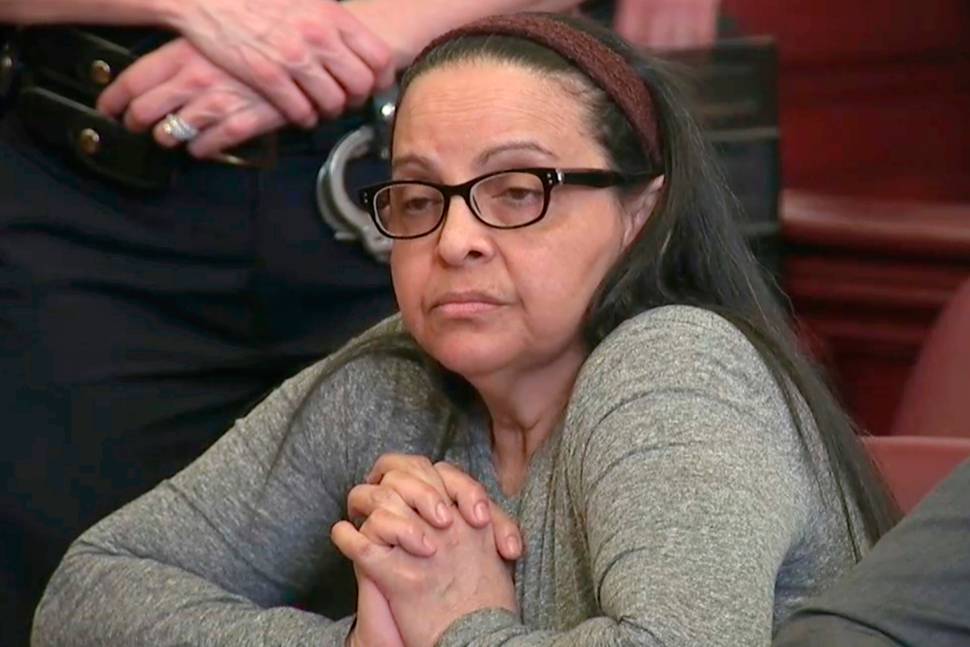 What she saw that day in October 2012 will haunt her for the rest of her own life. Six-year-old Lucia Krim, who was known as "Lulu", was covered in 30 stab wounds. Some were defensive, on her small arms, as she fought away her attacker's sharp knife. Her two-year-old brother Leo was stabbed five times.
The children were in the bathtub. They weren't alone in the bathroom though. Their nanny Yoselyn Ortega — the person Mrs Krim and husband Kevin trusted to protect them — was also there. She was soaked in blood and was stabbing herself in her neck.
"First I see Lulu and I instantly know she's dead," Ms Krim said as she cried. "She's lying there in the bathtub, her eyes open. I see Leo — they have blood on them, all over her dress. Then I see the defendant. I see blood all over her."
Ortega was found guilty today of murdering the children by a New York jury. The 55-year-old had been trial for two counts of first-degree murder and two counts of second-degree murder, with prosecutors alleging she planned the killing, waited to be alone with the children and used the family's kitchen knives to kill.
She argued she was too mentally ill to be held responsible for stabbing two children to death, but jurors rejected the suggestion by convicting her earlier today.
Mrs Krim told the court of walking into the horrific scene during an emotionally-charged stint in the witness box.
"I just wanted to wake up from this nightmare that I knew wasn't a nightmare. It was real," she said through tears.
As the nanny stabbed herself her eyes were "bugging out of her head," she said.
She and Nessie, her other child, screamed and ran out of the apartment. In a heartbreaking detail offered by one of the first police officers to the scene, retired NYPD detective Luis Sandoval said he heard Nessie try to comfort her mother.
The little girl was reportedly saying: "Please mummy, don't cry".
On the day of the murders, Krim had returned home with her third child, then three-year-old Nessie, after Ortega didn't meet them as planned with the other two children for Lulu's dance lesson.
She rushed inside thinking "it's like a total horror movie".
She wasn't wrong. Their final moments would have been one of unimaginable pain and torment.
"That little girl twisted and turned and did everything possible to stay away from the point of that knife," prosecutor Stuart Silberg said. "She was unsuccessful, and she was unsuccessful because this defendant was determined to end her life."
He described the cold, calculating way Ortega carried out the crime.
"She did it intentionally with a full understanding of exactly what it was she was doing - every stab, every slash," Assistant District Attorney Stuart Silberg said during his closing address.
Ortega was fuelled by jealousy and hatred for Mrs Krim was richer and happier than she was, he said.
Ortega's lawyer Valerie Van Leer-Greenberg didn't dispute that Ortega killed the children, but argued she had an undiagnosed mental illness that escalated just before the stabbing attack.
Throughout most of the trial Ortega stayed silent and stared straight ahead. But in a hint at how she viewed her life with the Krims, she shook her head and mouthed the words "No" when evidence was given that the Krims treated her well.
The slain children's father Kevin Krim had been away on a business trip. At the trial he told of seeing their bodies in a hospital room.
"They still had this perfect skin and these long eyelashes," Mr Krim said. "They had like sandy brown hair. ... You could see they tried really hard to wash all the blood out, but there was still kind of an auburn tint to it that I remember to this day."
Mrs Krim is a stay-at-home mum, and Mr Krim is a former CNBC executive now at a startup.
They use a Facebook page to post updates on how they're doing, writing about the arrival of two new children, Felix, born in 2013, and Linus, born three years later in 2016.
The couple started the Lulu and Leo Fund, which aims to support innovative art programs for children. After the verdict, they posted a collage of images of Lulu and Leo and on Instagram,
On Instagram, Mrs Krim posted a photo from atop the Empire State Building.
"You two never made it to the top but I'm up here now for the first time, in peace, on top of the world, remembering another lifetime and thinking of you," she wrote. "NYC, Lulu and Leo loved you and I love you too!"