The hero police officer seriously ill after assisting a poisoned Russian spy has been named by sources as Sergeant Nick Bailey.
Bailey was taken to hospital shortly after double agent Sergei Skripal and his daughter Yulia were attacked with a powerful nerve agent in Salisbury city centre.
The well-respected Wiltshire police officer, who is said to be talking to family from his hospital bed, was one of three members of the emergency services and up to seven members of the public treated after the nerve agent was used in an apparent attempt to assassinate Skripal, who previously shared Russian secrets with MI6.
It had been suggested the sergeant may have given first aid to Skripal and his daughter as they waited for the air ambulance to get there.
However, it is also possible he came into contact with the nerve agent elsewhere as police
cordoned off his home and other locations in the city.
Home Secretary Amber Rudd revealed this morning that she had been informed Bailey was "talking and engaging".
Chief Constable Kier Pritchard visited Bailey in hospital, and described him as an "amazingly courageous officer".
In 2016, Bailey, then a detective constable, was awarded a chief constable's certificate of excellence for his work in single-handedly building a case against Arthur Bonner, who had sexually abused a number of victims.
The police officer trawled through and reopened a number of old cases, as well as investigating a series of fresh allegations against Bonner in what was described as a "complex and serious case".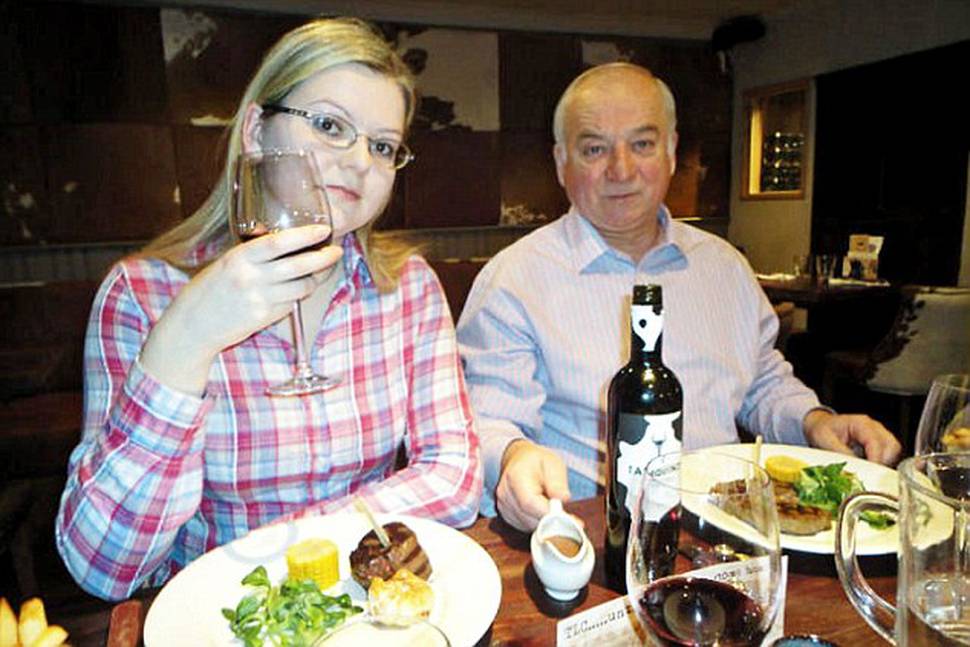 Police in hazmat suits have descended on various locations in the city since Skripal and his daughter were found on Sunday as they attempt to work out who poisoned the former double agent.
Today, the graves of Skripal's son Alexander and his wife Liudmila were also taped off.
Skripal's 43-year-old son Alexander is reported to have died last year while on holiday in St Petersburg after being rushed to hospital with "liver failure", but a Russian news agency in the city said it had not been able to find any record of his death.
Skripal's wife Liudmila died in October 2012 at the age of 59. Her death certificate said she died from disseminated endometrial carcinoma, or womb cancer, which she was diagnosed with in Russia.
Police have put tape up around the graves of Mr Skripal's wife Liudmila and son Alexander. It is thought Mr Skripal and his daughter visited the graves after she arrived from Russia.
Chemical weapons experts are today continuing the painstaking process of working out where the nerve agent used in the Russian spy attack came from.
Investigators have ruled out sarin and VX, sources have suggested. The Home Secretary has meanwhile described the chemical as "very rare".
Detectives are understood to be moving away from the theory that the nerve agent was sprayed directly at Skripal, a source told MailOnline.
They are instead believed to be focusing more on the possibility that poison was added to his food or drink at some point before he collapsed.
It is hoped the composition of the substance will help investigators work out where the agent was manufactured.
Experts say the clear liquids can be made at only "a few laboratories in the world", mostly government-controlled.
The first modern nerve agents, including sarin, which was released by a Japanese doomsday cult onto the Tokyo subway in 1995, were devised by the Germans during World War II.
A new generation of the chemical weapons, including VX, were invented by the British during the Cold War. VX is up to 150 times more deadly than sarin.
The fact that investigators appear to have ruled out those two suggests the nerve agent used last weekend could be a so-called "fourth generation" agent.
They were developed by the Soviet Union in the 1980s and 1990s and are said to be even more toxic than VX, which the UN has classed as a weapon of mass destruction.
These Novichoks, meaning "newcomer" in Russian, are said to be binary weapons, which mean they contain two harmless chemicals that only become toxic when mixed in an aerosol or missile. This makes them easier to make, store and transport safely, but may also render conventional antidotes ineffective.
Professor Malcolm Sperrin, Fellow of the Institute of Physics and Engineering in Medicine, said: "Symptoms of exposure to nerve agents may include respiratory arrest, heart failure, twitching or spasms — anything where the nerve control is degraded."
Scientists do not want to say how nerve agents are created, for fear of copycat attacks, but the ingredients are cheap and easy to obtain, although it takes proper equipment to mix the substances safely.
The chemicals can kill within minutes, by disrupting electrical signals through the nervous system which makes it hard to breathe.
People cough and foam at the mouth as their lungs fill with mucus, they vomit, sweat, become incontinent and their eyes run. It is described by experts as "turning on all the taps".
Dr Simon Cotton, from the University of Birmingham, said: "If you have ever seen a fly sprayed it drops on its back and lies with its legs in leg in the air, twitching, this is the result of nerve agents taking hold."
The Korean leader's half-brother, Kim Jong-Nam, died within 20 minutes after his face was smeared with VX at an airport in Malaysia last February. The Ministry of Defence has since admitted doing animal experiments using the nerve agent, to try to develop an antidote.
Sarin gas killed more than 90 people in a rebel-held area in Khan Sheikhoun, Syria, drawing international condemnation of the Bashar Assad regime.
VX is one of five main nerve agents and, with another called GF, is a "G-series" agent usually inhaled or absorbed through the skin. Just a fraction of a drop, absorbed through the skin, can take effect within seconds and "fatally disrupt the nervous system", according to the Council on Foreign Relations.
The other three "V-series" agents are sarin, tabun and soman, which are primarily designed to kill their victims through inhalation and were devised by the Germans but never used during World War II.
All five colourless chemicals are sometimes called nerve gas, but they are liquid at room temperature.
Access to such toxins are tightly regulated, meaning the Salisbury plot would have taken considerable planning to execute.
Hamish de Bretton-Gordon, a former commanding officer of Britain's Joint Chemical, Biological, Radiological and Nuclear Regiment, told the Times: "This is not the stuff you can knock up in your back shed.
"It is quite challenging to make. The inference is that this has probably come from a major laboratory, probably state-run."
Officers have since closed off the Zizzi restaurant and Mill pub where Skripal and his daughter are thought to have visited. Skripal's house, part of the local hospital, the ambulance station of the vehicle that took him to the hospital and an office block next to Zizzi's have also been taken over as part of the investigation.
Rudd told ITV's Good Morning Britain that Skripal, 66, and his daughter Yulia, 33, were still in a "very serious condition" after the plot on Sunday.
Rudd said: "I've spoken to Mark Rowley [Scotland Yard's head of counter-terrorism policing] this morning. The two targets are still in very serious condition.
"The policeman is talking and is engaging, so I'm more optimistic for him, but it's too early to say. This is a nerve agent. We are still treating it as very serious."
She added that she was "hopeful" the police officer would make a recovery.
Counter-terror police are working to unravel what is now feared to be a sophisticated chemical weapon plot targeting the Russian spy and his daughter.
It remains unclear who is responsible for poisoning the pair, but the attack has stoked tensions between Britain and Russia amid suspicions of state responsibility.
Former British ambassador to Russia Sir Andrew Wood said the "assassination attempt" was more serious given a policeman was among the injured.
Defence secretary, Gavin Williamson, told GMB today: "Russia is becoming an ever-increasing threat.
"Russia is changing the way they fight and raise the level of conflict. We have to change the way we deal with it."
Rudd is expected to make a statement to the House of Commons today.
Assistant Commissioner Mark Rowley, the head of counter-terrorism policing, revealed on Wednesday that the incident was being treated as attempted murder and the pair had been 'targeted specifically'.
He declined to specify the nerve agent or how it was administered.
He said: "Having established that a nerve agent was the cause of the symptoms, leading us to treat this as attempted murder, I can also confirm that we believe the two people who originally became unwell were targeted specifically.
"Our role now of course is to establish who is behind this and why they carried out this act."
Hundreds of detectives, forensic officers and analysts are working on the case, which has drawn comparisons to the poisoning of former Russian intelligence officer Alexander Litvinenko on British soil in 2006.
Rowley reiterated his appeal for anyone who was in Salisbury city centre on Sunday to come forward to help with the "missing pieces" in the case.
Chief medical officer Dame Sally Davies said the attack posed a "low risk" to the public and advised that all the sites the pair were known to have visited had been "secured".
Public Health England later confirmed it had contacted all first responders who had attended the scene.
The Kremlin has not commented on the nerve gas development. Russia president Vladimir Putin appeared untroubled as he toured a cake factory in the Samara region yesterday
Russia have denied responsibility for the attack, which comes seven years after Skripal was released from the country as part of a spy swap with the US.
He had been convicted in his home country in 2006 for passing state secrets to MI6.
The investigation has triggered a diplomatic row and prompted crisis talks in Whitehall but Rudd said police must respond to "evidence, not to rumour".
It comes as police extended the cordons in Salisbury city centre, and also sealed off part of a business park in nearby Amesbury.
The Defence Science and Technology Laboratory in nearby Porton Down, which has state-of-the-art equipment to look for trace amounts of substances, is believed to have been involved in examining the substance.