WARNING: Graphic video
Horrifying CCTV footage has captured the moment a man drove an SUV into a crowd of people at a busy Melbourne intersection.
At least 19 people - including one New Zealander - were injured when a white SUV driven by a 32-year-old with a history of drug use and mental illness mounted a tram track and accelerated into pedestrians outside bustling Flinders St Station.
Video captured by nearby security cameras shows the Suzuki Grand Vitara pull out from a street park and head towards a large crowd of people crossing the street.
The car appears to accelerate as it approaches the crossing pedestrians and continues to charge through the crowds striking innocent people in its path.
The crowd can be seen to disperse as bodies are flung onto the road after apparently being hit by the large vehicle.
Witnesses at the scene described seeing bodies flying "like dolls" after being hit.
Police are treating the shocking incident as a "deliberate act".
The driver, named by the Herald Sun as Saeed Noori, 32, has been revealed as having a history of mental illness and drug use, and was on a mental health plan.
Speaking on Friday morning, Victoria Police acting chief commissioner Shane Patton said the man had a medical appointment booked on Thursday.
"He is on a mental health plan and he was due for an appointment yesterday, which he missed," Mr Patton said in an interview on Channel 9's Today.
"During that preliminary interview with investigators who are looking at this matter, he spoke about dreams, he spoke about voices, but he also did attribute some of his actions to the poor treatment of Muslims."
The 32-year-old Afghani Australian, who has a minor criminal history, remains in hospital and will undergo a psychiatric assessment. He is yet to be formally interviewed by police and has not been charged.
A second man arrested at the scene, who was allegedly filming the attack and was in possession of knives, was released overnight and is expected to be charged on summons with drugs and weapons possessions.
Nineteen victims of the daylight attack, including a four-year-old boy who sustained head injuries, were taken to hospitals around Melbourne to be treated yesterday afternoon.
Mr Patton said 12 people remained in hospital and one, a man in his 80s, was fighting for life in a critical condition.
Mr Patton said he had been told the young boy's condition had "somewhat improved".
Among the injured is the hero off-duty police officer who leapt to action detaining and arresting the driver at the scene.
Premier Daniel Andrews last night praised the man and his heroic response.
"The off-duty arresting officer, a member of Victorian Police, who was prime in terms of detaining the alleged offender did suffer some injuries and is receiving hospital treatment," he said.
"I think we would be right to single him out for special praise for the way in which he instinctively came to the aid of others in the protection of public order and potentially avoiding so much other carnage."
The officer is due to undergo surgery on his hand Friday morning.
The attack happened at about 4.41pm outside busy Flinders St Station, which was teeming with tourists, CBD workers and last-minute Christmas shoppers.
The driver slammed a white Suzuki Grand Vitara into pedestrians, accelerating through the intersection at high speed.
Roads in Melbourne's CBD were all reopened about 2am and public transport is now operating as usual, but the bustling intersection has been unusually quiet this morning.
Mr Patton this morning issued a reminder that Melbourne is safe and open for business.
"Melbourne is now free for people to access. People can still come in," he said.
"We will have extra police out and about and the public can be reassured it is safe to come and go about their Christmas shopping, all of those things.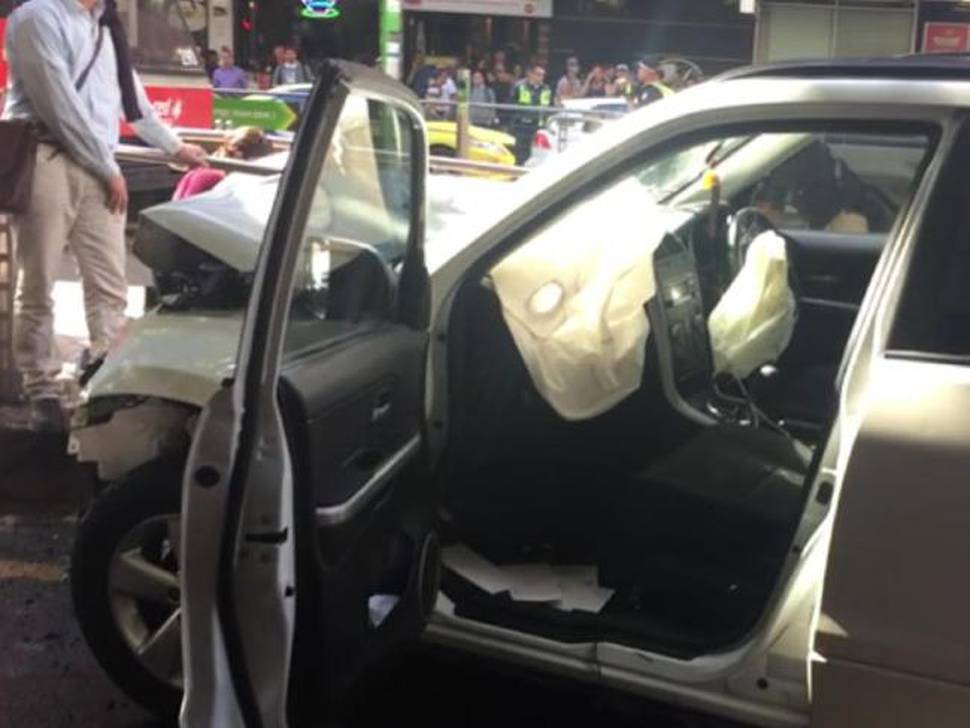 "This is an horrific incident ... but Melbourne people are not defined by one event. They are a very resilient group and we know that. We have the cricket and the carols on, festivities and a range of events.
"I would urge people from Melbourne and visitors around the world to come out to this great city, to get out and about and enjoy it. We will be doing everything we can to make sure the public feel safe."